The Best of British Fakeaways
The charming Best of British Takeaways show on BBC Two has been captivating us at Gousto over the past month. In the show, Michelin-starred chef Tom Kerridge and Cherry Healey showcase the nation's favourite takeaway food and it's history, while some of the best takeaway chefs in the country compete against each other to see who's the best on the day!
While everyone, including us, loves a takeaway every now and then (we spend a whopping £6bn a year on takeaways in the UK alone), they're not usually the healthiest, or cheapest, dinner choices. When you're next craving a bit of your favourite fast food, have a go at one of our 8 homemade 'fakeaway' recipes below; cooking from scratch means these dishes can be a little more healthy than your normal takeaway choice, but just as delicious!
1. Fish and Chips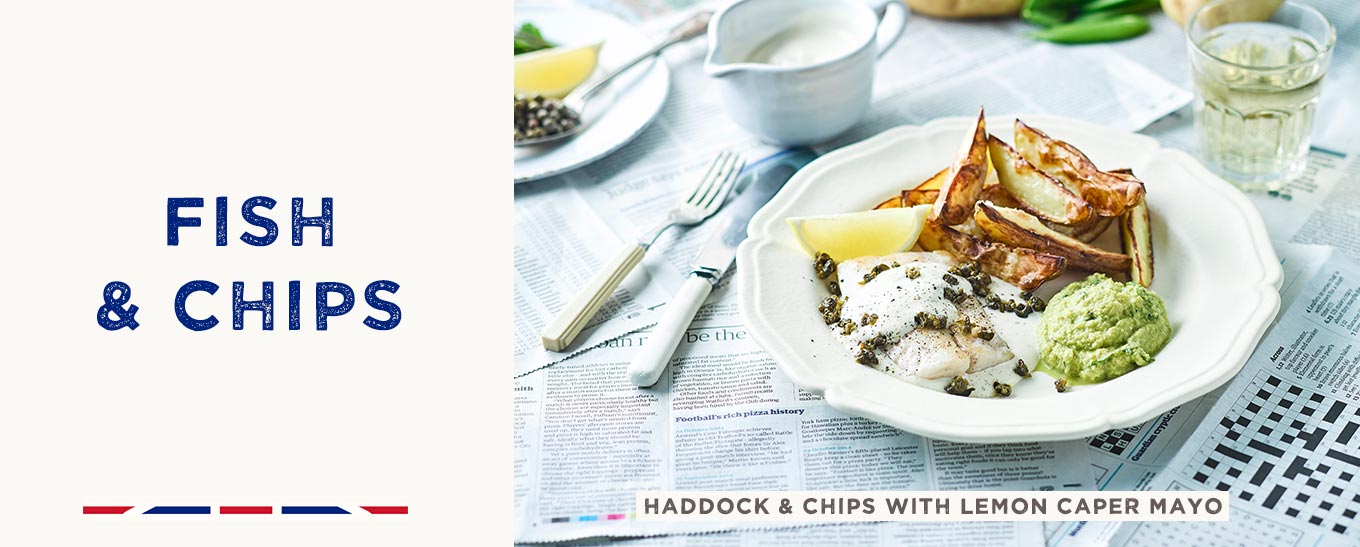 Our take on classic fish and chips, this Haddock & Chips with Lemon Caper Mayo takes a healthy twist on the British classic by skipping the batter, but it does have homemade mushy peas, chips and a zingy caper and lemon tartar sauce.
If you really have your heart set on a breaded or battered treat, try out our Posh Prawn Scampi & Chips instead for panko breadcrumb coated prawns fried until golden.
2. Indian
Our new Mild Chicken Korma recipe is a creamy, balanced curry which uses ground almonds to add a depth of flavour, while the rice is cooked with cardamom pods and sultanas for a layer of aromatic luxury you won't often find in a takeaway.
If you're after a vegetarian Indian recipe, look no further than our Palak Paneer & Cardamom Rice, made with chilli and garam masala and topped with crunchy onions – delish!
3. Chinese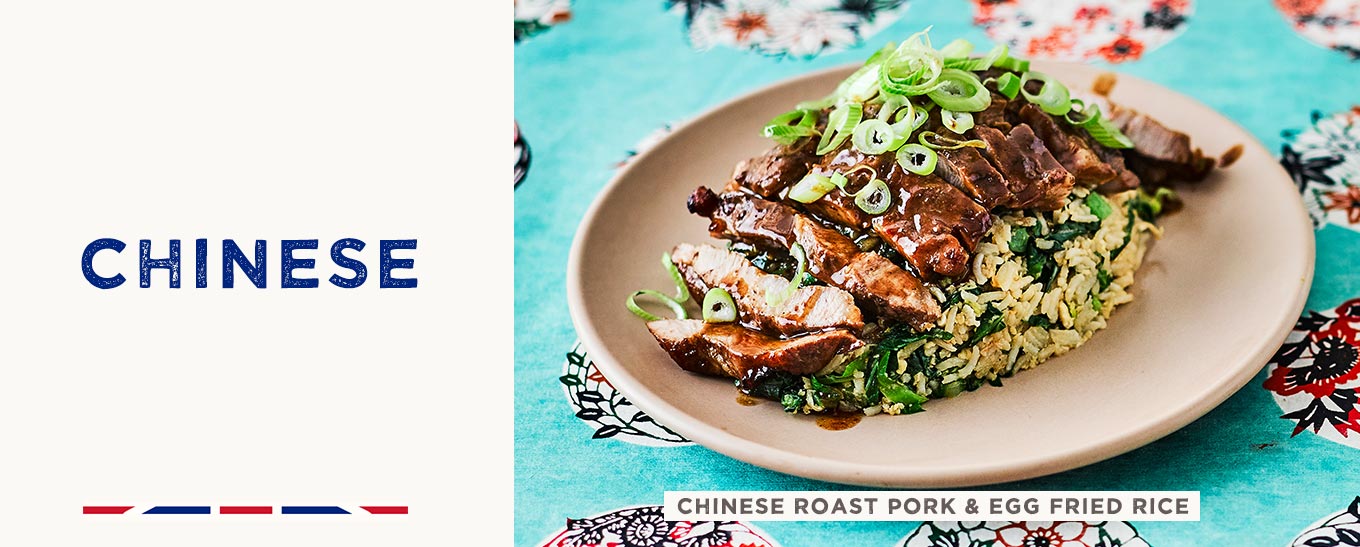 Egg fried rice, a classic favourite from Chinese takeaways in the UK, gets taken to the next level in our Chinese Roast Pork & Egg Fried Rice dish. It's topped with this Cantonese-style sweet and sticky pork, made with British tenderloin coated in a sauce made from a mix of hoisin sauce, soy sauce, sesame oil and Chinese five spice mix.
If you'd rather try a chicken dish, give our Sizzling Chicken Cashew Stir-Fry a go. The chicken is prepared using the Chinese cooking technique of 'velveting', creating silky and moreish bites of chicken breast that are topped with chilli and rich cashew nuts.
4. Pizza
Using tortilla wraps as a base for these mini pizzas, our Chorizo Tortizzas are half pizza, half tortilla, and full of flavour! They're topped with tomato paste, smoky chipotle, cheese and artisan mini-chorizo from Castellanos, our Bristol-based charcuterie supplier. We've even added a mixed baby leaf side salad with a dressing made from pomegranate molasses, for some added greenery you wouldn't get with your takeaway!
5. Kebab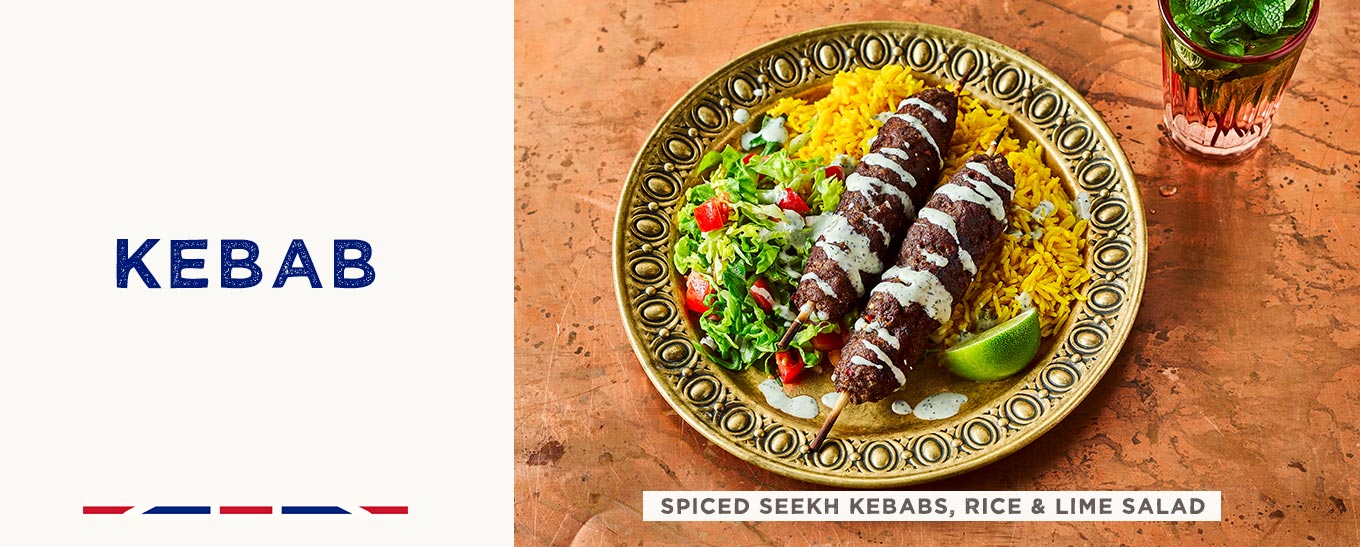 Our Spiced Seekh Kebabs, Rice & Lime Salad is modelled on the spiced meat mince classic in kebab shops across the world. We've added a minty mayo and a lime salad to cut through the rich meat and spice flavours, but the best part of this fakeaway is that it takes 20 minutes to make – less time than you'd be waiting for most takeaway deliveries to arrive!
For a vegetarian alternative, give our equally quick Lentil Kofta, Harissa & Feta Wraps a try. Combined with feta and a harissa mayo, and infused our homemade ras el hanout blend made with whole rose petals, these wraps are the perfect answer to anyone who thinks kebabs are only for meat lovers.
6. Burgers
We reckon some of you can guess what the inspiration for our Ultimate Fish Burger was… if you can, let us know in the comments! We've made this burger with panko breadcrumbed fish fillets, slices of Irish mature cheddar cheese and the obligatory moreish caper mayo, enclosed in a toasted brioche bun.
If you're after a more 'traditional' form of burger-based indulgence, there's always our much-loved Double Chipotle Burger. Two homemade British beef patties topped with chipotle mayo, crunchy lettuce and chipotle mayo – it doesn't get beefier than that!
7. Fried Chicken
Salty, oily and crispy, fried chicken might just be the ultimate in unhealthy, indulgent takeaway. We've adapted a traditional Japanese technique in our Chicken Karaage With Black Rice to create a healthier, but no less delicious version of fried chicken. Served on a bed of black rice with a side of crunchy garlic-fried pak choi and a tangy Japanese mayo to cut through the oil of the friend chicken, this is guilt-free fakeaway favourite.
8. Mexican
These Refried Bean & Corn Quesadillas combine the rich flavour of smoky chipotle and smoked paprika with fresh, clean flavour from spring onions, sweetcorn and lime. Filled with mashed refried beans and mature Irish cheddar and you have a filling vegetarian fakeaway feast.
If you're after something more meaty, our Chicken & Chimichurri Quesadillas add an extra layer of indulgence with mozzarella and mature cheddar to accompany the salty, smoky pulled chicken. Expect long, messy strings of melted mozzarella, in classic takeaway style.
---
Could any of these replace your favourite takeaway? Let us know in the comments!