A Recipe For Romance: Happily Single
Valentine's Day can be a whole lot more fun (not to mention more relaxed) when you're tied not into a relationship. It's not just a day to celebrate romance, but a day for spending time with the people who matter most to you.
Don't pretend Valentine's Day isn't happening. Instead, get a four-person Gousto box, invite some friends over and get stuck into a bit teamwork in the kitchen, with a glass of wine or two and some great company.
To help you have the perfect Valentine's Day, we've picked a Gousto recipe that we think is just right for the occasion and paired it with a few extras you can find in the Gousto Marketplace. We've even teamed up with our flowery friends at Bloom & Wild who have selected a brilliant bouquet to give the evening that extra je ne sais quoi.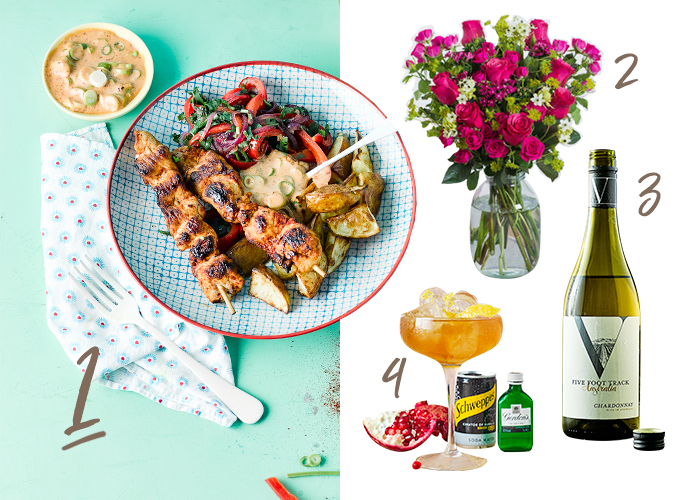 1. The Recipe: Smoky Chicken Skewers
There's something about skewers that says it's party time. The smoky chipotle paste and smoked paprika in this recipe ignite that summery barbecue feeling, even during frosty February. Add to that a sweet red pepper salsa, chipotle mayo and crispy potatoes and you've got a feast fit for a fiesta!
2. The Flowers: "The Poppy" Bouquet from Bloom & Wild
The Poppy is bright and colour bouquet perfect for brightening your best friends' day. Full of deep pinks and lush textures, it's a really fun bouquet!
Gousto have a special Valentine's present for you…Order a box before 14th February, and we'll give you £10 off your first order of flowers from Bloom & Wild – just in time for the big day! Visit the menu now to pick your recipes and get in on the offer.
3. The Wine: Five Foot Track Chardonnay
This well-rounded, fun-loving Australian white is the perfect for letting the good times roll. With delicious notes of cooked apple and vanilla followed by a buttery yet crisp taste, it's the perfect partner for chicken dishes like our skewers!
ABV 13%
4. The Treat: Pomegranate Pleaser Cocktail Kit
Nothing says celebration like a good old cocktail. With this kit you can make two of our very own zingy Pomegranate Pleasers at home, using pomegranate molasses for a sharp-but-sweet tang. Add two kits to your next box, and when your friends come round you can use our mini cocktail recipe cards hold a mixing masterclass!
---
Ta-da! With these little touches, your Valentine's evening can turn into something worth shouting about!
Does this sound like a dreamy Valentine's in to you, or is there something you'd change? Why not take a look at some of our other recipes for romance, like our Newly Matched evening, or head to our menu now and choose the recipe, treat and wine for your perfect Valentine's!