Nadiya Hussain Interview – Great British Bake Off Winner
We've teamed up with Great British Bake Off winner (and the most likeable person on TV in ages!) Nadiya Hussain to bring her delicious crowd-pleasing recipe for Chilli Cheese Burritos, from her debut cookbook Nadiya's Kitchen, to the Gousto menu this summer! Hear Nadiya's thoughts on the recipe and working with Gousto in her own words in the clip below…
Since winning the Great British Bake Off in 2015, two things have become clear about Britain's favourite new star in the kitchen: she's not one to rest on her laurels, and she is definitely not a one-trick pony.
In 2016, she's already baked the cake for the Queen's 90th Birthday Celebration, found TV roles as guest presenter on Loose Women and as a regular reporter on The One Show, been commissioned to present a show (brilliantly titled The Chronicles of Nadiya) about her culinary origins, contributed regular columns for The Times and Essentials Magazine, signed a host of publishing deals and has now released her first book Nadiya's Kitchen. And it's only August…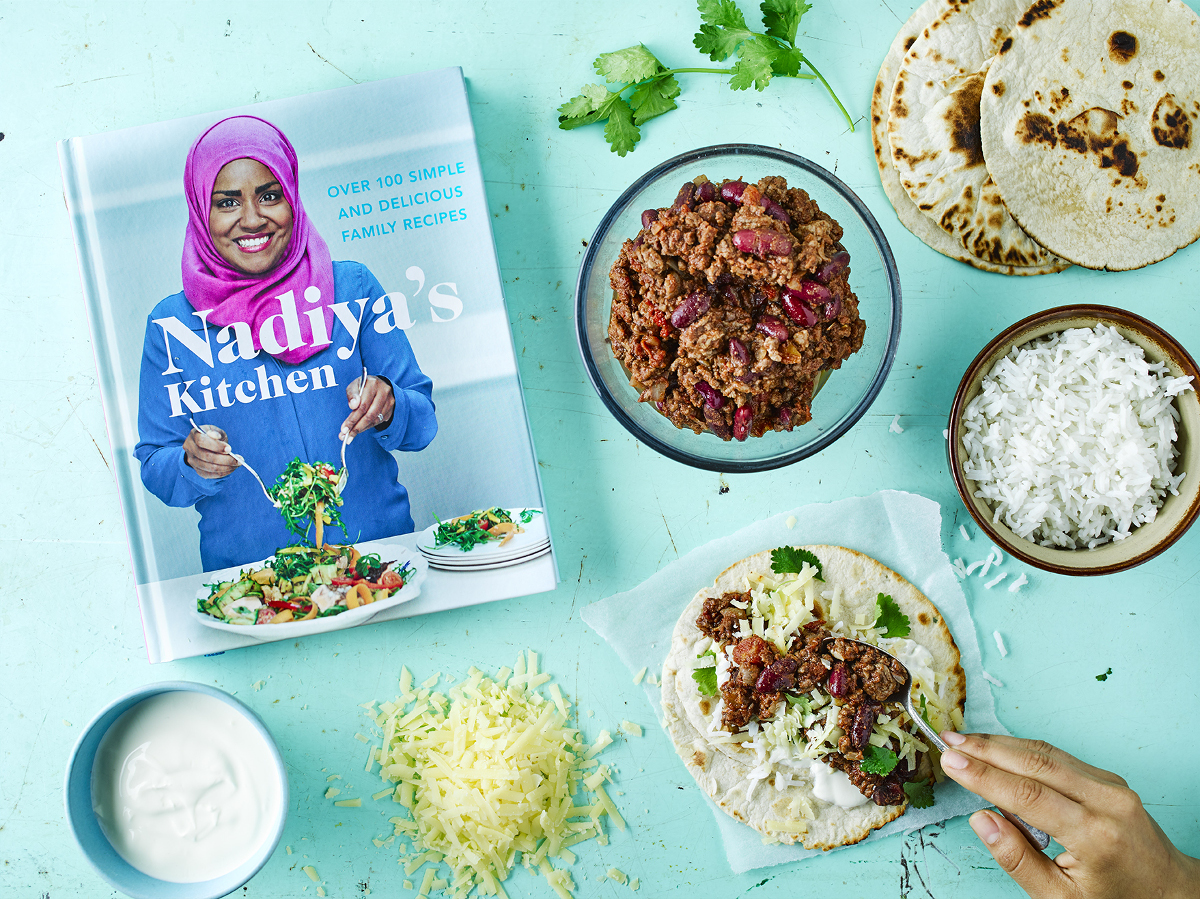 Although full of Nadiya Hussain recipes for baking, including the recipe for the orange drizzle cake she baked for the Queen, Nadiya's Kitchen is notably not a baking cookbook. It's focus is on family friendly recipes that are as delicious as they are accessible.
We managed to find a few minutes in Nadiya's busy schedule to quiz her on her cooking background, her new cookbook and her Chilli Cheese Burrito recipe. Read the interview below…
You learned to cook before you could bake – what was is like learning this at such a young age?
I have been cooking since I was 10. It was great to be able to cook at such a young age. It always felt like a bit of a party trick. Everyone was usually really impressed, especially my peers. It was like being a magician but not quite as cool, just very practical!
Do you think it's important for parents to show their children how to cook? Do you get your kids involved in the kitchen?
I think kids learn by example, so showing them that the kitchen isn't a scary place should be taught from as young an age as possible. My kids get very involved in the kitchen, which they just seem to have picked up naturally.
We love the idea behind your upcoming story/cookbook Bake Me A Story! Do you think there are lessons to be learned from cooking that apply beyond the kitchen?
Cooking not only hones a skill that is needed in life in general beyond childhood but it also teaches self-confidence, how to be frugal, understanding ingredients and where they come from, measuring, being organised… the list could go on!
.
"I love being adventurous but without making the recipe fussy or difficult."
.
Your new cookbook, Nadiya's Kitchen, came out in June – do any recipes in there have stories behind them? Could you tell us about one?
Most of the recipes in there come with a story or memory of some sort. One of my favourites would have to be the brittle recipe that I created after a family friend bought some for my sister after she had finished her exams.  The funny thing is she hates peanuts, but she devoured it!  That's what inspired me to make my own.
How would you describe your cooking and what can people expect to discover in your recipes?
My cooking is experimental but achievable. I love being adventurous but without making the recipe fussy or difficult.
.
"I develop recipes at home and the chief taste testers are my family."
.
In a world where it sometimes feels like every possible recipe has already been thought of, how do you get inspiration for new dishes and bakes?
It's funny because it does feel like everything has been done. But the love of cooking and feeding has suddenly become very popular and I think the more people are willing to try recipes the more the recipes will flow. New ingredients and ways of cooking are being discovered every day; all I have to do is keep up.
When we're developing recipes for the Gousto menu we always get a Gousto employee to test the recipe (both cooking and eating) to get their honest feedback. How do you develop recipes and do you test them on anyone?
I develop recipes at home in my kitchen and the chief taste testers are my family – mainly my children, husband and younger brother. They are brutally honest and massive foodies so they welcome any food I am testing!
Here's one of our chefs preparing Nadiya's Chilli Cheese Burritos:
Your Chilli Cheese Burritos are on the Gousto menu this week, adapted from a recipe in Nadiya's Kitchen. Can you tell our customers a little bit about this recipe?
This is one of my go to recipes. I like to make enormous batches of the chilli and eat it as burritos, then freeze the rest and eat it with jacket potatoes, rice or even pasta.
.
"I like to take each day as it comes. I love what I am doing at the moment."
.
Do you have a current food obsession?
I absolutely love marmite and I have been experimenting with it recently. I made some cheese and marmite biscuits and some marmite and onion gravy.
Since winning Bake Off you've gone from strength to strength! What are your plans for the future?
I never really had any plans post Bake Off – it was all a bit of a surprise! So I like to take each day as it comes. I love what I am doing at the moment. All I want is for this amazing journey not to end too soon.
Thanks Nadiya!
---
You can find the full recipe for Nadiya's Chilli Cheese Burritos in the Gousto cookbook here >>> HERE
For more Nadiya Hussain recipes, buy her cookbook Nadiya's Kitchen >>> HERE
Why not read of some of our other celebrity chef interviews with the likes of Shu Han Lee or Norman Musa?