Made by Mum
For many of us, our first memory of food is our mum's cooking.
The recipes of the dishes we grow up eating get handed down to us, and before you know it we're cooking them for our kids, hoping they will make the same dish themselves one day. They're our go-to recipes whenever we want a comforting, reliable meal that reminds us of home.
Ahead of Mother's Day, we've asked the Gousto team to share their mums signature recipes with us, and we've had some great responses. Have a look below to see the recipes – we've even included an adorable mother and child photo for each recipe – and let us know what your mum's signature dish is in the comments. 
We couldn't be prouder of our mums and their recipes! If fact, even a few of our Gousto recipes were inspired by recipes from our chef's mums…
---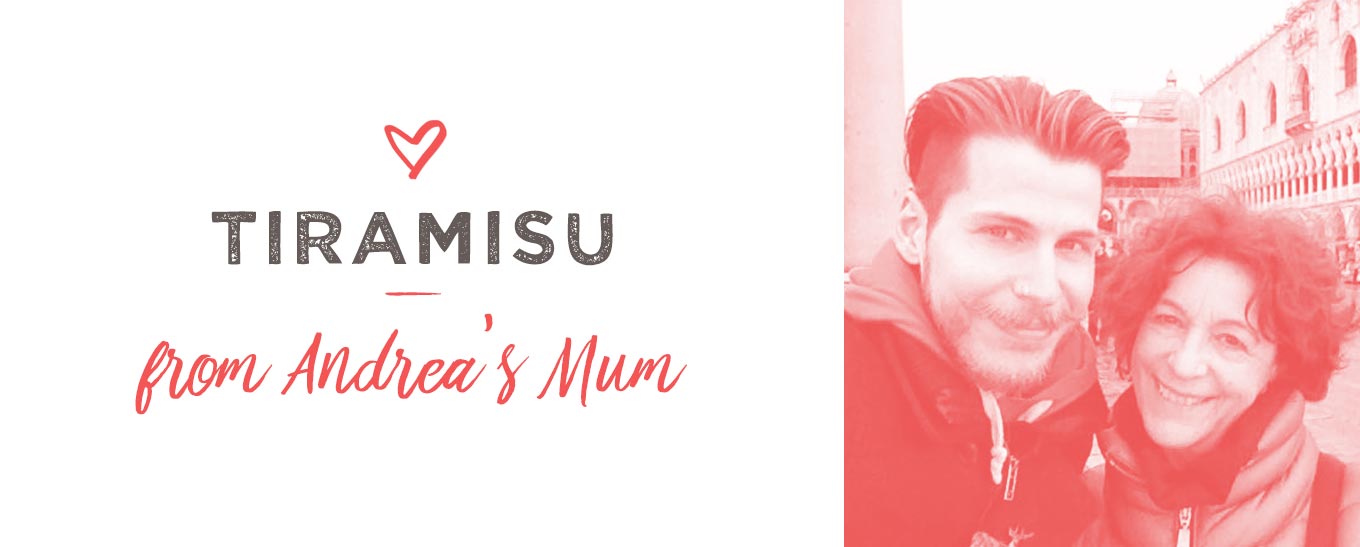 Andrea: I love my mum's tiramisu recipe because it reminds of parties back at home in Italy when I was a kid – my mum used to make it for my birthday! It's a really easy, quick recipe and it's versatile (you can swap the savoiardi with other dry biscuits, or the mascarpone with ricotta). It's my favourite cake!
You'll Need:
150g sugar
2 eggs
500g mascarpone
A sprinkle of raw cacao
2 mocha
1 pack of savoiardi biscuits
Method:
1. Brew 500ml of espresso (the higher quality coffee, the better), pour into a bowl and leave aside to cool
2. Mix the sugar with the egg yolk
3. Add the mascarpone to the mix and whisk
Tip: For a lighter version, swap the marscapone for ricotta
4. Place the egg whites in a separate bowl and whisk them until you have stiff peaks, then combine this with the mascarpone mix
5. Take a baking dish and spread a little of the mix thinly across its base
6. Dip each of the savoiardi biscuits one by one into the bowl of cooled coffee then place them in the dish, until they cover the mascarpone mix
7. Repeat with another layer of the mix topped with more coffee-dipped biscuits, until you run out – make sure your final layer is marscapone, not biscuit!
8. Refrigerate until ready to serve, then top with a sprinkling of raw cacao
Apoorva: Avial is a South Indian dish made with coconut and mixed vegetables. People make it in lots of different ways, but whenever my mum makes it everyone always raves about it. It's a recipe that I didn't care for much when my mum made it when I was younger, but as soon as I left home I started craving it and realised how much it reminded me of my family and childhood.
You'll Need:
Vegetables and herbs: 
1 green banana/plantain
200g yam
100g broad beans
A handful of peas
1 carrot
1 moringa
200g white pumpkin
A few curry leaves
1/2 a freshly grated coconut
400g natural yoghurt
1 teaspoon cumin seeds
3 green chillies
coconut oil
mustard seeds
cumin seeds
Method:
1. Chop all the vegetables into 1-2 inch cubes
2. Boil the tougher vegetables first for about 8mins (drumstick, yam, carrots, raw banana)
3. Add the softer vegetables and continue to boil for another 6-8mins (peas, white pumpkin, broad beans)
4. Blend all the ingredients for the paste together to form a smooth paste while the vegetables are boiling. Add some water if required
5. Add the boiled vegetables, curry leaves and salt to the paste, once the vegetables are boiled (check that they're all cooked). Cook on a medium flame for 10mins. Add some water / yogurt if the consistency is too thick
6. Heat some coconut oil in a small pan and add some mustard seeds and cumin seeds, wait until they start spluttering. Once they splutter, add them to the vegetable mixture, stir and remove from the heat
7. Serve with hot rice or chapatis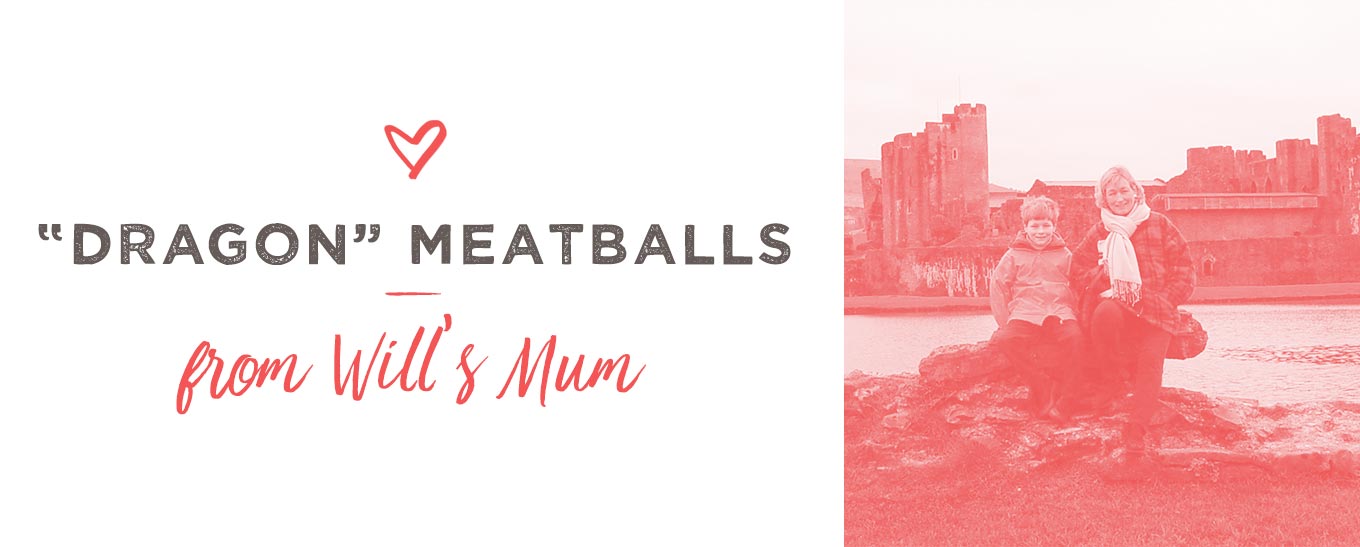 Will: I used to look forward to my mum cooking these so much when I was a kid! I reckon she called them dragon meatballs to convince me and my sisters to eat the green peppers in them…but we really didn't need any convincing – they're delicious.
Method: 
We featured Will's mum's dragon meatballs recipe in our 'Dragon For Dinner?' post for St. George's Day last year (sneakily renamed as "George's" dragon meatballs…)!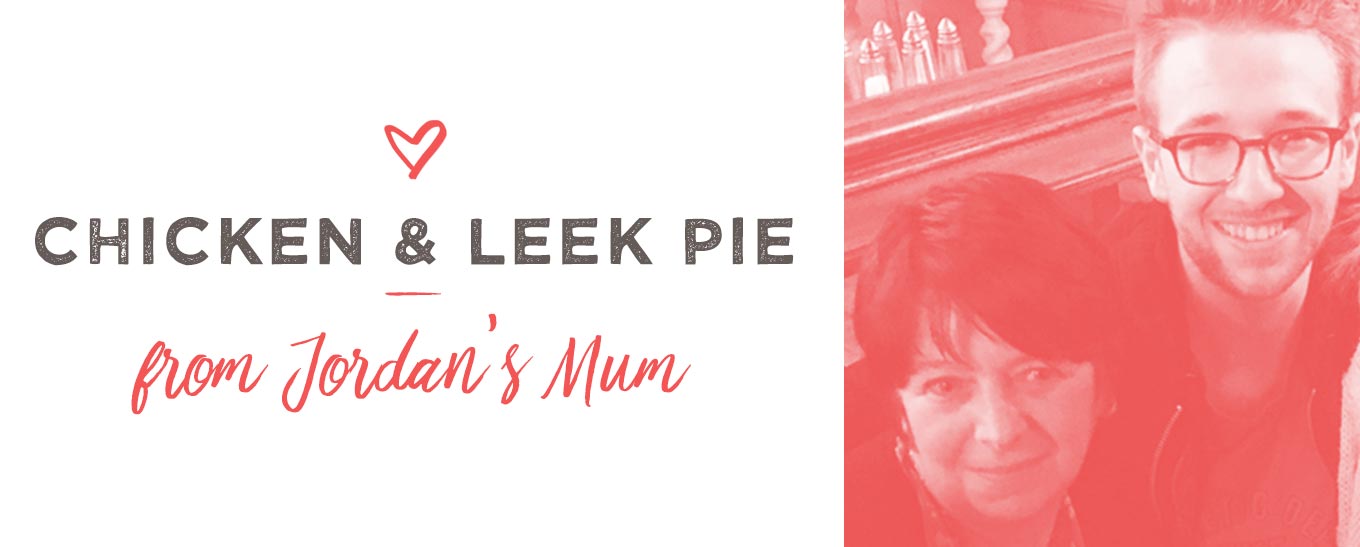 Jordan: No matter what the family gathering, there's no doubt that my mum's chicken and leek pie would be on the menu. The combination of cream and leek is always a crowd pleasure, and the addition of thyme makes this that extra bit special!
You'll Need (for 4 servings):
4 skinless, boneless, chicken thighs
1 onion
2 leeks
150ml double cream
150ml chicken stock (or a stock cube)
3-4 sprigs of thyme
1 packet ready rolled puff pastry
2 cloves of garlic
Method:
1. Peel and finely chop the onion and trim and finely slice the leeks
2. Heat a large, wide-based pan with a drizzle of vegetable oil over a medium heat. Once hot, add the chopped onion and sliced leeks, with a pinch of salt and cook for 7-8 min or until caramelised
3. Cut the chicken thighs into bite-sized pieces, then peel and finely chop the garlic and strip the thyme from the stalks
4. Add the chicken thigh pieces and chopped garlic to the pan and cook for 4-5 min or until sealed. Add 1 tsp flour and stir until it has mixed in completely with the oil
5. Add the stripped thyme, double cream and chicken stock and cook for 1-2 min or until thickened
6. Transfer the filling to an oven-proof dish and top with the puff pastry. Crimp the pastry around the side of your dish and create a hole in the top so the hot air can escape
7. Bake for 30 min or until the pie is golden and crisp
8. Serve with mashed potatoes and peas
Enjoy!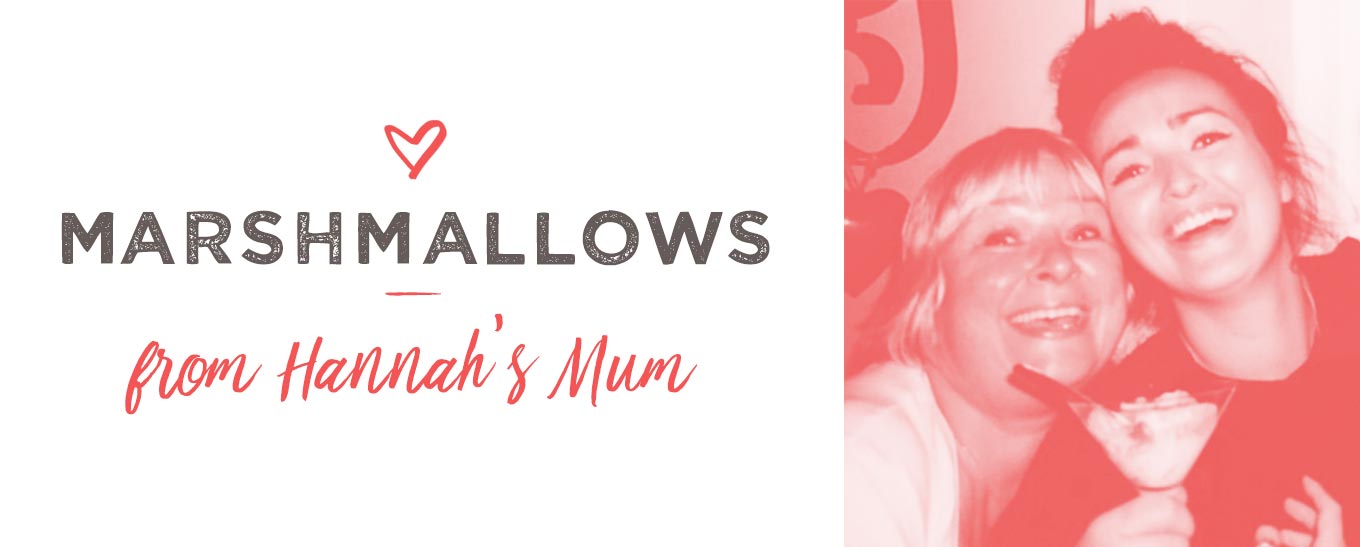 Hannah: My mum makes her marshmallows all the time and people always comment on how much fluffier they are than the shop bought ones. In her own words, "It's just like eating a cloud!"
Method:
We featured Hannah's mum's delicious marshmallow recipe on the blog for Bonfire Night last year! Take a look at our Momma Mariaux's Homemade Marshmallows post to see the recipe.
Mia: Mummy used to cook this quiche for her friends when they came round for dinner parties. Me and my sisters never got an invite but were sent to bed hoping there'd be left-overs in the morning!
You'll Need:
For the pastry:
200g flour
100g butter
1/2 tsp baking powder
1 pinch of salt
50ml cold water
For the filling:
100g wilted and well squeezed spinach
200g smoked salmon
4 eggs
250ml double cream
125g grated (or crumbled!) cheese of your choice
Method:
1. Combine and knead the pastry ingredients to a smooth dough and chill in the fridge for a minimum of 30 min
2. Preheat the oven to 160C
3. Roll out the dough and line a 28 cm quiche tin with it
4. Evenly distribute the wilted spinach and smoked salmon within the lined tin
5. Separate the egg whites and yolks and beat the egg whites to medium stiff peaks
6. Combine the yolks and double cream with the grated cheese and season generously with salt and pepper
7. Gently fold the egg whites into the cream mixture and pour over the quiche
8. Bake in the oven for 30-40 min or until the egg mixture has just set, then remove and serve hot or cold!
Anezka: This is a hearty meal from Slovakia. Soft like gnocchi and similar to German spaetzle noodles. We mix halusky (a bit like gnocchi) with Slovakian sheep's cheese and top with fried crispy bacon before serving. Yum!
You'll Need (for 4 servings):
700g potatoes
500g flour
50g pancetta
120g sheep's cheese
1 pot of creme fraiche
a pinch of salt
Method:
1. Peel the potatoes, then softly grate them into a bowl
2. Mix the flour in with the potatoes
3. Add a pinch of salt to the dough and mix everything together
4. Push the mix through a pasta shaper, or wide-holed sieve and into salted hot water
5. Mix with spoon and leave them for 10-15 minutes, or until the dough floats on top of the water
6. Mix the sheep's cheese with creme fraiche
7. Slice the pancetta into tiny pieces and add them to a hot pan until cooked
8. Mix the halusky with the sheep's cheese and sprinkle the pancetta on top
---
Mums are the best.