Gousto Stories – Millie & Sam
Meet Millie and Sam, a Gousto supercouple with a brand new baby and a whole lot of love for our recipe boxes…
"Hi, my name is Millie and I live in beautiful Cornwall with my husband Sam. In my day-to-day guise I'm a full time marketing manager for a furniture and lighting designer and Sam runs his own construction company.
We live on the North Cornish Coast so love to be outside. Sam surfs, and we have a boat so fishing and watersports play a huge part in our lives. When the weather prevents us from doing those things, we love to wrap up and walk our bulldog Norman, or have friends over for food and socialising. 
Normally we both lead busy work lives, however I'm on maternity leave right now – our first baby was born last month!"
How long have you been cooking with Gousto?
"We were introduced to Gousto via a friend about a year and a half ago. I love the whole concept of it, but for some time I couldn't fully commit to the service. Call me a 'control freak' but I couldn't let go of buying my own groceries, planning our weekly menu and breaking away from our staple eats. I'm a creature of habit I suppose. However, since Sept 2015 we have been using it religiously. We now have a four-recipe box for two people, once a week."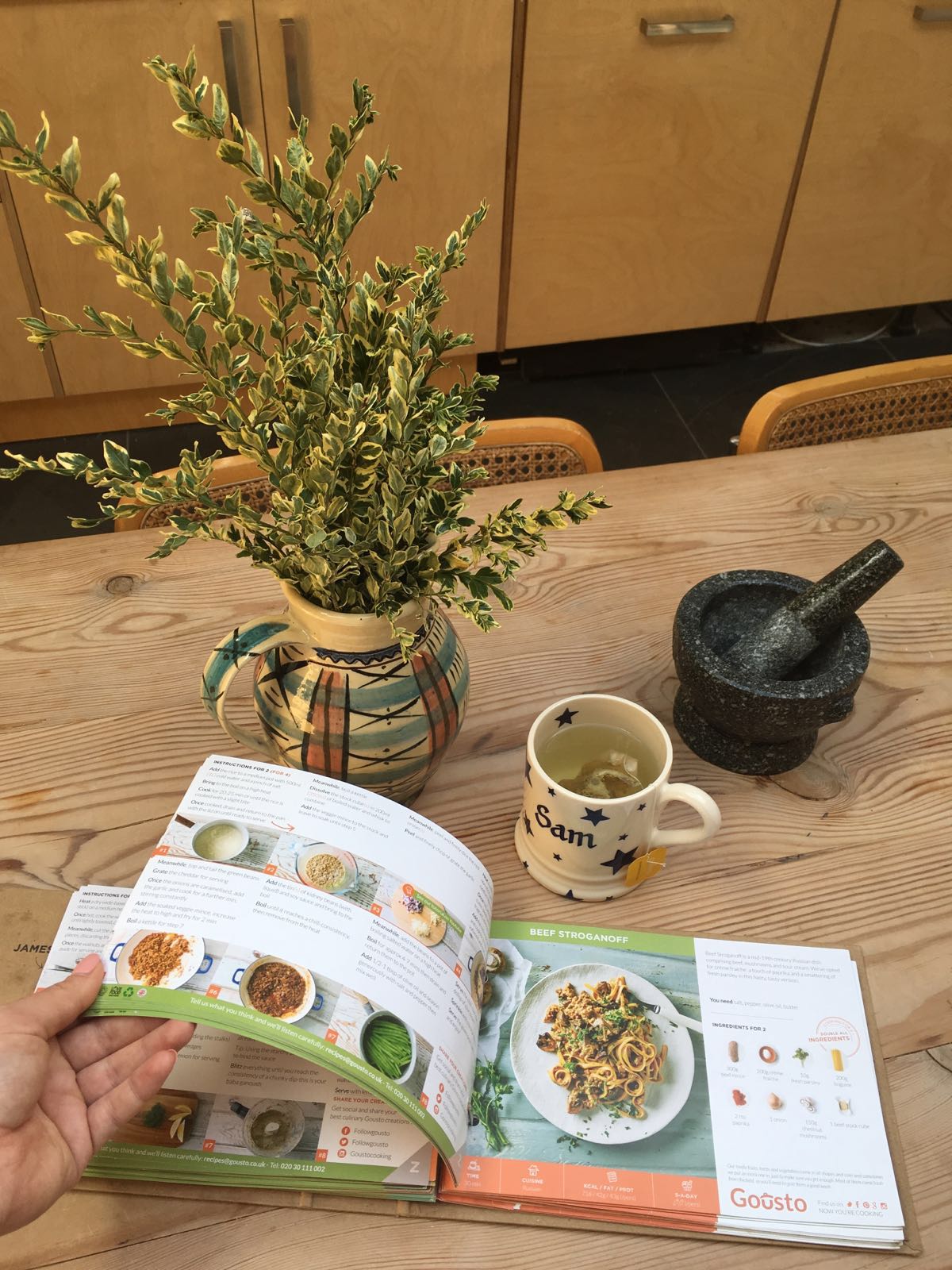 What was your cooking like before Gousto?
"I love to cook, and although Sam wouldn't admit it he's not bad in the kitchen either. However, with both of us working in very busy jobs, we would sometimes rely on the same old, trustworthy dishes. NOT very exciting. I tend to cook from scratch and use fresh ingredients, so I know exactly what is going into our food. Once in a blue moon we use ready or microwaveable meals, and always begrudgingly.
I'm a bit of a self confessed foodie and shopaholic and perhaps that's why Gousto appeals to me in such a huge way. I love the service as it's great value for money, gives you fab variation and it's effortless to manage – I have the app on my phone. I also love the 'extras' section and will often pop a little treat into our Gousto box, such as a pudding, or some of the handy cooking tools. Having everything arrive on your nominated day, perfectly weighed, measured and ready to go is great and there is NO WASTE! The ingredients are also always brilliant quality too."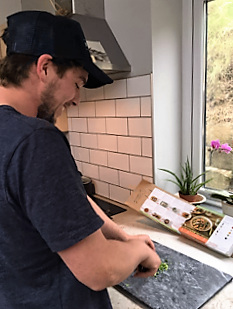 Do you have a favourite Gousto recipe?

"Sam loves any of the 'one pot' dishes, he thinks they are ingenious and loves the Easy Chicken Harissa Curry. I try to pick one dish each week that normally I wouldn't go for – such as the Tofu Noodle Ramen and have often used the recipes to recreate meals for friends when we have dinner parties. For me it's all about picking something new and trying everything on offer."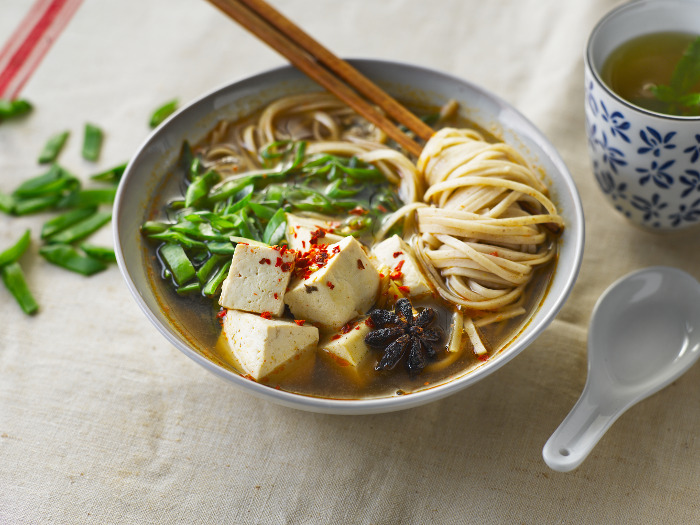 What was using Gousto like during your pregnancy?

"I felt so rotten in the first few months of pregnancy I couldn't face cooking and Sam really wanted to help out. He found menu planning and finding the time to cook hard as he has long working days. So Gousto became a permanent fixture in our lives. Now Baby Jones has arrived, we have even less time to think about food, so we're still using Gousto every week!"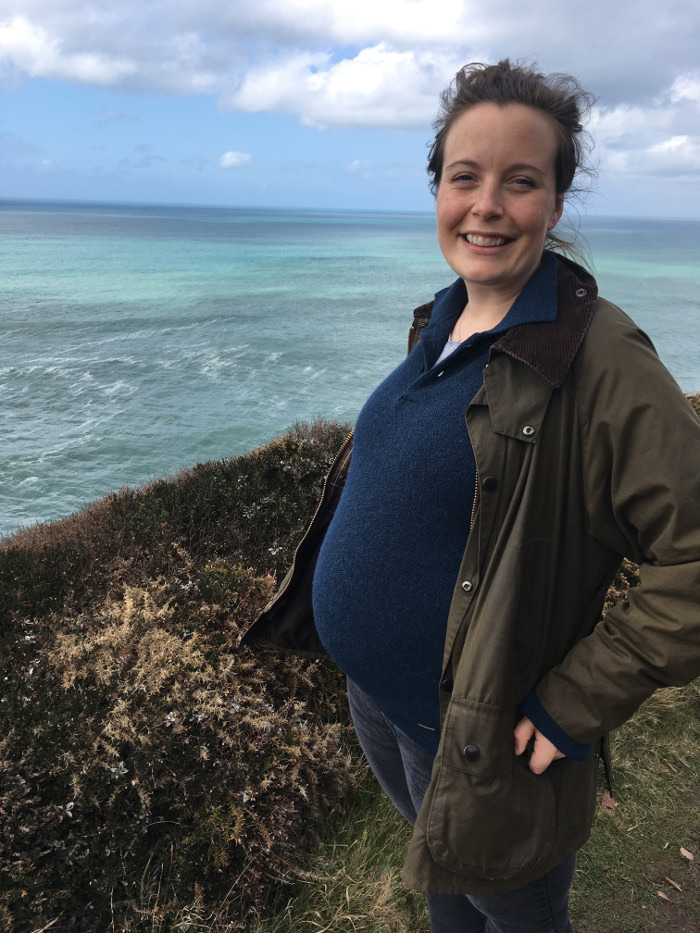 Do you think using Gousto has improved your lives?

The biggest plus is that Gousto has simplified our lives, and to be honest I was shocked by how much time I was spending shopping for food, menu planning and cooking each evening. We now have more time during the working week to focus on Sam's business and more importantly relax! Sam's cooking skills have improved as he is cooking a wider variety of dishes, and Gousto offer lots of handy tips and tricks to speed up the cooking process. We never get bored of what we are eating now either.
Have a Gousto success story you want to share?
Get in touch with us on socials using the #GoustoStories hashtag for a chance to be featured on our blog!