Gousto presents: The Okras
With award season nearing an end for the year, we've decided it's high time we gave some of Gousto's tastiest and most-loved recipes a little recognition of their own.
We've created the Okras to do just that – it's our chance to show off some of Gousto's recipes, ingredients and cooking techniques that we're most proud of, with awards for everything from Best Dressed Salad to best Supporting Ingredient. All winning recipes will, of course, be given a large cash prize and a free holiday to Hawaii. The award categories are:
Lifetime Achievement Award – A classic Gousto recipe that's stood the test of time, blowing people away over and over again
Best Main Ingredient – The ingredient that truly shines when centre-stage in a dish, making its mark in multiple Gousto recipes
Best Supporting Ingredient – It might not be the lead role in a dish, but this ingredient always manages to bring out the best in a recipe
Best International Recipe – The most excellent, exciting and exotic dish from the 'Discover' category on Gousto's menu
Best Newcomer – Awarded to a 'rising star' recipe that has arrived recently on the Gousto menu
Best Styling – The dish that, once plated and served, is guaranteed to make you go 'oooooh'
Best Cameo Ingredient – Every so often we'll bring in a special ingredient for a one-off cameo in a recipe; this is for the best of the guest ingredients
Best Special Effects – Gousto recipes are never short of clever cooking tips and tricks, but which works best?
Best Dressed Salad – When making a good salad, never overlook the importance of an excellent dressing. That's what this award is all about
Best Supporting Side Dish – Sometimes a side dish can end up stealing the show; this award is for part of a recipe that does just that
Best Cinematography – If you use Facebook, you may have seen our recipe videos in your newsfeed; here's our top video!
Best Short Recipe – Celebrating the most-loved dish in our 'Quick & Easy' menu category
The Okras is also a chance for you to have your say. The Best Customer Picture award – for the best snap of a Gousto recipe taken by a customer – is being decided by public vote. The winner and runners-up will be shown at the bottom of this post. Head over to our Facebook or Twitter pages to have your say on who should win!
Take a look below to see the full list of winners and runners-up in all of the categories. Let us know if you agree with our choices in the comments!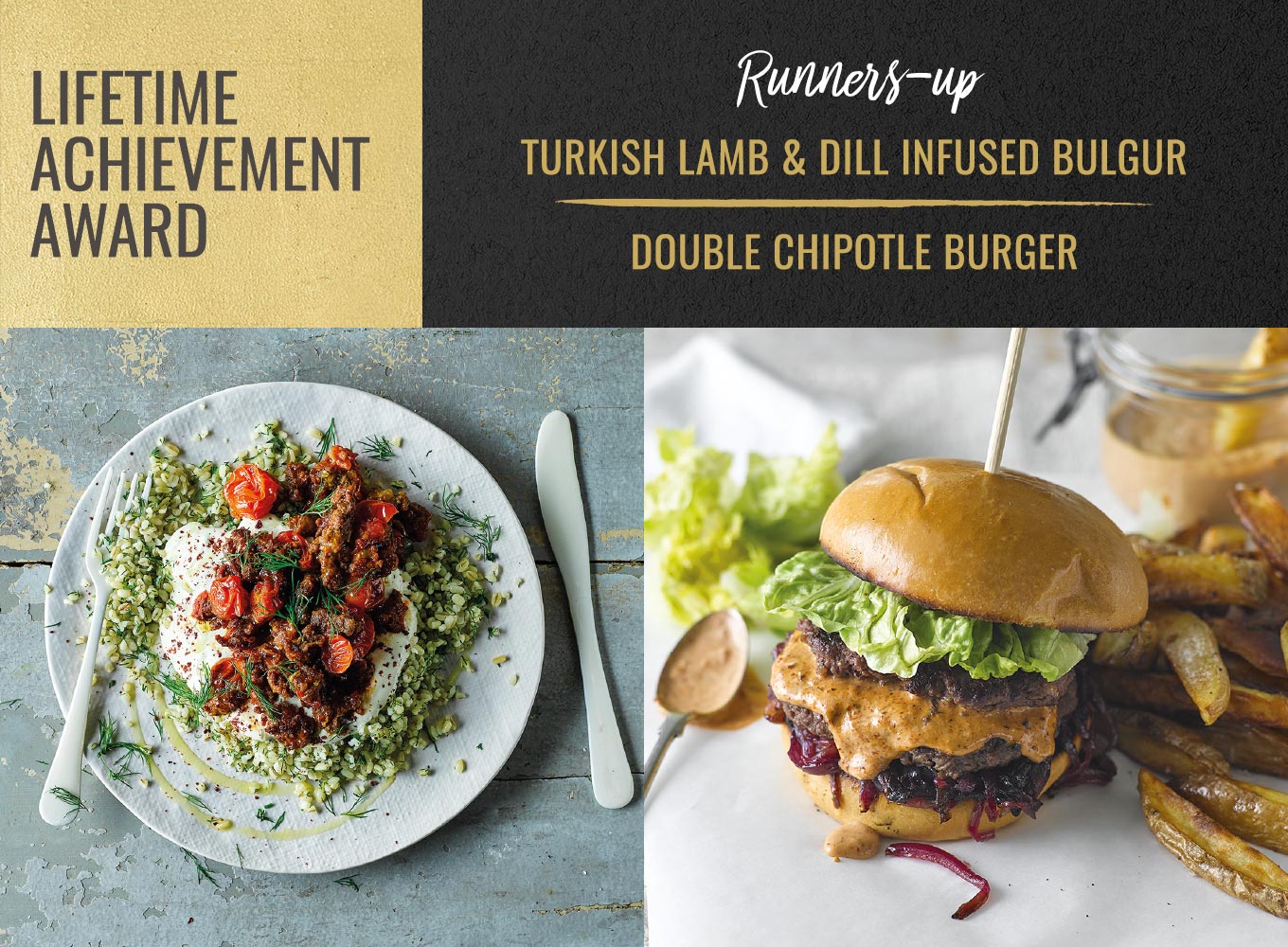 There's a reason why both Turkish Lamb & Dill Infused Bulgur and the Double Chipotle Burger have reappeared time and again on Gousto's menu – people love them! Both recipes are quick (in fact, the lamb bulgur takes only 20 minutes) and heaped with flavour. While the bulgur offers a taste of the exotic with lip-smacking lemony sumac, hot harissa and fresh dill, the burger takes a more traditional approach with a smoky chipotle mayo, caramelized onions and crunchy lettuce garnish.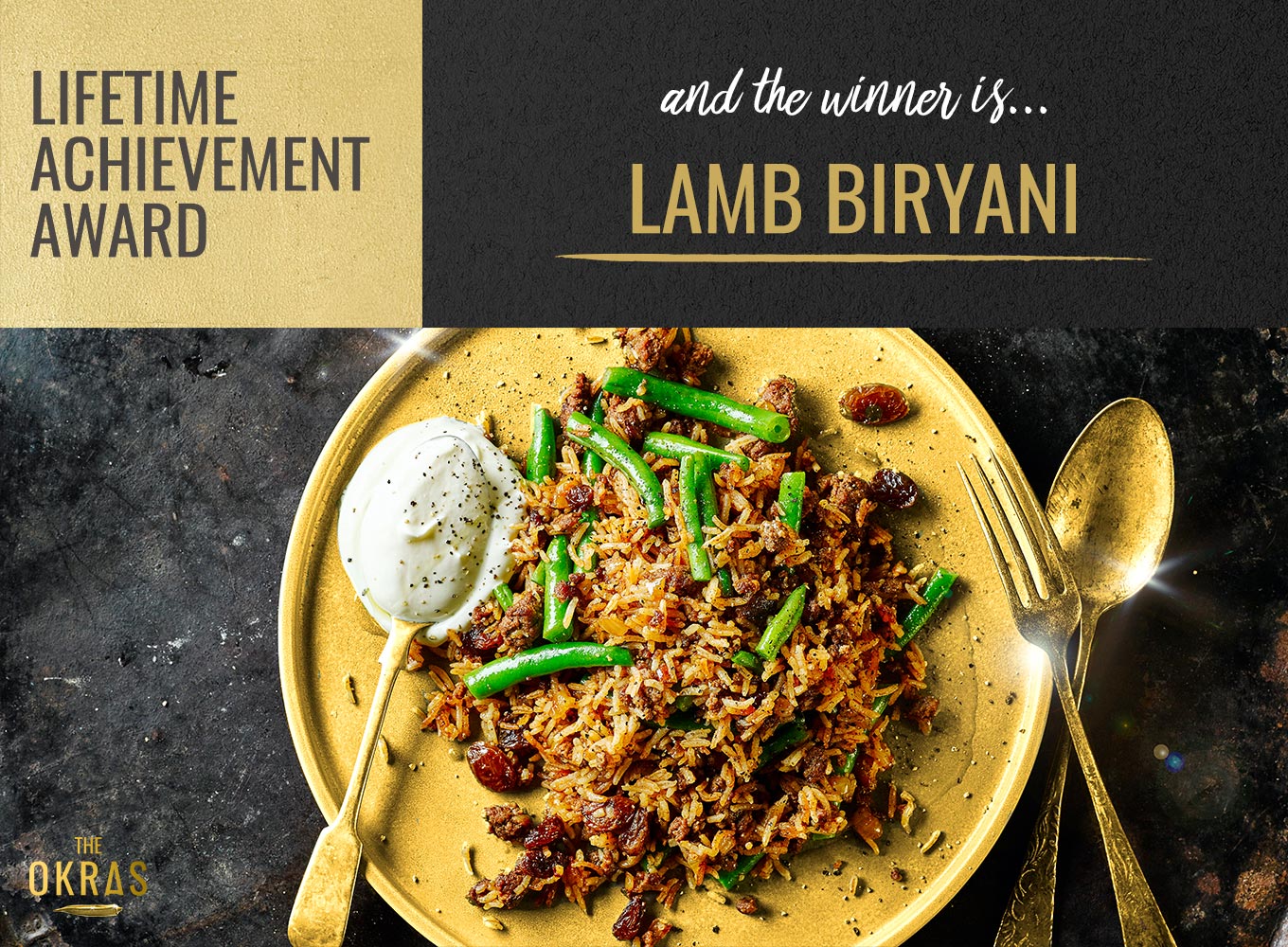 Ahh the Easy Lamb Biryani…it tastes better than any takeaway and – with only a 15 minute cooking time – it's ready quicker before the delivery driver has even put your postcode into his sat nav. Better still, it's a one-pot wonder, so there's hardly any washing up. With an average review of 5 stars over nearly 4,000 reviews – it's an undisputed 'Hall of Famer' recipe. All hail the brilliant biryani!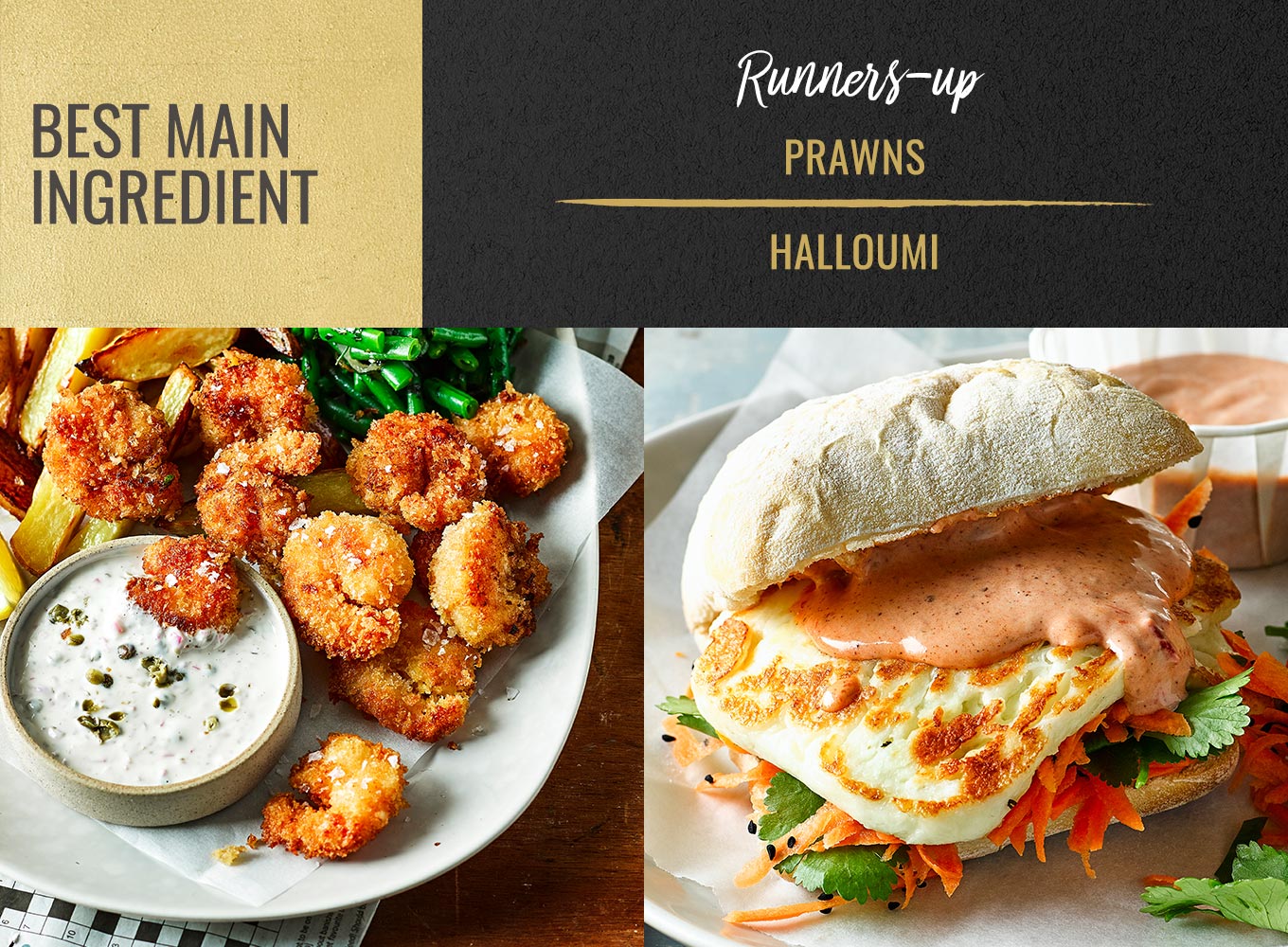 Prawns and halloumi, pictured here in our Posh Prawn Scampi & Chips and Harissa Halloumi Sandwich & Carrot Slaw recipes, are both much-loved ingredients at Gousto, but for very different reasons. While halloumi is a salty, chunky and deliciously satisfying centrepiece to a range of Gousto's vegetarian dishes, prawns add a healthy, luxurious flourish in a recipe. Both, however, work wonders as a base for other flavours.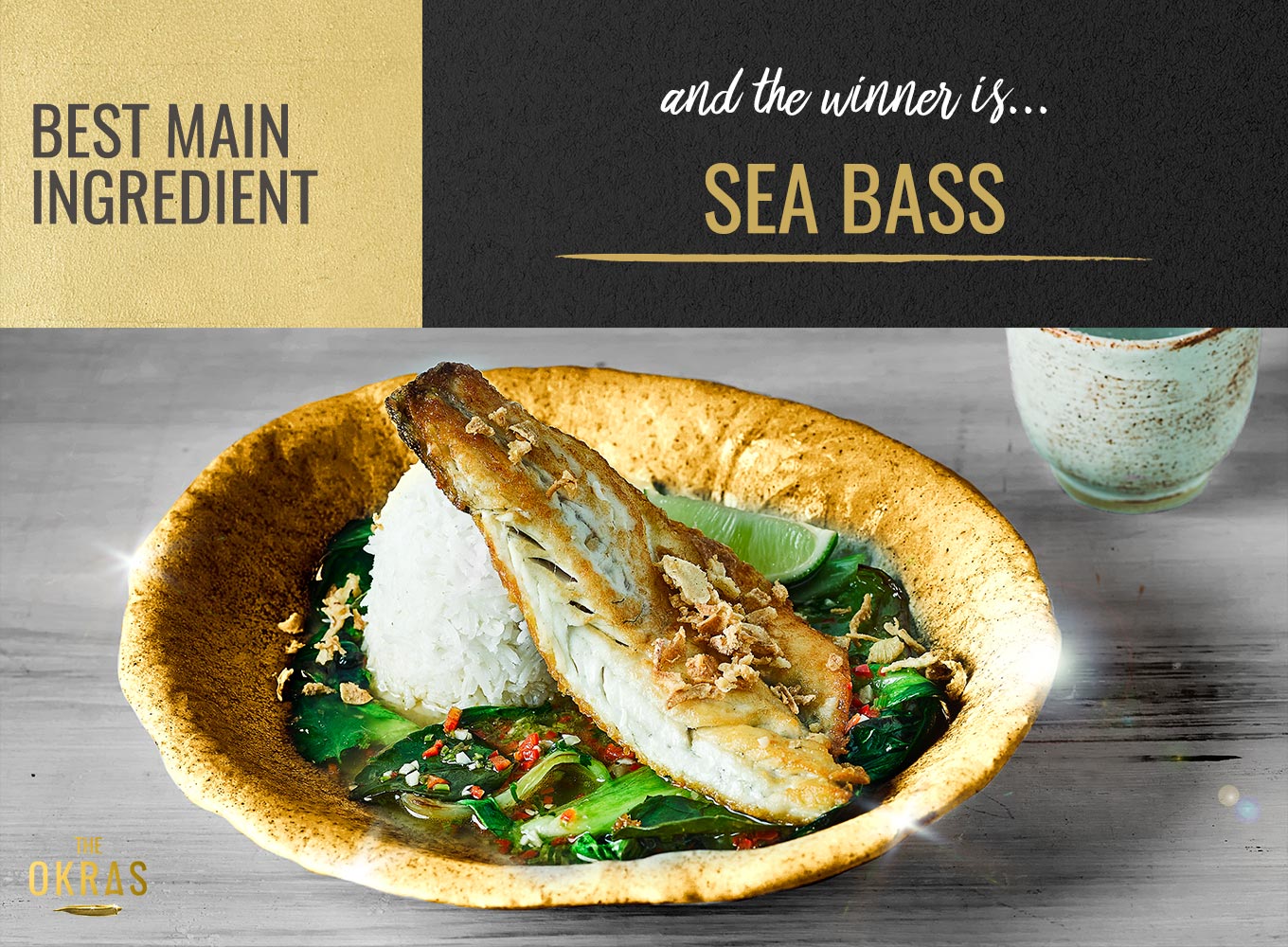 Since first coming to the Gousto menu near the end of 2016, sea bass (pictured here in a Sea Bass, Coconut Rice & Thai Broth recipe) has been a 'rising star' ingredient, with its delicate taste and texture complementing flavours from across the world including chorizo, saffron, pesto and even curry spice.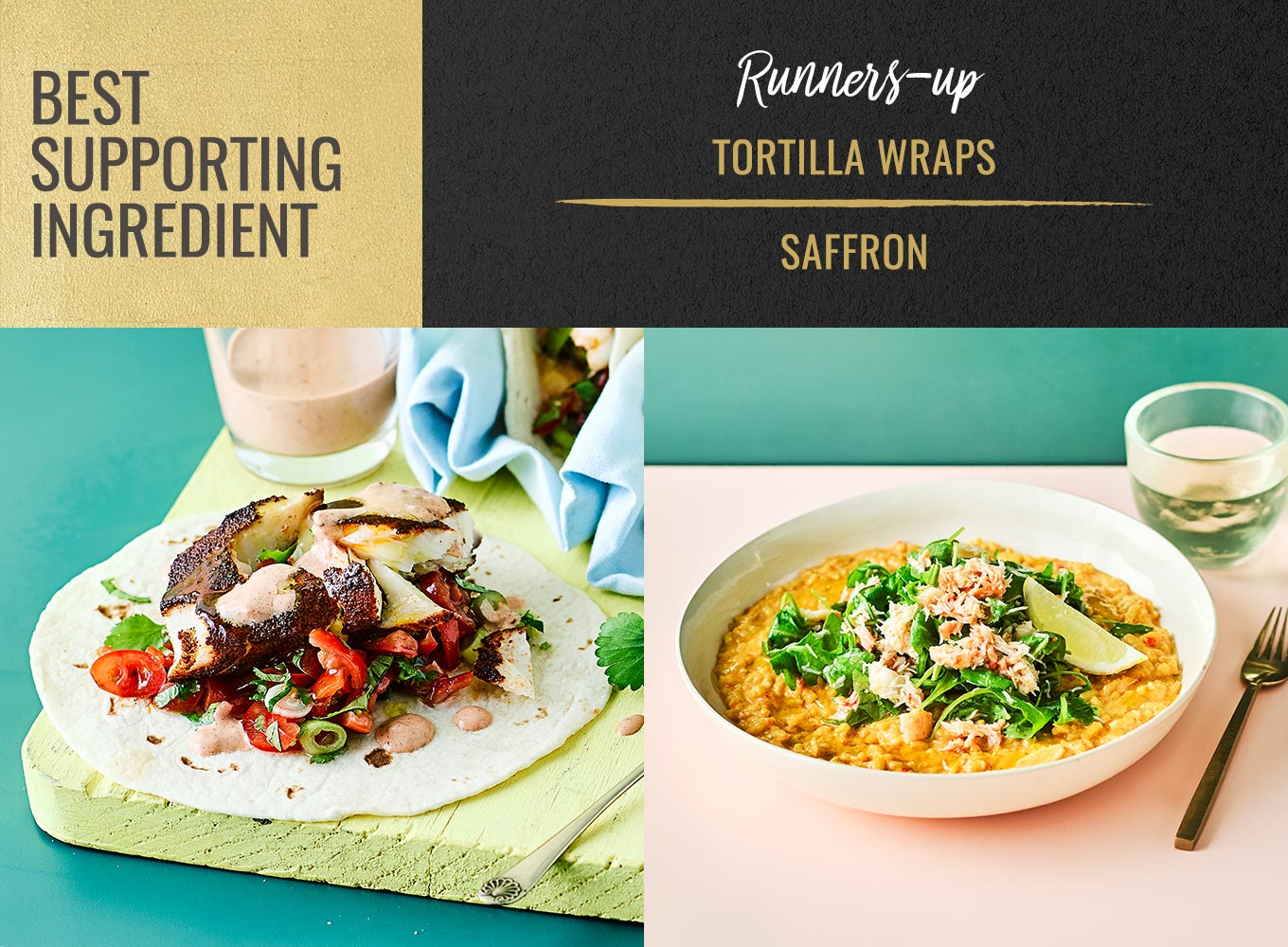 Perfect for fun shared meals with friends and family, tortilla wraps (pictured above in Blackened Cod Tacos With Spicy Mayo) have become a bit of a sensation since arriving on Gousto's ingredient list in 2016. By contrast, saffron adds a delicate, luxurious flavour to a variety of Gousto recipes including our Saffron, Crab & Clotted Cream risotto.
The delicious dish of Japanese Chicken Karaage pictured above is just one of the new recipes featuring black rice that has been putting smiles on the faces of Gousto customers lately. Black rice is pretty much a perfect ingredient; with more of a bite than white rice, it's pleasingly satisfying. It's also high in nutritional value and, best of all, totally delicious.
Food is a wonderful way to get a taste of culture from around the world from the comfort of your own home. These two recipes aren't everyday dishes for most people in the UK – but that's exactly the point. Both the creamy, sweet and spiced Keralan Coconut Egg Curry and the rich, nutty West African One Pot Chicken Maffe are brimming with flavour and adventure.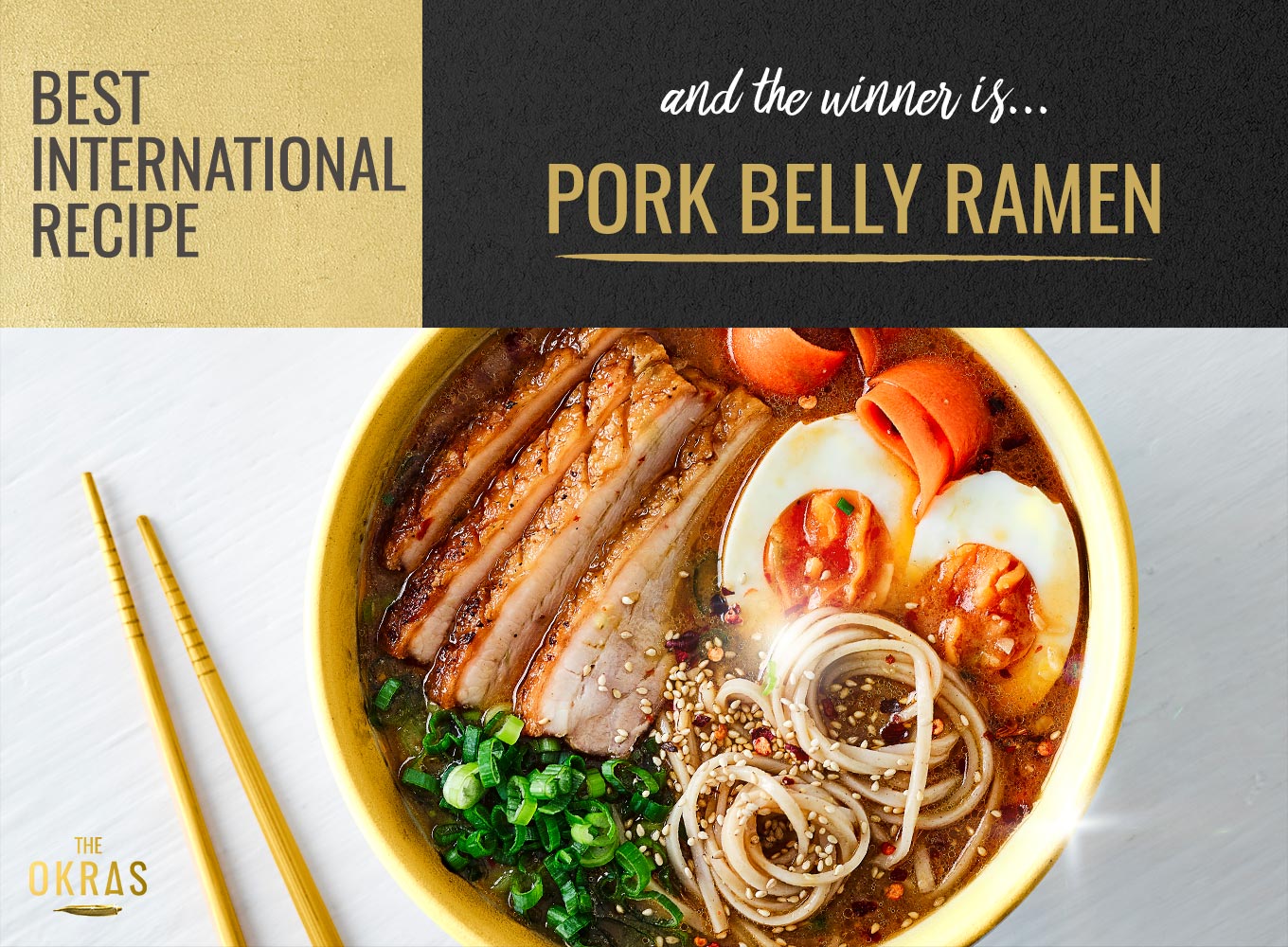 The picture says it all for our international star recipe, the Soothing Pork Belly Ramen With Noodles, but this dish isn't just a pretty face. Pork belly with crispy 5 spice-rubbed skin, a silky umami-flavoured miso broth, a soft boiled egg and fresh veg couple to make a beautifully balanced dish that really is very hard to beat.
Without a doubt, here two of 2017's finest new recipes. Both are pushing recipe boundaries: The Squash & Wheat Berry Salad proves that a salad needn't be either small or unsatisfying in order to be healthy. Meanwhile, the Hazelnut Crusted Pork Tenderloin steps up the idea of a traditional roast with a buttery hazelnut crust, rosemary roast potato chips and a sweet, tangy balsamic apple sauce.
Hats off to the Asian Chicken Burger & Sesame Fries – it's a pretty unusual dish, but it's pulled it off brilliantly! Chicken cooked in soy sauce is shredded and added to a brioche bun along with slices of fresh spring onion and cucumber, before being topped off with a chilli jam mayo. Served alongside sesame fries, it's half crispy duck pancakes, half pulled chicken burger, but 100% fantastic.
Make sure you have friends or family around when you decide to cook these fine looking recipes. Swedish Meatballs With Mash are the sort of recipe that kids, grandparents and everyone in between starts salivating at the thought of; the gorgeous dill garnish and cranberry jewelled gravy, however, make it look as beautiful as it tastes. The Sea Bass With Lemon Mash & Pesto is a perfect colour pallette in a dish, and loaded with satisfying flavour in true Italian fashion.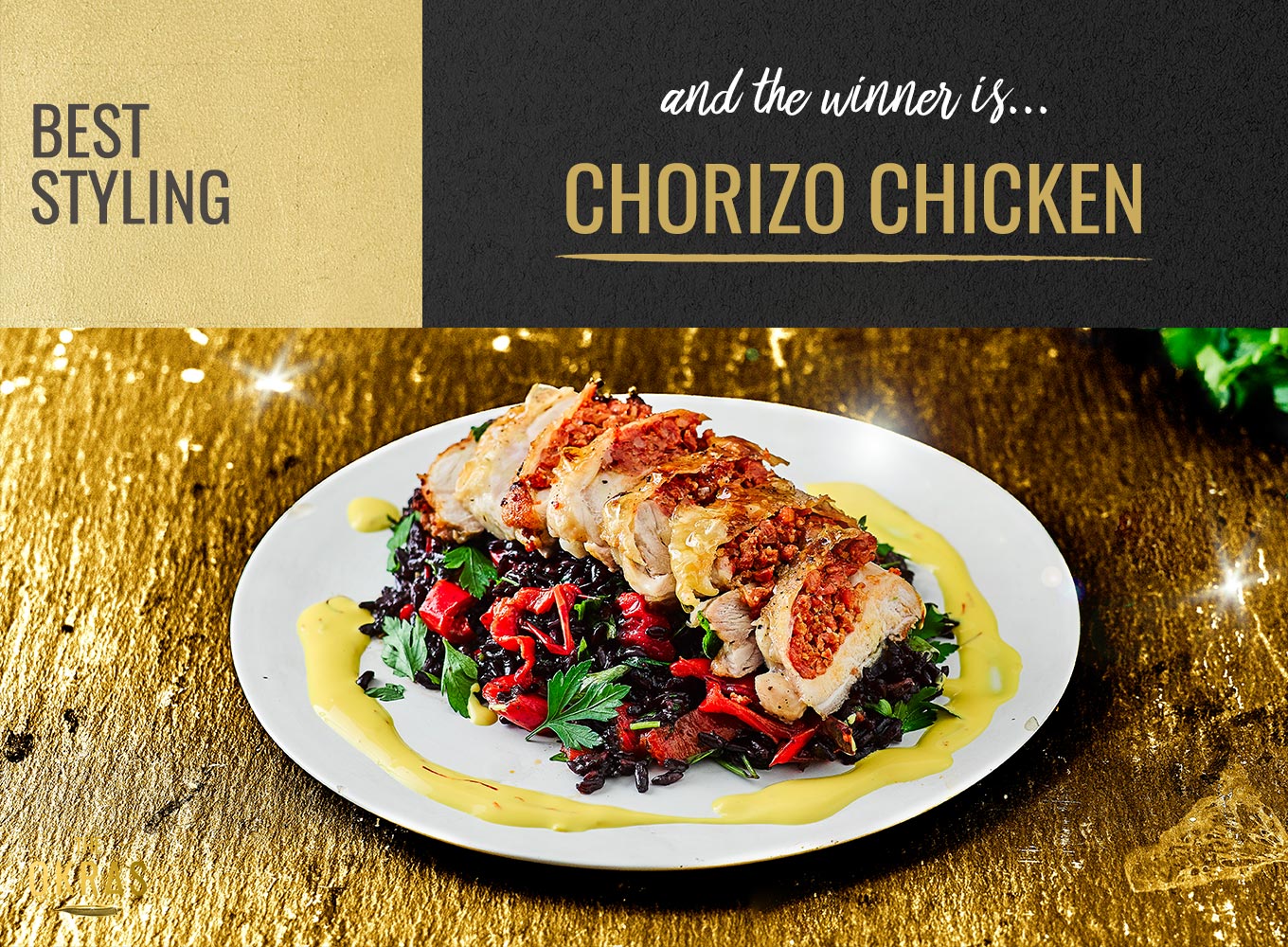 With saffron, romano peppers, black rice, chorizo and chicken all in one dish, the Chorizo Stuffed Chicken & Saffron Aioli was always going to be a winner. It has all the colour of the Sea Bass With Lemon Mash & Pesto runner-up, but the slices of chicken laid out over a kaleidoscopic mix of rice, herbs and pepper and a drizzle of the bright yellow aioli makes this dish look more like a work of art than a colour pallette!
Every now and then we sneak a special cameo ingredient into a recipe to mix things up. Probably the most controversial of these was Green & Black's 70% Dark Chocolate in our Green & Black's Chicken Mole recipe. We know some of you might be thinking, 'chocolate and chicken…what?!' – trust us, it's authentic and inspired. The British-grown samphire in our Salmon & Samphire Summer Pasta went down so well that we're hoping to bring it back in other recipes when it's back in season this Summer. It's salty taste comes from the sea water it grows near; it pairs perfectly with seafood like the salmon in this dish: as a rule 'what grows together, goes together'.
Black garlic is created by taking a garlic bulb and slow-cooking it for weeks (yes, weeks!) in an oven at a low temperature. The result: A sticky, tangy, powerhouse of tamarind-like flavour that's much more versatile than you might think from its distinctive taste. It made a brilliant appearance in our Balsajo Black Garlic Burger in 2016, where minced beef was mixed with chopped black garlic for a meaty bit with a zingy kick.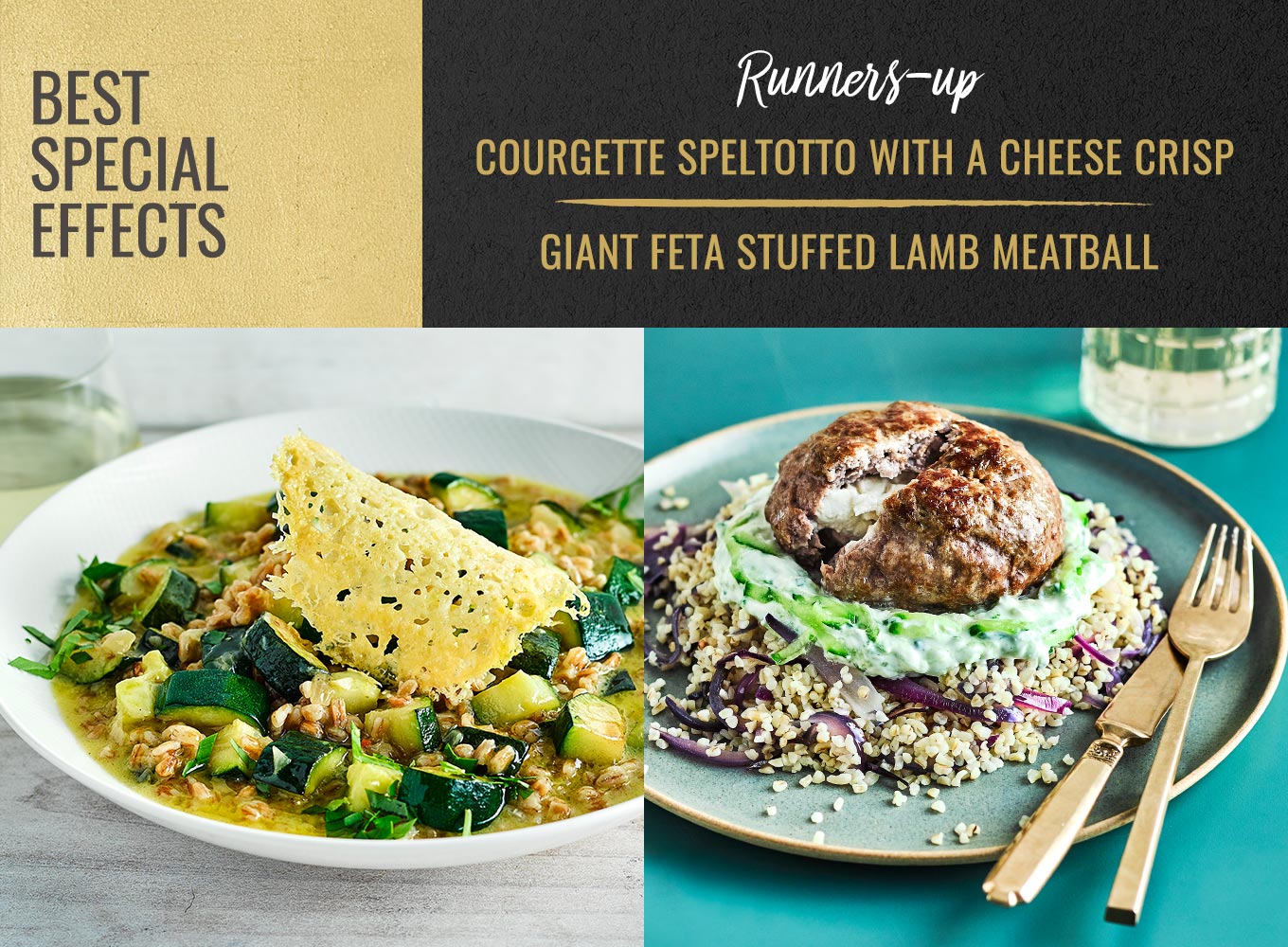 The great thing about the special effects category is that once you've tried these recipes you can use the same techniques again and again in different dishes. Our Courgette Speltotto features a homemade cheese crisp – it's the sort of thing that you'd expect to find in a Michelin-starred restaurant and makes the meal into a masterpiece. The Giant Feta Stuffed Lamb Meatball makes this an unusually large lamb meatball extra exciting (as if it needed to be any more exciting) by hiding cheese inside it – a definite winner with kids!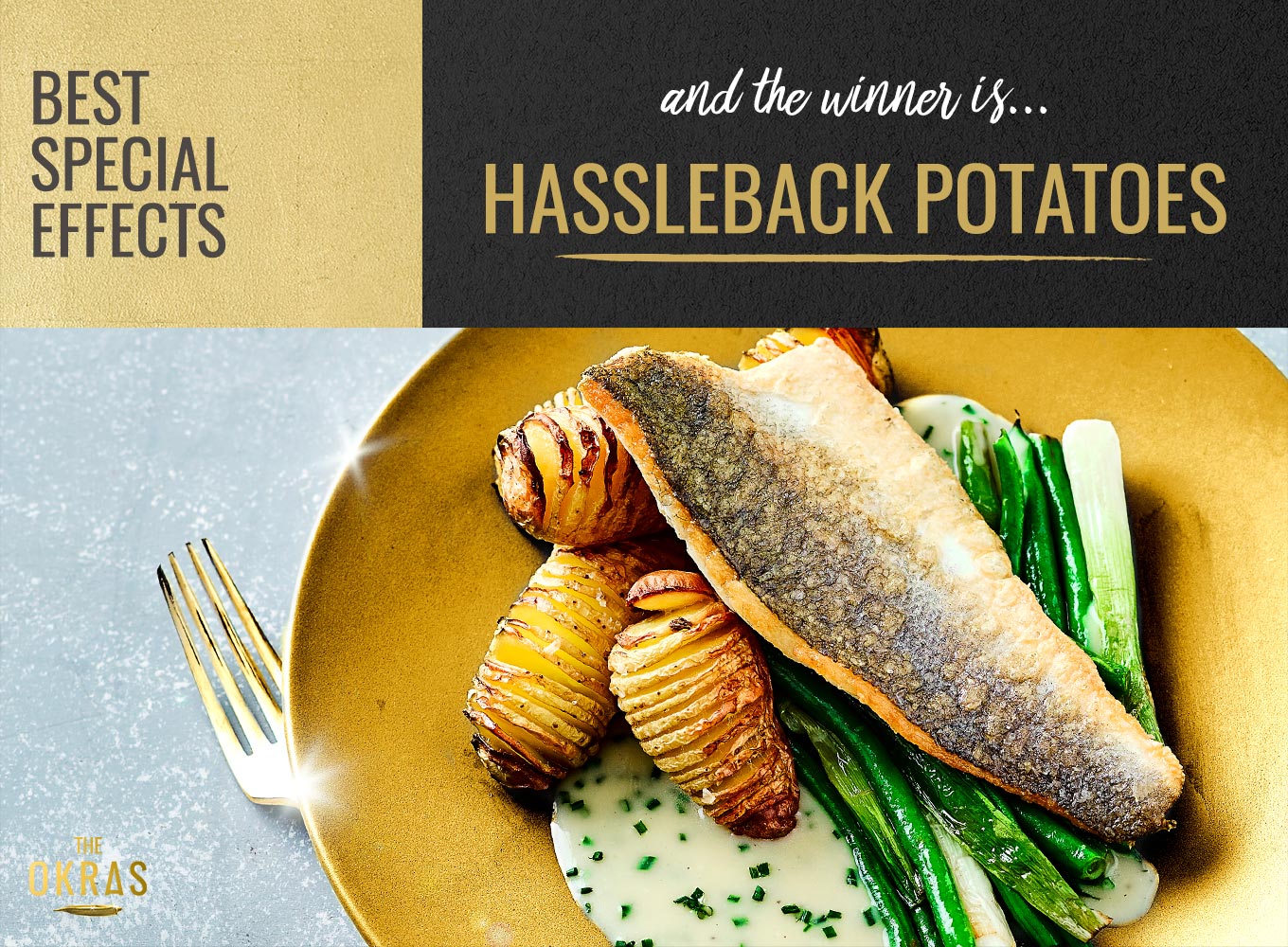 If you're after a way to make new potatoes feel, well, new…this simple special effect is one to learn once and never forget. Place a potato on a wooden spoon and slice down until you hit the spoon – this will leave a little uncut potato as a base. When popped in the oven the results a plain potatoes is transformed into an excellent sauce absorber that looks pretty too. We've used this trick in our Sea Bass With A Chive Veloute Sauce to help create a dish of utter class – magnifique!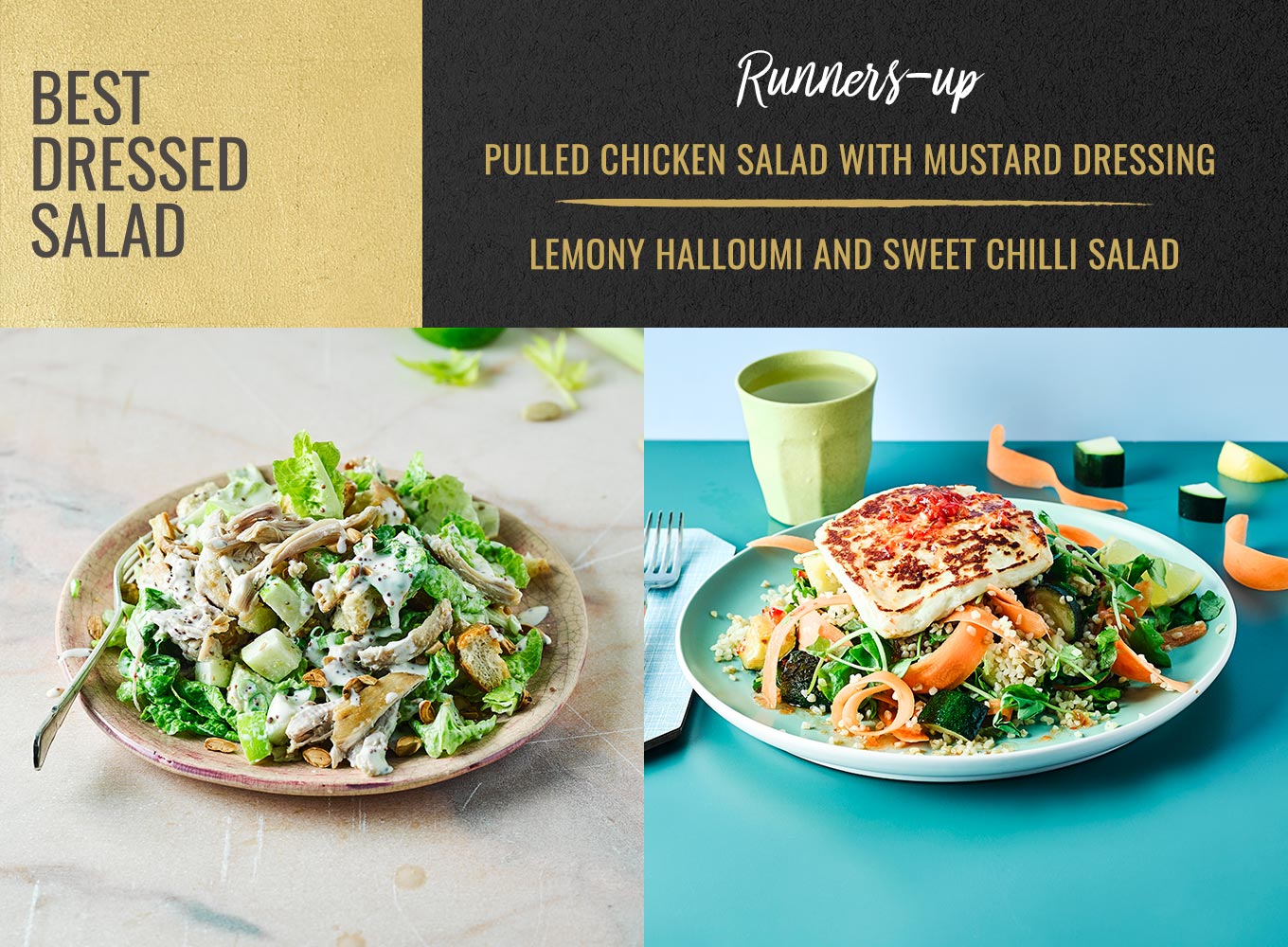 The hotly contested Best Dressed Salad award has two stellar runners-up here in the form of the Crunchy Pulled Chicken Salad, with its classic, creamy wholegrain mustard dressing, and the lemon-chilli kick of the dressing on our Lemony Halloumi & Sweet Chilli Salad recipe. Very different runners up, but both deserving of fame as wonderfully dressed Gousto dishes.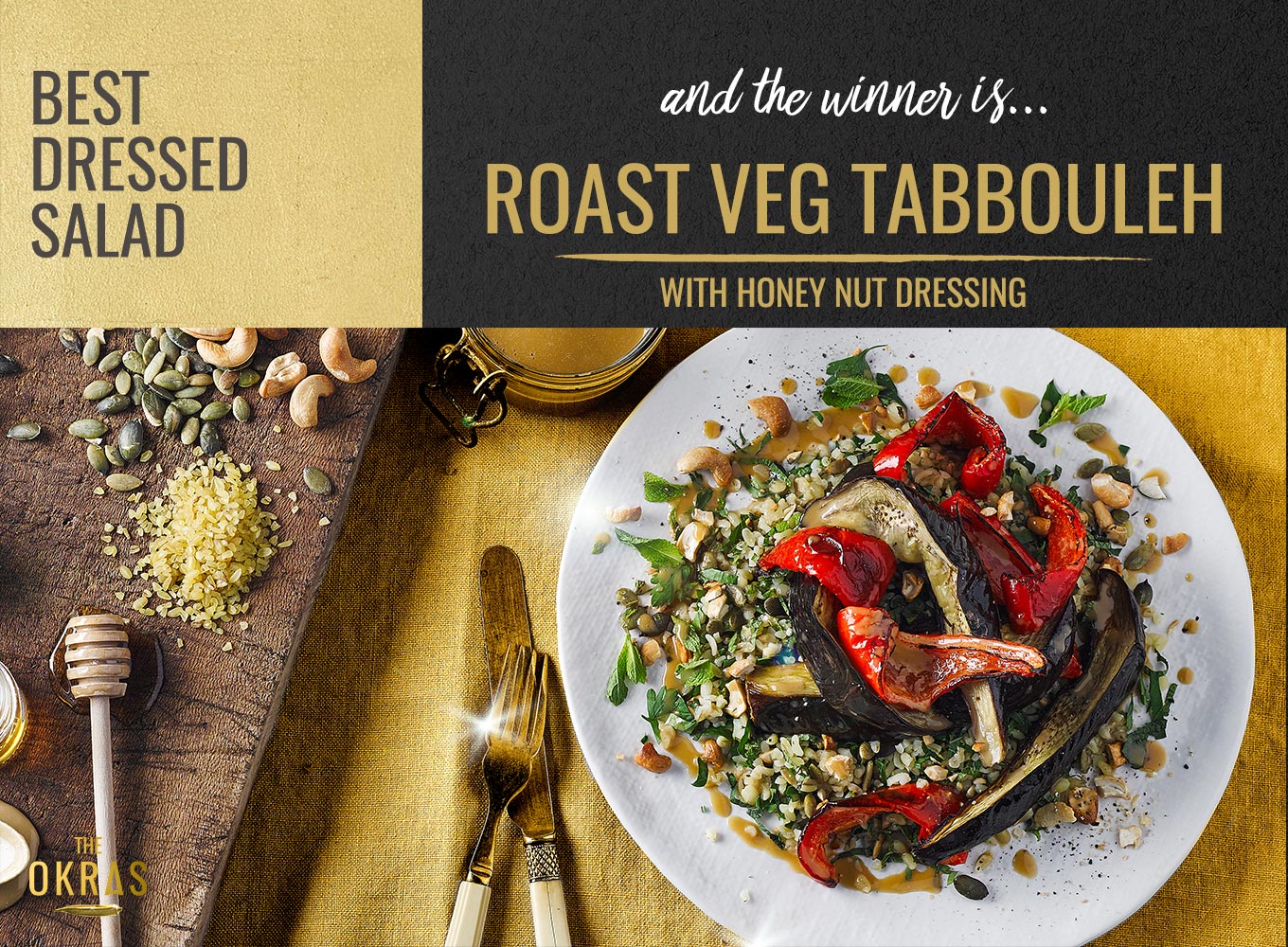 A truly deliciously dressed dish, this Roast Veg Tabbouleh recipe has a silky honey-nut dressing made with tahini paste, honey, soy sauce and olive oil. It might not be a 'salad' in the strictest sense but, topped with roasted pumpkin seeds and cashews, it's one dreamily dressed dish.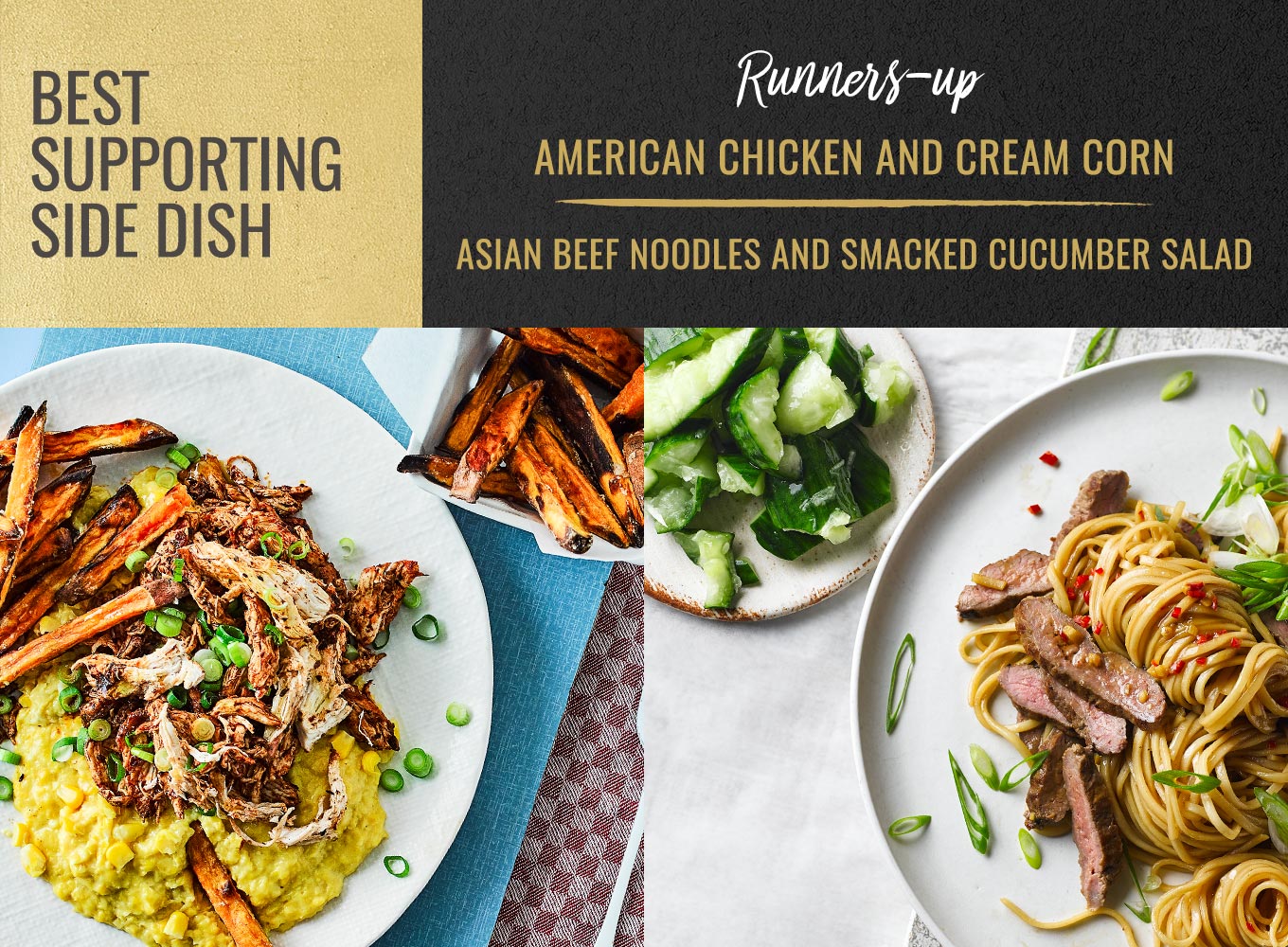 People on social media have been celebrating our American Chicken & Creamed Corn for it's creamed corn, made with clotted cream, shallots and (of course) a whole lot of sweetcorn. The Asian Beef Noodles, meanwhile, use a particularly unusual technique of literally smacking a cucumber with a rolling pin to bruise it and break it up, before tossing chunks of the smashed cucumber with salt and garlic to create a lip-smackingly tasty side to the noodles. Yum.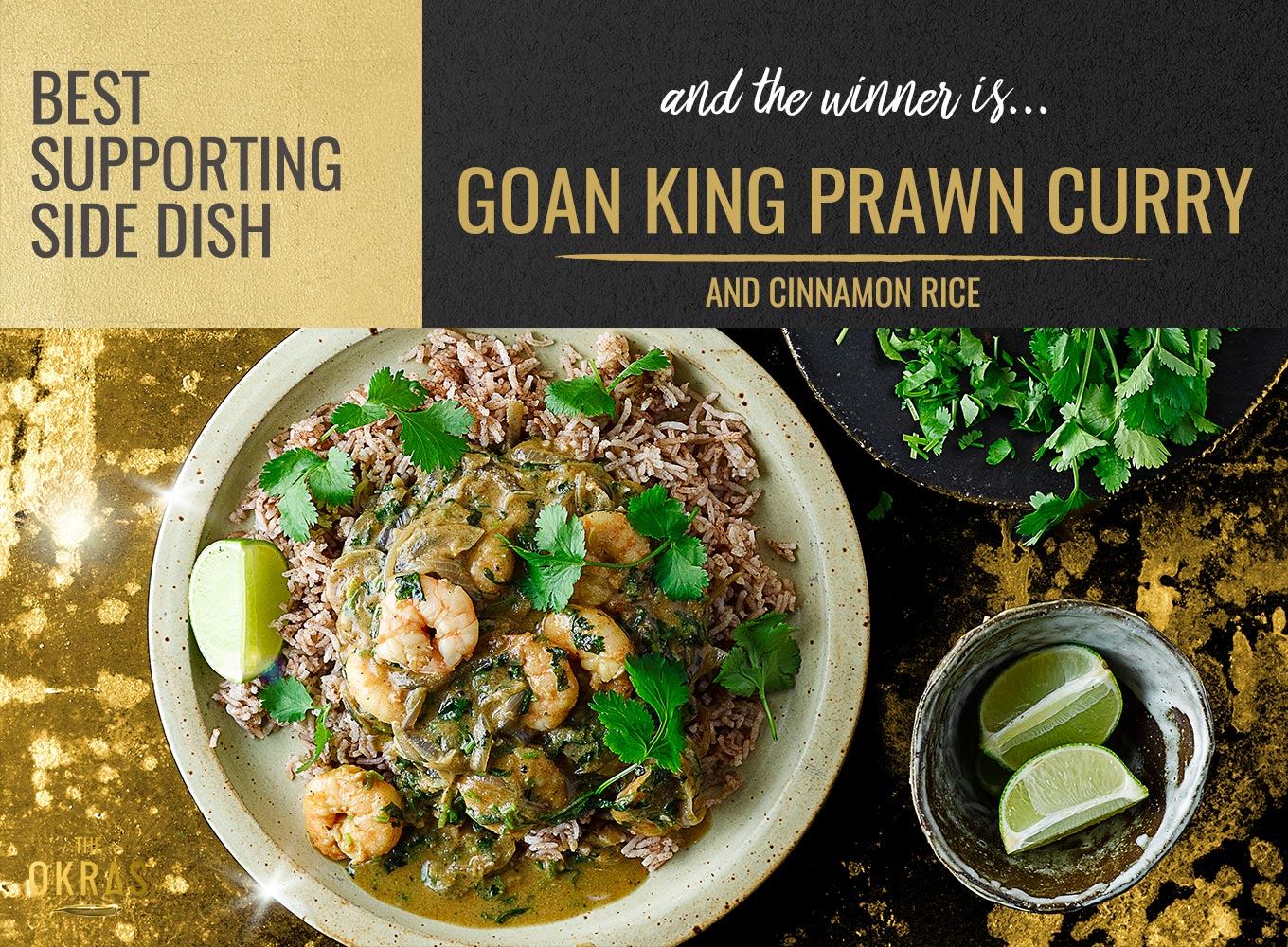 For a simple trick that transforms otherwise plain rice into flavour-packed grains of delicious, cinnamony joy, you really can't top this Goan King Prawn Curry recipe. Who knew that adding a little butter and cinnamon could have such wonderful results!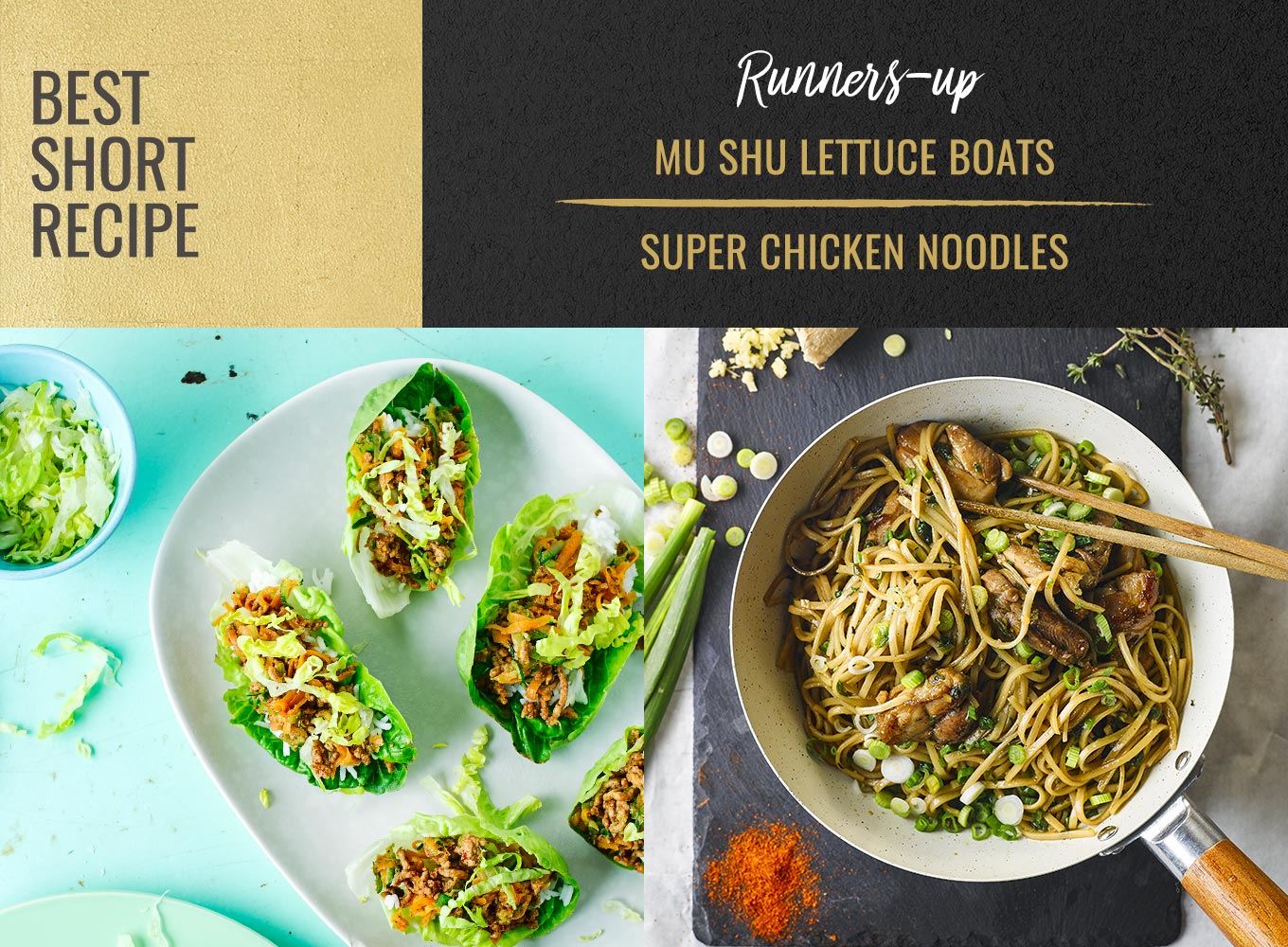 One light and healthy, the other satisfying and comforting, the Mu Shu Lettuce Boats and Super Chicken Noodles are two turbo-charged dishes that are made for those moments when it doesn't feel like you have time or energy to cook a long recipe but still want the achievement and flavour of cooking something from scratch.
Some might call it a 'lazy' lasagne, but you can't come close to the 20 minute cooking time of this Rich Open Beef Lasagne if you're trying to make the oven-baked authentic version. Invite some friends over, call it 'deconstructed' and blow their minds with the its rich moreish flavour. They'll think you've been cooking for hours.
---
What do you think of the choices for this year's Okras winners? Do you think there's a Gousto recipe that was overlooked? Have your say in the comments below, then why not take a look at this week's menu to see if any of the nominees are featured?