Classic Sticky Toffee Pudding
Sticky toffee pudding (or STP to the serious fans) is a perfect autumnal pudding. Delicious served steaming hot after a Sunday roast and also easy to wrap up for a Monday mid-morning pick me up. Dates are the hero ingredient here, they make the cake sticky and soft while the toffee sauce oozes into the cake as it's baking and bubbles up around the edges.
The addition of nutmeg may seem like a premature nod to Christmas, but the somewhat old fashioned spice can be subtle and works brilliantly with soft fruit like dates. Be brave and grate a bit of nutmeg over your greens and cauliflower cheese too!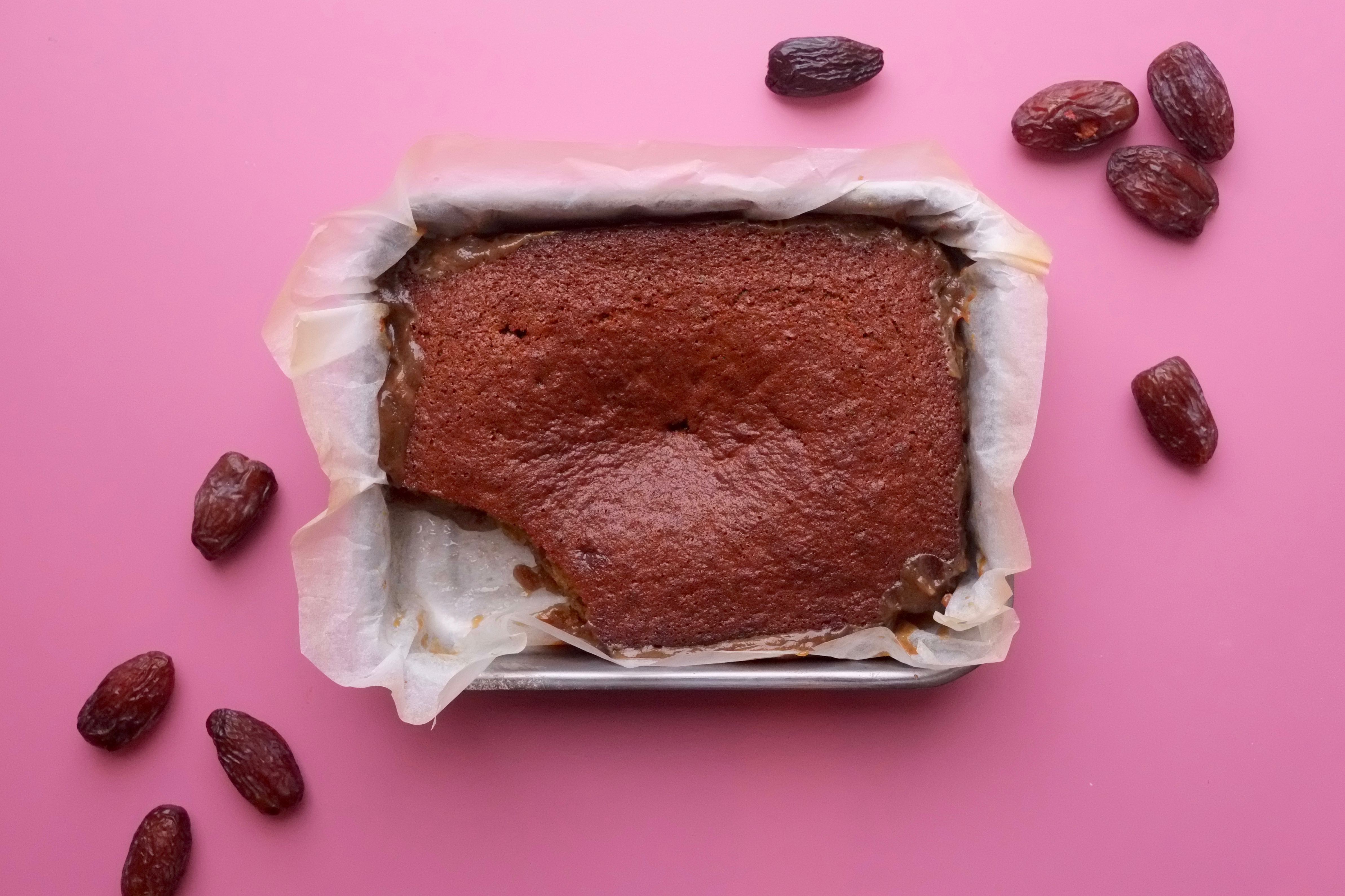 Serves: 6-8
Prep time: 30 mins
Cooking time: 30-35 mins
Ingredients:
For the Toffee Sauce
50g unsalted butter
50g soft brown sugar
150ml double cream
For the Cake
200g dates
1 tsp bicarbonate of soda
200ml boiling water
50g unsalted butter (at room temperature)
150g soft brown sugar
1 tbsp golden syrup
2 free range eggs
200g self-raising flour
½ tsp ground nutmeg
Cooking Method:
1. Preheat the oven to 200°C/ 180°C (fan)/ 400°F/ Gas 6
2. Melt the butter in a small pan over a low heat
3. Mix in the sugar and cook until it starts to bubble
4. Add the cream and slowly bring to the boil – this is your toffee sauce
5. Butter a small deep tin and line with baking paper, making sure that the paper comes up above the tin all the way around
6. Pour the toffee into the tin and allow to cool while you make the cake mix
7. Chop the dates, cover with 1 tsp bicarbonate of soda and 200 ml boiling water and leave to soak.
8. Mix the butter and sugar in a bowl or freestanding mixer
9. Add the golden syrup and eggs, one at a time
10. Add the sifted flour and ground nutmeg
11. Mix in the soaked dates and their liquid
12. Pour into the tin, on top of the toffee sauce allowing the toffee to ooze up around the edges
13. Bake for 30-35 minutes and serve straight from the oven
Tip: Pour some more double cream over the top before serving, or use it to whip up some extra toffee sauce now that you know how easy is it to make.
---
If you're still feeling peckish be sure to check out our other awesome dessert recipes, including luxurious Butterscotch Chocolate Blondes or a sharp and tangy Easy Lemon and Raspberry Possett – the perfect palate cleanser.
What did you think of our sticky toffee pudding recipe? Do you have any tips or tricks for this Sunday classic? Let us know in the comments below.