Chocolate Christmas Pudding Recipe
Christmas puddings can take up to 8 hours to make – that's a seriously long time for something which usually only gets served when people are already stuffed with turkey and all the trimmings. There's every chance people are already so full that they're only taking a slice out of politeness, and nobody wants their festive dessert masterpiece to go unappreciated after all that hard work.
Christmas Pudding Idea
If there's one way to make sure people will love a dessert, it's by adding chocolate. That's why we've come up with this clever twist on a Christmas pudding. We haven't even told you the best part yet – it takes less than 2 hours to make! OK so if we're being honest, apart from appearance it's not all that much like a Christmas pudding…but it tastes incredible and you'll win serious brownie points for creativity and sneaking a chocolate dessert onto the Christmas dinner table.
Chocolate Christmas Pudding Recipe
Ingredients (for 5-8 servings):
Equipment:

For the pudding:

90g flour
20g cocoa powder
90g sugar
90g butter
30ml Greek yoghurt
2 eggs
1 tsp baking powder
a pinch of bicarbonate of soda
For the sauce:
60g milk chocolate
60g dark chocolate
125ml double cream
40g golden syrup
Method:
Combine the flour, cocoa powder, sugar, eggs, baking powder, bicarbonate of soda, yoghurt and butter in a food processor and blitz until fully mixed
Grease the inside of a plastic pudding bowl and lid with a knob of butter
Empty the pudding batter from the food processor into the pudding bowl – it should only come halfway up the bowl
Smooth down the batter in the pudding bowl with the back of a spoon and put the lid on
Wrap the pudding bowl tightly in tin foil – it needs to be fully sealed to prevent water from getting in!
Bring a pan of water with a matching lid to the boil, add the tin foil wrapped pudding bowl, cover with the pan lid and steam the pudding for an hour and a half
When the pudding is nearly ready, add the milk chocolate, dark chocolate, double cream and golden syrup to a pan. Gently heat the pan until the chocolate has melted, then remove from the heat and whisk to combine
Serve your pudding with the chocolate sauce drizzled over (and cream or brandy butter for added decadence!)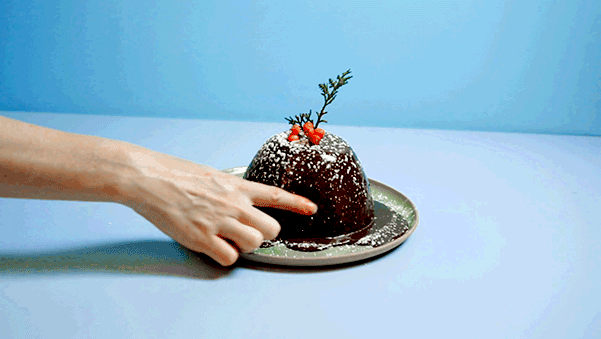 ---
Have you seen some of our other Christmas recipes? Here are a few other Christmas posts on the Gousto blog that we think you might like: