Around the world in 8 dishes
One of the best things about cooking is that it allows you to get a taste (literally) of cultures from around the world, without even having to leave the house. Now, we love a good holiday as much as the next recipe kit delivery service, but when we're not able to go on a bit of an adventure, we reckon that an exciting recipe from another part of the world is the next best thing.
With that, here's a map of the 8 recipes we're picked from the Gousto cookbook to give you a taste tour of the world: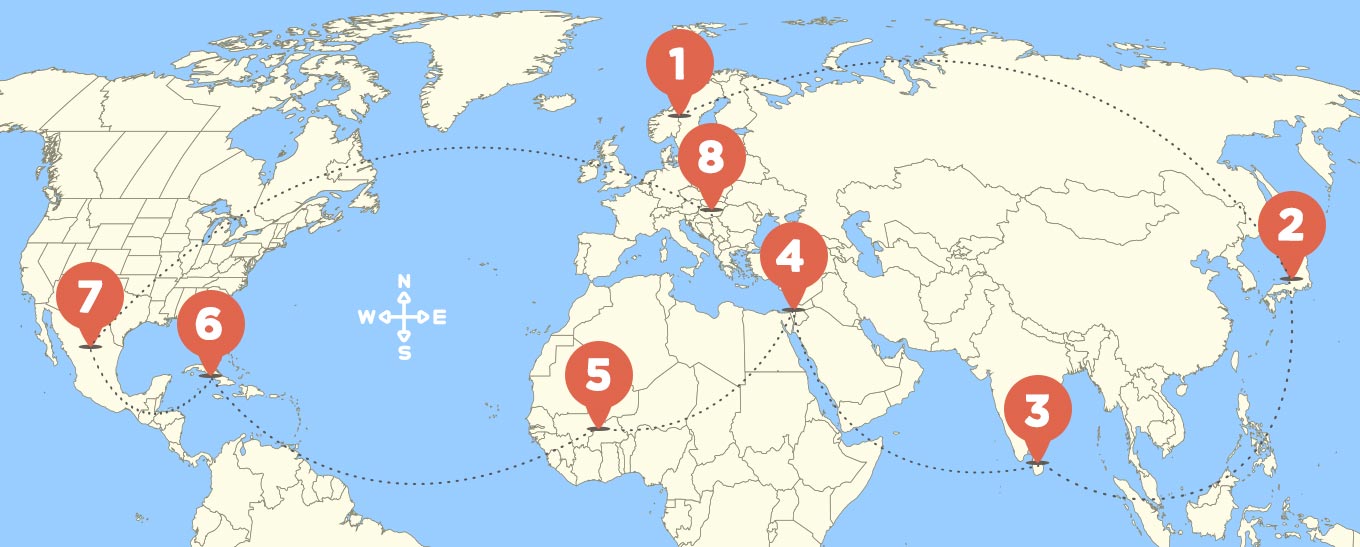 Take a look at each of our globetrotting recipes below – they're all based on cuisine from a specific area. Make sure you try one next time you travel, or give one a go at home when you feel like it's time to try something a little bit different.
1. Scandi Salmon With Horseradish Mayo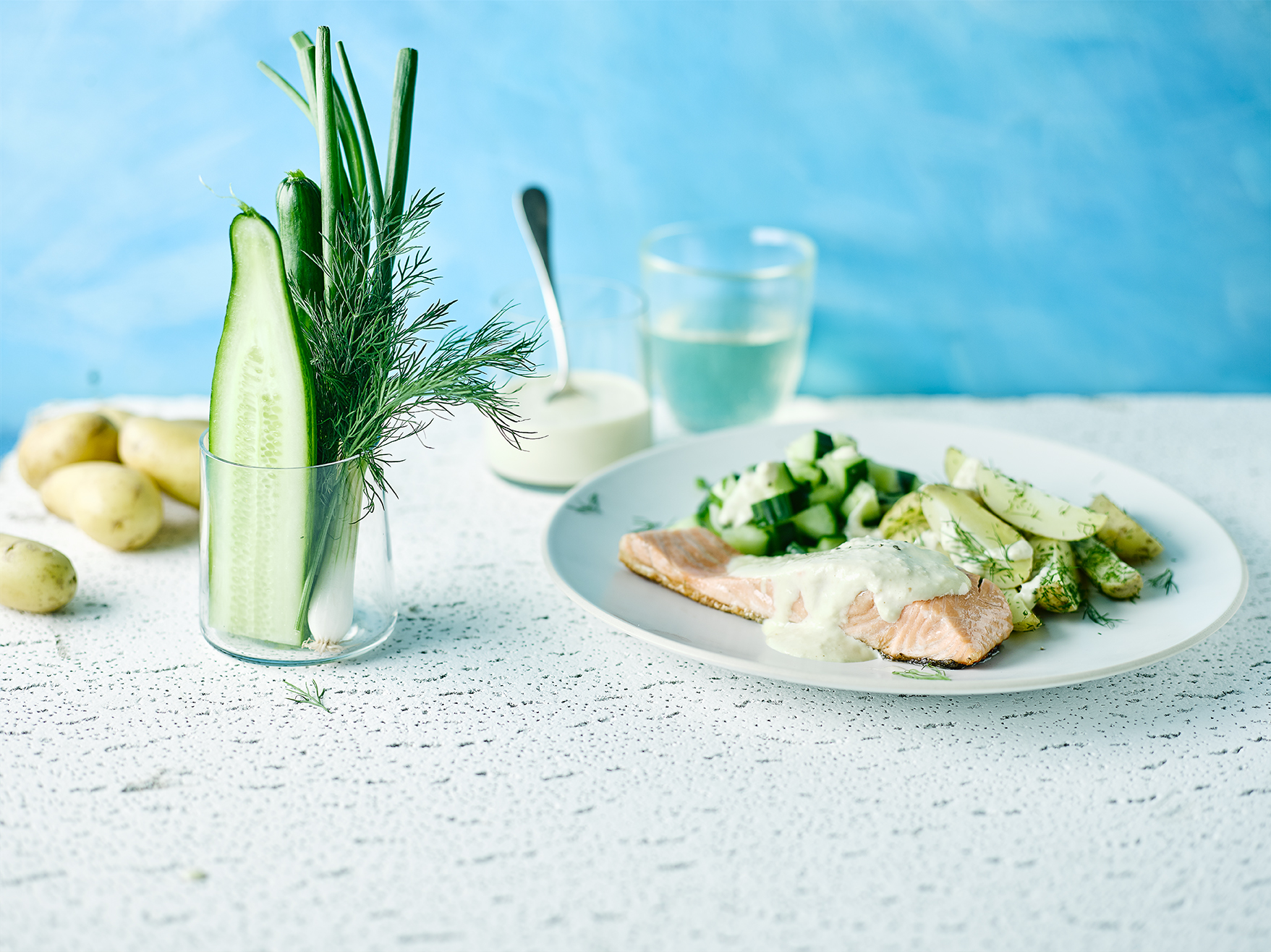 The chilly climate in Scandinavia has meant that, historically, it's been challenging to maintain good farmland there all year round. This has resulted in Scandinavian countries turning to the oceans as a reliable source of protein, for example salmon from the North Atlantic or Baltic Sea. This dish combines salmon with two other staples of Scandinavia: horseradish and dill (known in Sweden as "king of the herbs").
2. Japanese Chicken Karaage With Black Rice
Karaage is a Japanese cooking technique that, similarly to tempura, deep fries a food in oil to create a moreish, crunchy treat. It's often used with chicken thigh to create a flavoursome starter or snack, but we've replaced the thigh with breast in this recipe to create a main course that feels a little more sophisticated. The chicken is balanced with a Japanese mayonnaise that's made with rice wine vinegar – its tanginess cuts straight through the fried flavour resulting in a perfectly balanced pairing.
A couple of years ago, Chef Alice went to Sri Lanka and decided to try the local crab curry – a classic local dish. What she was presented with was an entire crab sat in a bowl of creamy coconut curry. As delicious as the coconut, lime and crab combination was, breaking through the shell was no easy task – that's why she created this altogether more manageable version using quality pre-shelled Cornish crab meat from Seafood & Eat It.
4. Israeli Spiced Rice With Crispy Onions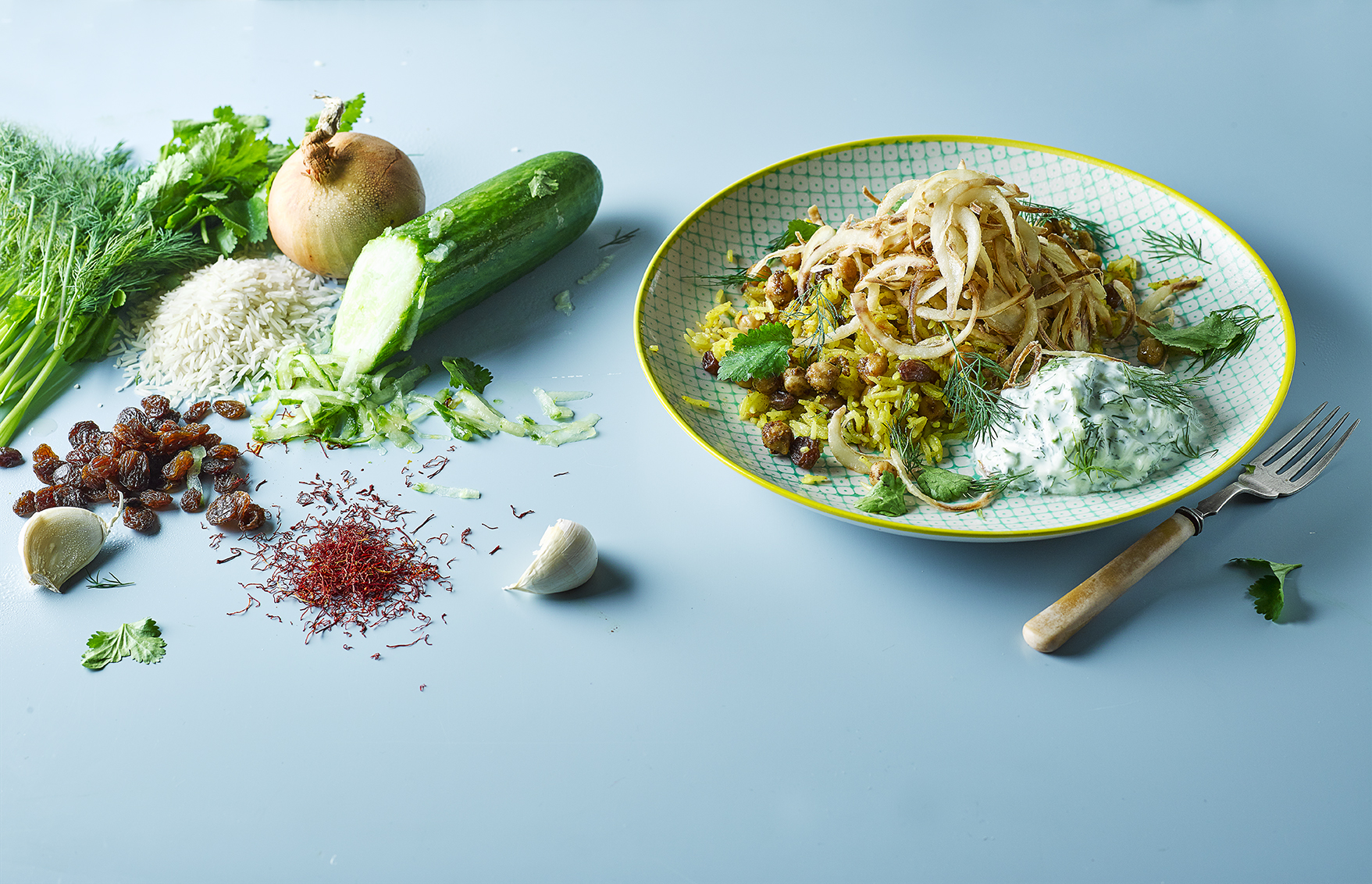 It's hard to think about Israeli food in the UK without bringing to mind Yotam Ottolenghi, whose style of cooking brings together ingredients with big, distinctive flavours yet all work well together; this vegetarian dish does just that. Making use of ingredients grown and consumed in the areas around Israel such as saffron, chickpeas and sultanas, this dish plays with the Israeli big-flavour combinations principle. As a vegetarian dish, it also nods to the enormous boom of vegetarianism and veganism in Israel, particularly over the last 5 years.
5. West African One Pot Chicken Maffe
Maffe, also known as groundnut stew, was originally a Malian dish that is now popular throughout Western and some parts of Central Africa. While the traditional dish is one perfect for long, slow cooking times using huge pots to feed many people at once, we've reinvented it to create a simple one pot version that saves on time and washing up, but doesn't scrimp on rich, deep flavour thanks to peanut butter and our own homemade ras el hanout, made with whole rose petals.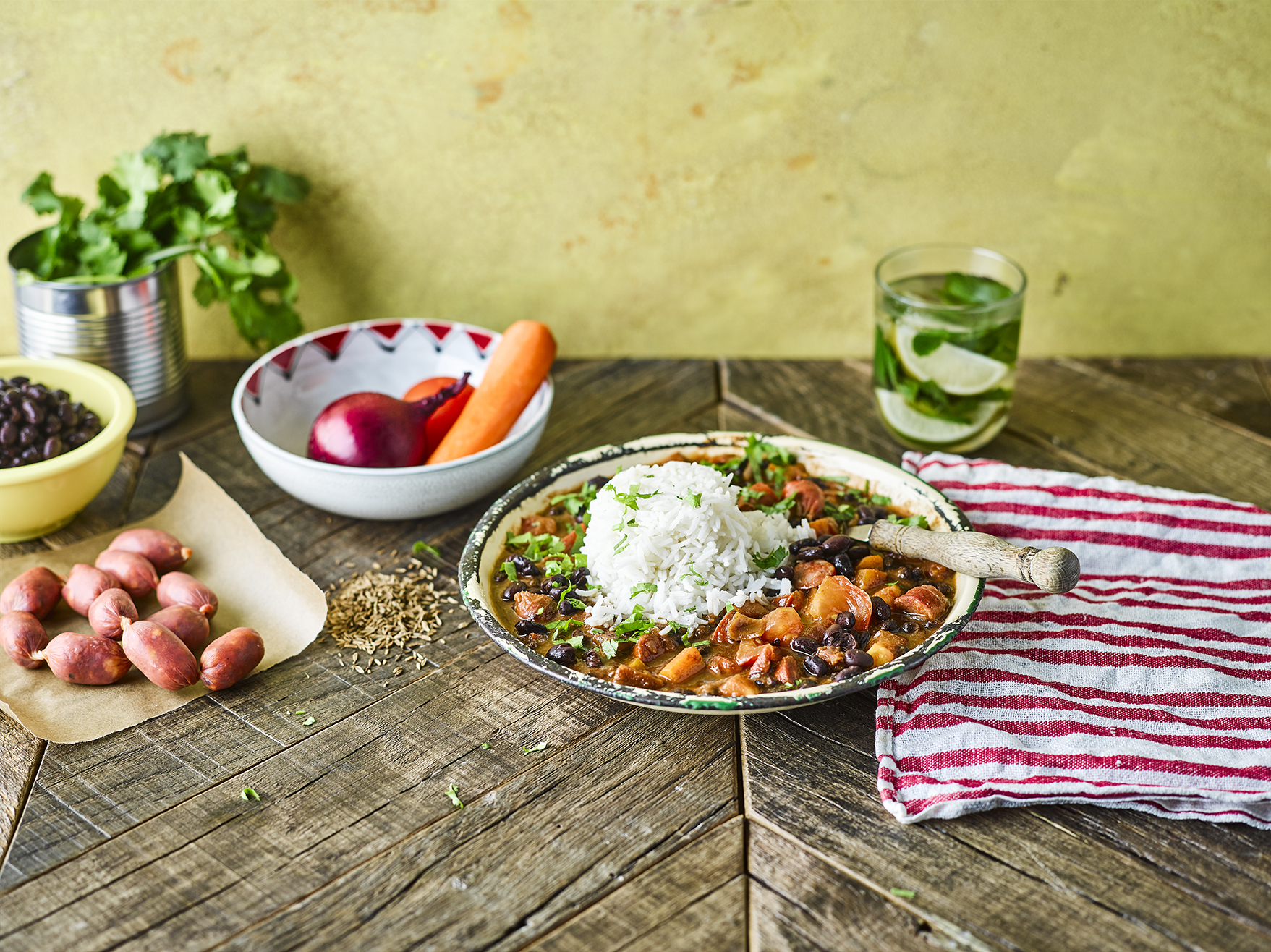 Cuban cuisine often takes advantage of the big Spanish flavours inherited from their European colonisers and couples them with Caribbean ingredients available on the island. This stew is a perfect example, with tangy chorizo working alongside coconut cream and black beans to create a distinctive fusion of flavour that's both comforting and exotic.
7. Mexican Pork & Black Bean Rice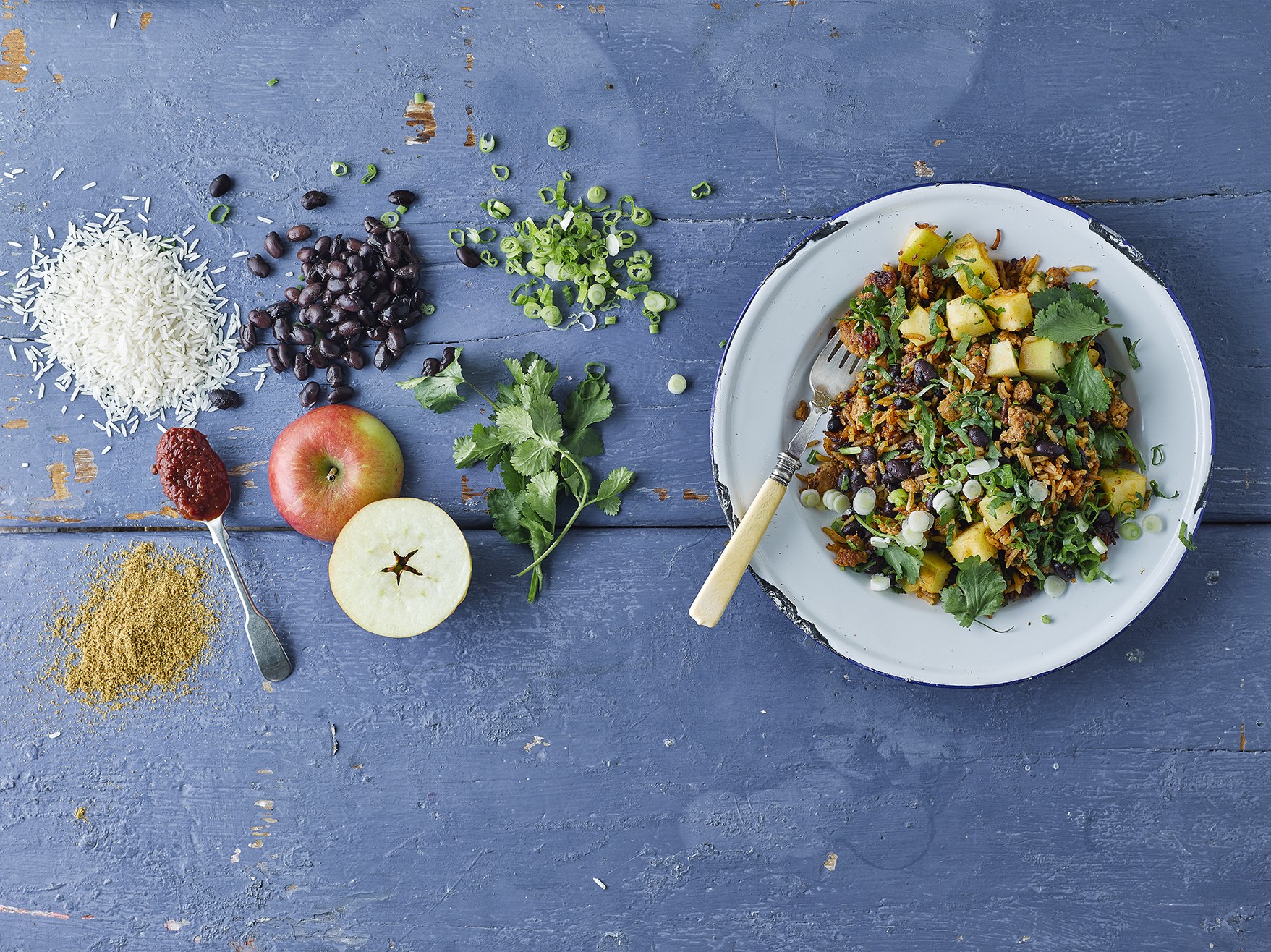 Chillies are a big deal in Mexico, with different varieties in different regions throughout the country, totalling thousands of variants nationwide. Chipotle, one of Mexico's definitive ingredients, is made by smoke-drying jalapeño peppers to create a hot, smoky dry chilli that can be ground to a paste or made into a wet chipotle sauce. When combined with a classic flavour pairing like pork and apple in this dish, it makes a hearty, moreish meal that's brimming with authentic Mexican flavour.
8. Hungarian Goulash
Goulash is the national dish of Hungary – it usually combines either pork or beef with peppers in a stew. Paprika (which is made from dried peppers) is another common ingredient in goulash – which partly explains the popularity of the dish in Hungary and the rest of Eastern Europe, where peppers are widely grown. Goulash is often made using tougher cuts from an animal, which are then slow cooked in the stew to soften the meat. In our version we've used tenderloin, the softest pork cut, instead to shorten the cooking time without compromising on flavour.
---
Let us know what you think of our dishes from around the world in the comments! Did we miss any of your favourites?
For some other timeless recipe suggestions, take a look at our 6 Recipes With Classic Ingredient Pairings post or read our interview with MasterChef finalist Tony Rodd, who is presenting our Season to Taste pairings workshops in London during March and April.