Christmas Vegetarian Pithivier
If you're vegetarian, you're probably sick of hearing all the turkey chatter long before Christmas has even begun. If, on the other hand, you're not used to having a vegetarian in your midst at Christmas, then the thought of cooking a vegetarian dish that's suitably special (and also has a nice festive twist) is likely to be pretty daunting. Either of these sound like you? If so, take a look at this Christmas Vegetarian Pithivier recipe.
Wrapped like a present in all butter puff pastry and with a big helping of vegetarian stuffing and cranberry sauce inside, this pithivier makes a perfect vegetarian Christmas dinner. Thanks to a portobello mushroom and spinach, with a few Christmas side dishes to accompany it, one of these parcels is easily enough to fill someone up just as much as any roast turkey could!
Our Pithivier recipe
Ingredients: 
4 large portobello mushrooms
1 garlic clove
400g spinach leaves
5g fresh thyme
500g all butter puff pastry
200g vegetarian stuffing
cranberry sauce
1 egg
flour
olive oil
Method:
Heat the oven to220°C/ 200°C (fan)/ gas 7. Heat a large, wide-based pan (preferably non-stick) with a large glug of olive oil on a medium-high heat and remove the stalks from the mushrooms while it's warming up
Add the mushrooms to the hot pan and cook for 3-4 mins on each side, or until they start to turn golden. When ready, remove the mushrooms and place them on some kitchen paper to soak up the liquid
Return the same pan to the heat and add another glug of oil. Add the garlic and cook for 1 minute, then add the spinach and cook over a medium-high heat for a further 2-3 mins, or until the spinach has wilted completely. Add a pinch of salt and pepper, then transfer the spinach to a sieve to drain
Sprinkle a little flour onto a clean surface and roll out the pastry on top with a rolling pin, to about the thickness of a £1 coin. Using a saucer, cut out 4 circles a little wider than the mushrooms, then with a larger saucer or plate cut another 4 circles about 10cm wider than the mushrooms
Put the 4 smaller circles on a baking tray and spread a couple of teaspoons of cranberry sauce on top of each with the back of a spoon, leaving a little space around the edge of the pastry. The place 1/4 of the spinach in the centre of each circle, and top with a mushroom cup filled with vegetarian stuffing, stuffing side facing down
Brush the edge of the pastry circle with a little whisked egg, then carefully place one larger circle of pastry on top of each pile and pat it into place, making sure you trap as little air as possible in each. Once in place, use a fork to  press the edges of the top and bottom pastry circles together
Brush the outside of each pithivier with all of the remaining whisked egg. Sprinkle the top with some fresh thyme leaves, then place in the oven for 40 minutes or until the pastry is golden
Serve, alongside your favourite Christmas sides!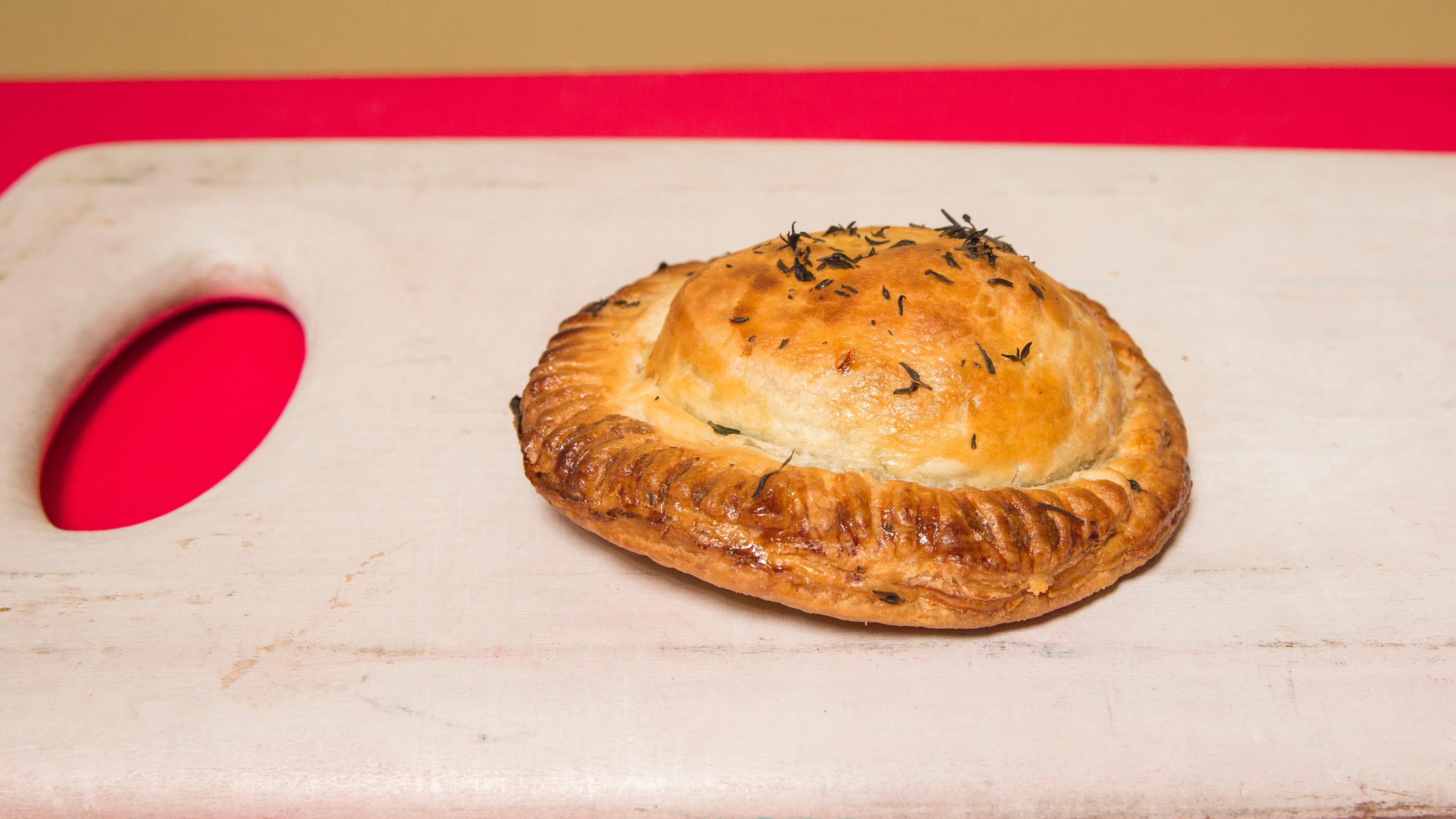 ---
Let us know what you think of this recipe in the comments! Looking for some other Christmas recipe ideas? Take a look at some of our other festive posts: