Floating Islands Recipe
This is the ULTIMATE Easter dessert. Why? Because it's a celebration of all the eggstraordinary things you can with eggs…
Delicate poached meringue islands float atop a creamy home-made egg custard. The French call it Iles Flotantes, which translates to 'Floating Islands'. Typically it's served with a little smattering of praline or caramel over the top. We've gone for crushed mini eggs for colour, crunch and ease.
Light, creamy yet decadent, it's eggsactly what you want after a big Easter weekend.
N.B. If you're not bothered about making your own custard and meringue, you can of course buy them and assemble accordingly.
---
You'll Need (serves 4):
For the custard
300ml milk
300ml double cream
1 vanilla pod or half a tbsp of vanilla bean paste
6 egg yolks
100g caster sugar
1 tbsp cornflour
For the islands
6 egg whites
135g icing sugar
A pinch of salt
A squeeze of lemon
To serve
A handful of pretty mini eggs, crushed
Method:
1. Heat the milk, cream and vanilla over a medium heat until it's hot but not boiling
2. Meanwhile, give the egg yolks, cornflour and sugar and good old whisk until you've got a yellow eggy sugar mixture
3. Pour the warmed vanilla milk over the eggy sugar and whisk it all together
4. Return the milky egg mixture to a large pan over a very low heat and whisk until the mixture has thickened and coats the back of a spoon (roughly 5 min). Remove from the heat and chill for at least 4 hours. It will thicken as it cools
5. For the meringue, add the egg whites, icing sugar and salt to a heatproof bowl and set it over a pan of lightly boiling water (or in a bain marie)
6. Stir until the icing sugar has dissolved into the egg whites, then remove from the heat
7. Whisk the egg white and sugar mixture with a squeeze of lemon and a pinch of salt with an electric whisk until you get shiny, stiff peaks
8. To cook the islands, add small spoonfuls of meringue to a large pan of simmering water and cook for about 1 min or until they are puffed up a little and set. Alternatively you can cook them in the microwave on medium high for 30-60 seconds. Just do them in batches of 3, and leave some space between them.
9. Assemble the floating islands by spooning the custard into dishes, top with the poached meringues and scatter the crushed mini eggs around.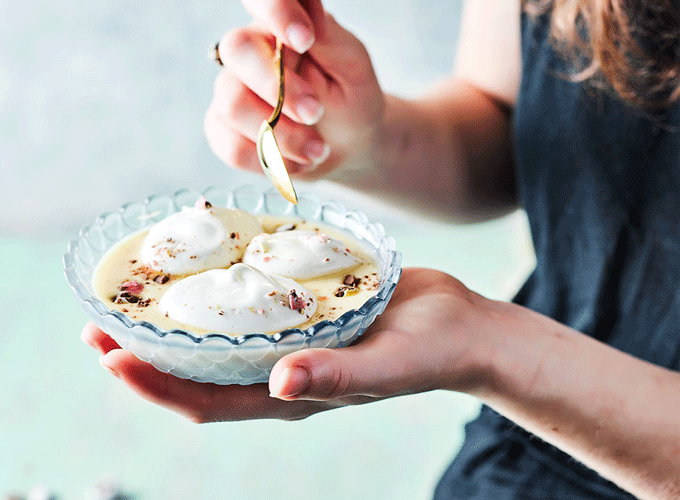 Looks tasty right? If you've tried floating islands before, let us know what you think of them in the comments. For more Spring recipe ideas, take a look at our Hot Cross Bun & Butter Pudding and Hoppy Road recipes.