Lemon Meringue S'Mores Recipe
S'mores are one of those very American things that, like baseball, marching bands and supersized portions, has never quite managed to take root here in the UK. We started chatting s'mores at Gousto HQ and all the Americans (we have a few) started nodding their heads and generally sounding their approval. "Uh, huh, yeah! So good," was the general gist!
How to make s'mores
If you're a little unsure about the bare facts of what these funny little treats are, let us explain the basics…
Stick a couple of marshmallows in the fire until melty and toasted (like when you're camping)
Pop the warm, toasted marshmallow between two graham crackers (or biscuits) with a nugget of chocolate
Congratulations, you now have your very own s'more!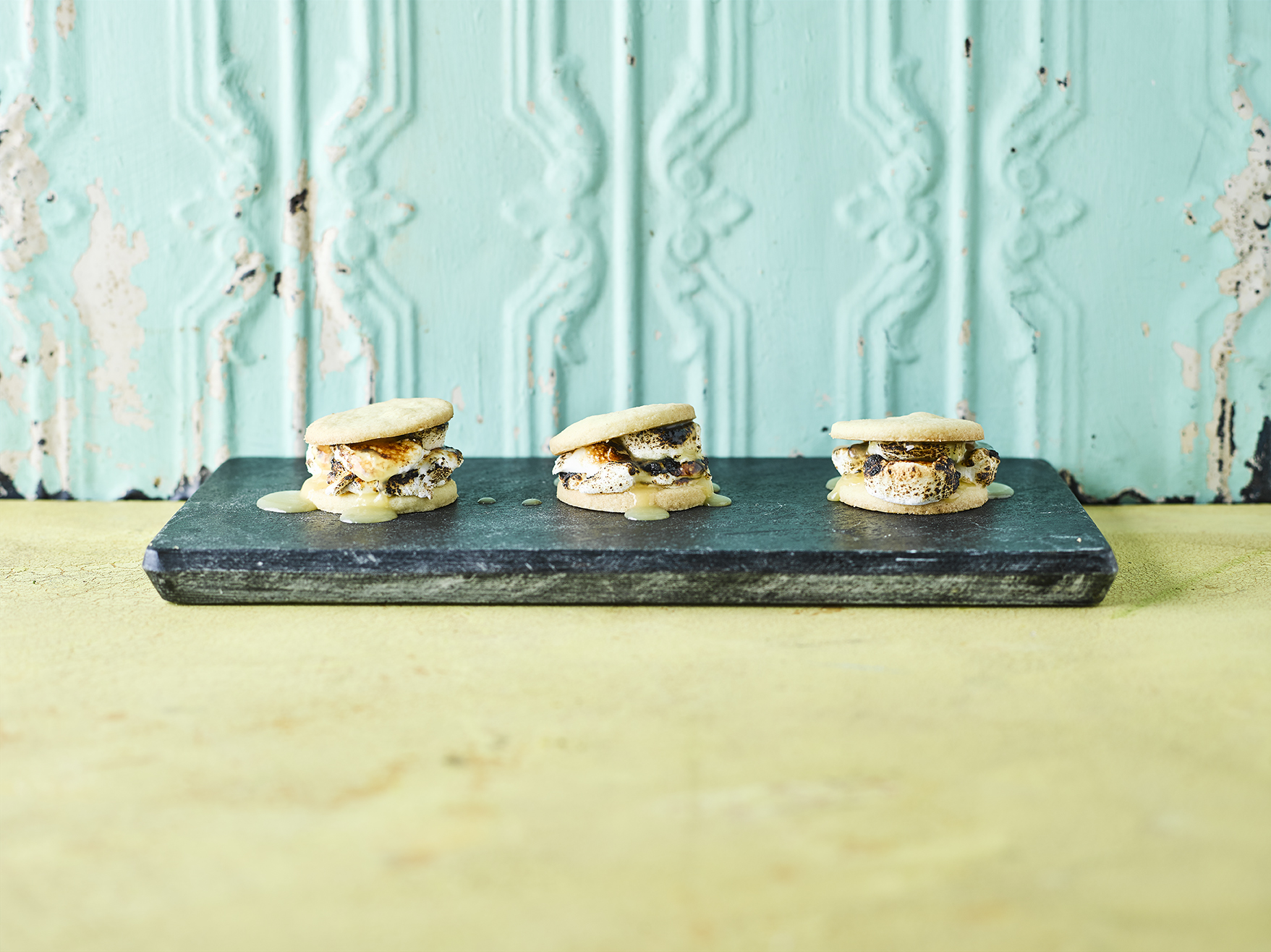 Not content to follow the tried and tested approach of our transatlantic cousins, we decided to make s'mores that are more at home on British lawn than American summer camps; and there's nowt more British than a lemon meringue pie. We've swapped crackers for shortbread biscuits and chocolate for lemon curd dip, but left in the marshmallows in place of meringue.
And the results? Gooey, sharp, lemon buttery biscuit joy. This is one hybrid worth hi-fiving over!
Our Lemon Meringue S'Mores Recipe
For the shortbread, you'll need:
300g butter
300g flour
150g sugar
150g cornflour
a pinch of salt
Method:
Cream together the butter and sugar, along with a pinch of salt, until pale and fluffy
Combine the flour and cornflour and add to the sugary butter mix, lightly working it in with your fingertips until you achieve a breadcrumb-like consistency
Bring the mix together into a ball with your hands, cover with clingfilm and refrigerate for at least an hour
Roll out and cut into discs
Bake for 10-15 mins
For the lemon curd, you'll need:
2 unwaxed lemons
100g caster sugar
50g unsalted butter
1 whole egg
1 egg yolk
Method:
Add the lemon zest, lemon juice, sugar and butter to a heatproof bowl
Sit the bowl over a pan of hot water, making sure the bottom of the bowl isn't touching the water. Stir the mixture until the butter has melted
Whisk the egg and extra egg yolk lightly
Add the whisked egg mix to the lemon butter mixture
Whisk until everything is well combined then leave to cook for 10-13 minutes, stirring occasionally, until the creamy mixture is thick enough to coat the back of a spoon
Leave the mixture to cool, then refrigerate until using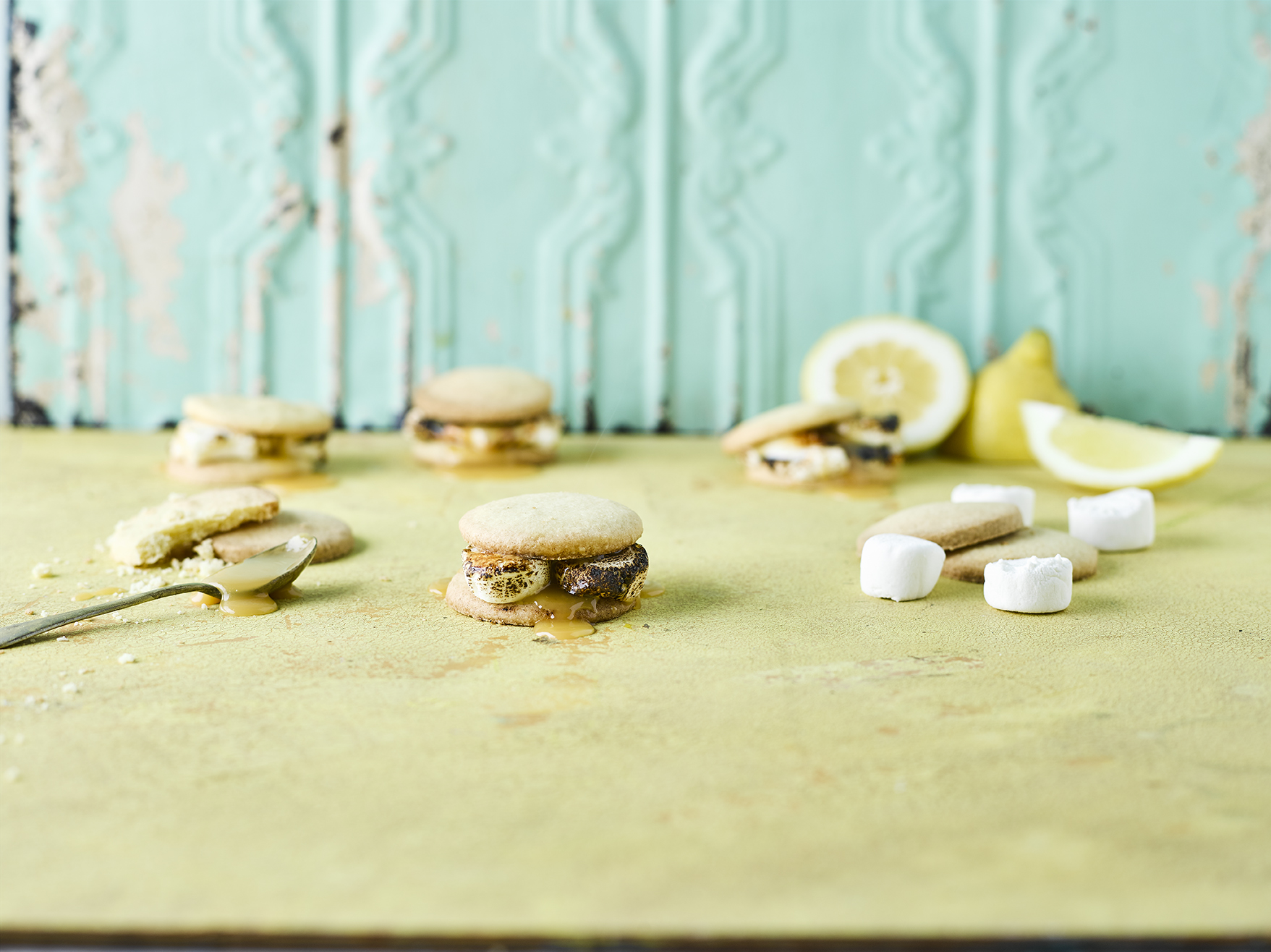 Once you've made your shortbread and lemon curd dip, it's time to start making your Lemon Meringue S'mores… All you need is:
Shortbread
Marshmallows
Lemon curd
White chocolate (optional)
Method:
Top a shortbread with marshmallows and place under the grill until the marshmallows start to melt and brown
Dollop some lemon curd onto the marshmallows (or dip them into it) and top with another shortbread biscuit*
Enjoy!
*American purists may tell you that a s'more is not complete without chocolate. These are delish sans, but if you insist on authenticity, stick a little white (or indeed dark) in there on top of the marshmallows.
Our Lemon Meringue S'mores went down a storm when we made them in the Gousto Kitchen – they're guaranteed to leave you wanting s'more!
If you're after recipes for other sweet treats, our Rhubarb & Pear Brown Sugar Pavlova recipe is really popular; or if you'd your next bite of chocolate to be guilt free (wouldn't we all?!) take a look at our Is Chocolate Healthy? article.
Let us know what you think of our Lemon Meringue S'mores recipe in the comments!