Halloween Party Food Ideas
Without a shadow of a doubt, Halloween is the best night of the year for a full on fancy dress party. Bring your friends round, dress up like a zombie/mummy/vampire and decorate the living room until it looks dilapidated and cobwebbed enough to pass as a home for the undead. But there's still something missing – food and drink.
If you're unsure about how sort out the problem of Halloween party food, that's understandable. It's a little tricky to make food that's as disgusting as it is delicious…If you need some inspiration for easy Halloween party food that will leave your gruesome guests both impressed and well fed, we have a few ideas. From easy classics like the Watermelon Monster fruit salad to the creepy crowd-pleaser of Black Bat Wings, take a look below!
---
Ugh! Bat wings, yuck! Don't worry – they're actually chicken wings (much easier to get hold of and a bit tastier too) marinated in a truly delicious sweet barbecue sauce and crisped in the oven.
Ingredients:
1 cup brown sugar
1 cup golden syrup
1 cup dark soy sauce
1 cup teriyaki sauce
1 cup barbecue sauce
1 tbsp black food colouring
1.8 kg chicken wings
Method:
1. Combine the brown sugar, golden syrup, soy sauce, teriyaki sauce and barbecue sauce in a large bowl until the sugar has fully dissolved
2. Add 1 tbsp black food colouring to the marinade a little bit at a time until it has reached a consistent black colour
3. Stab the wings multiple times with a fork (to help them soak up the marinade), then add them to the bowl and place in the fridge for a few hours, or ideally overnight
4. Preheat the oven to 180°C/ 160°C (fan)/ 350°F/ Gas 4 – only do this once the wings have fully marinated!
5. Remove the wings from the marinade and place them on a roasting rack, fanning each wing out to give them more of a 'batlike' appearance
6. Place the rack with the wings in the hot oven for 45-60 min. Meanwhile, pour the leftover marinade into a saucepan and cook on a medium-low heat, stirring occasionally, until it has reduced to a thick, syrupy consistency, then remove from the heat
7. Remove the wings from the oven and spoon the black reduction over the cooked chicken wings, before returning to the oven for 10-15 min.
8. Remove the wings from the oven again and serve
---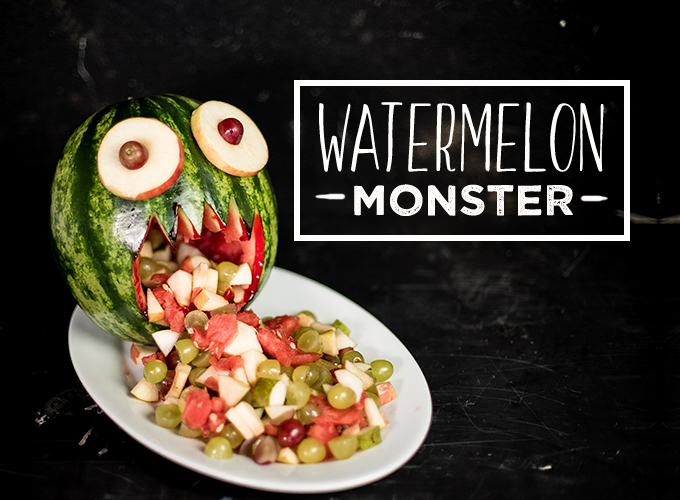 Brilliantly simple, childishly gross and healthy as well, the Watermelon Monster has become a staple easy win in the weird world of Halloween party food. We've given ours a seasonal twist by making the fruit salad 'vomit' out of seasonal fruit because – let's face it – a watermelon isn't very autumnal and we're trying to compensate.
Ingredients:
1 watermelon
4 pears
2 bunches of grapes
4 apples

Method:
1. Mark out the monster's mouth with a pen, like you do when carving a pumpkin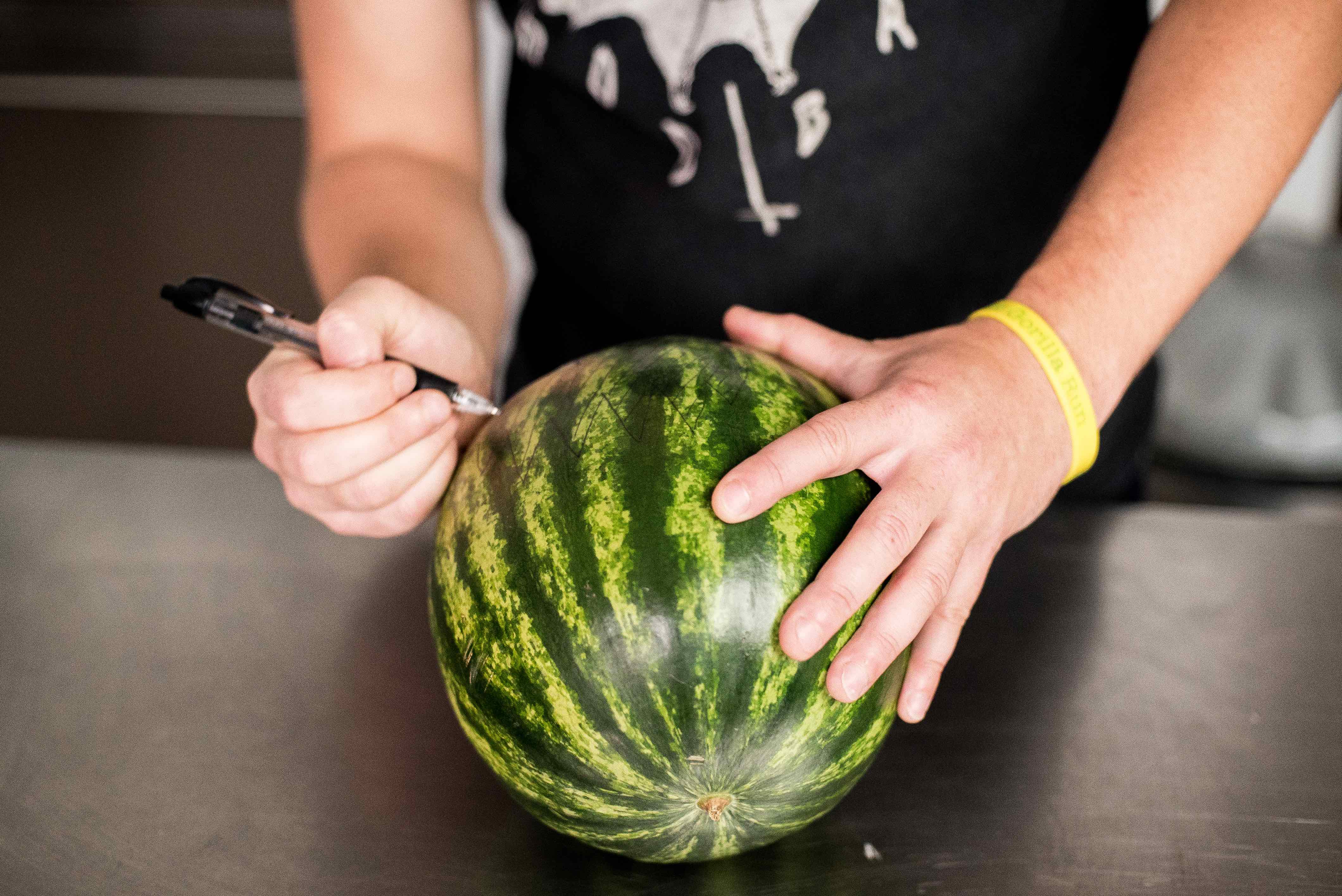 2. Cut out the edge of the mouth with a knife, taking care not to slip!

3. Lift out and discard the mouth chunk of watermelon, using your knife to lever the segment free. Again, take care here!
4. Hollow out a portion of the watermelon using a spoon
Tip: Save some of the watermelon flesh you scoop out and add it to the fruit salad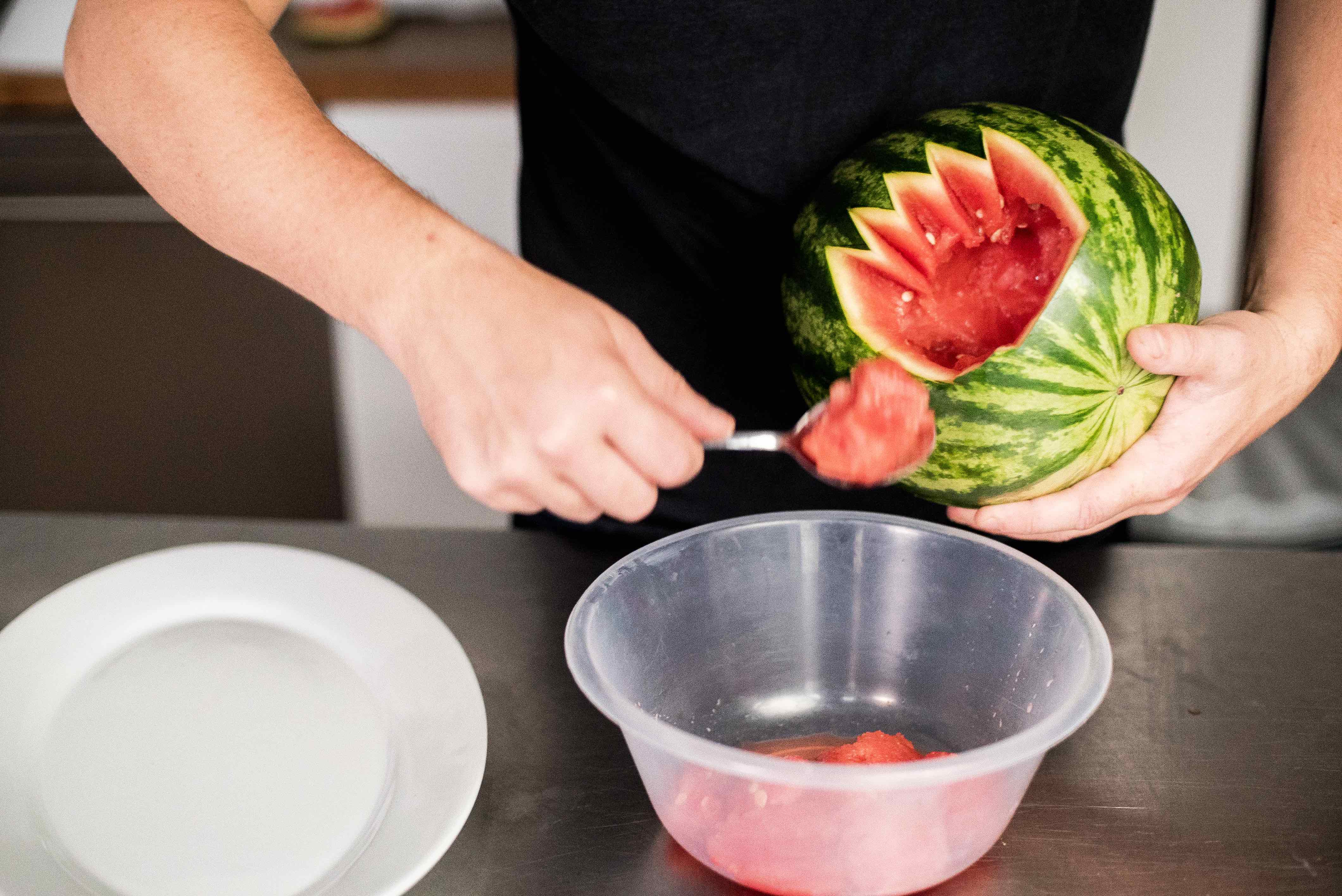 5. Cut two slices from the centre of an apple (use the remainder in the fruit salad) and halve a grape. Insert two cocktail sticks into the watermelon above the mouth – this is where the eyes will go. Skewer one slice of apple on each, and top with each with half a grape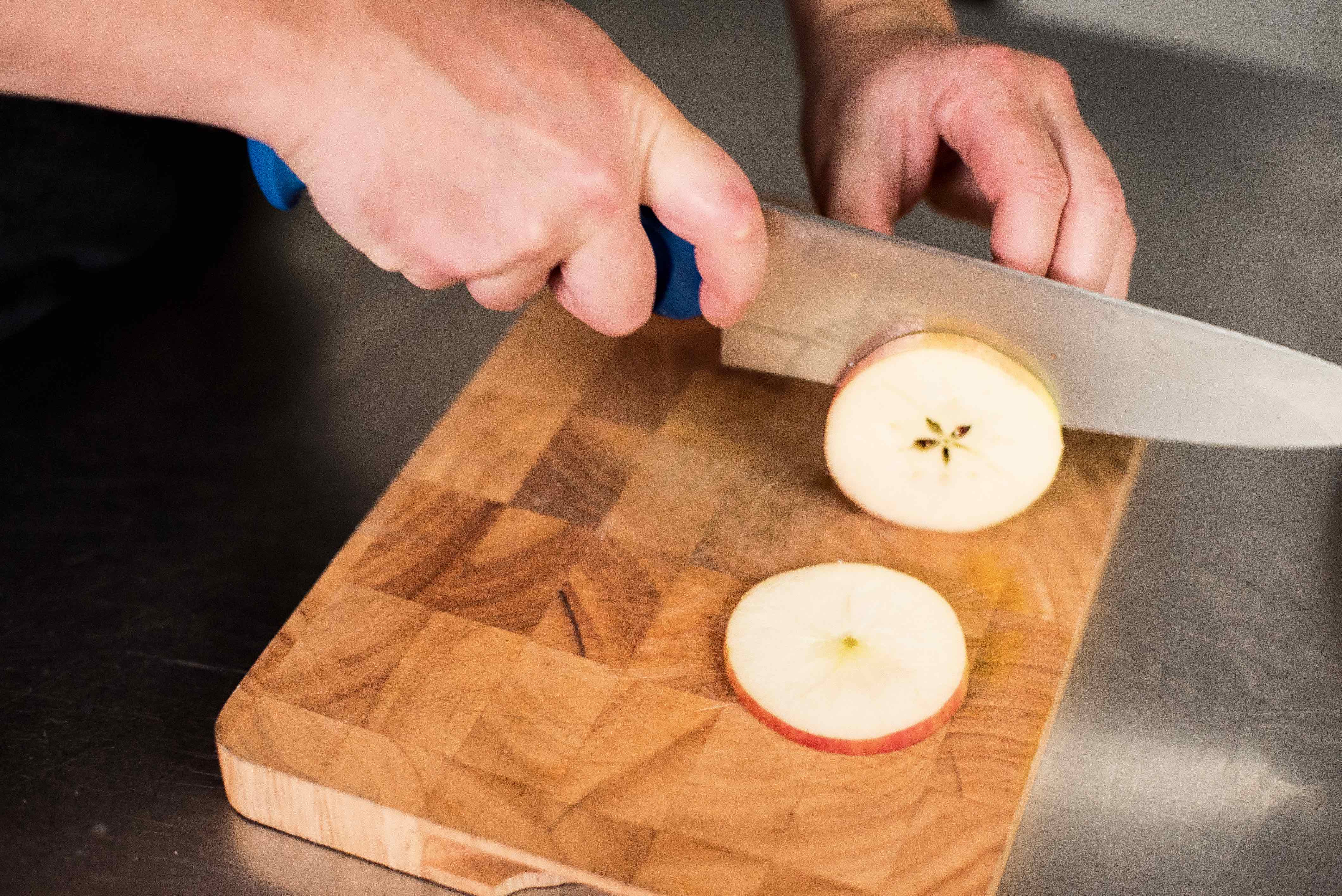 6. Dice the pears, remaining apple and grapes – this is your fruit salad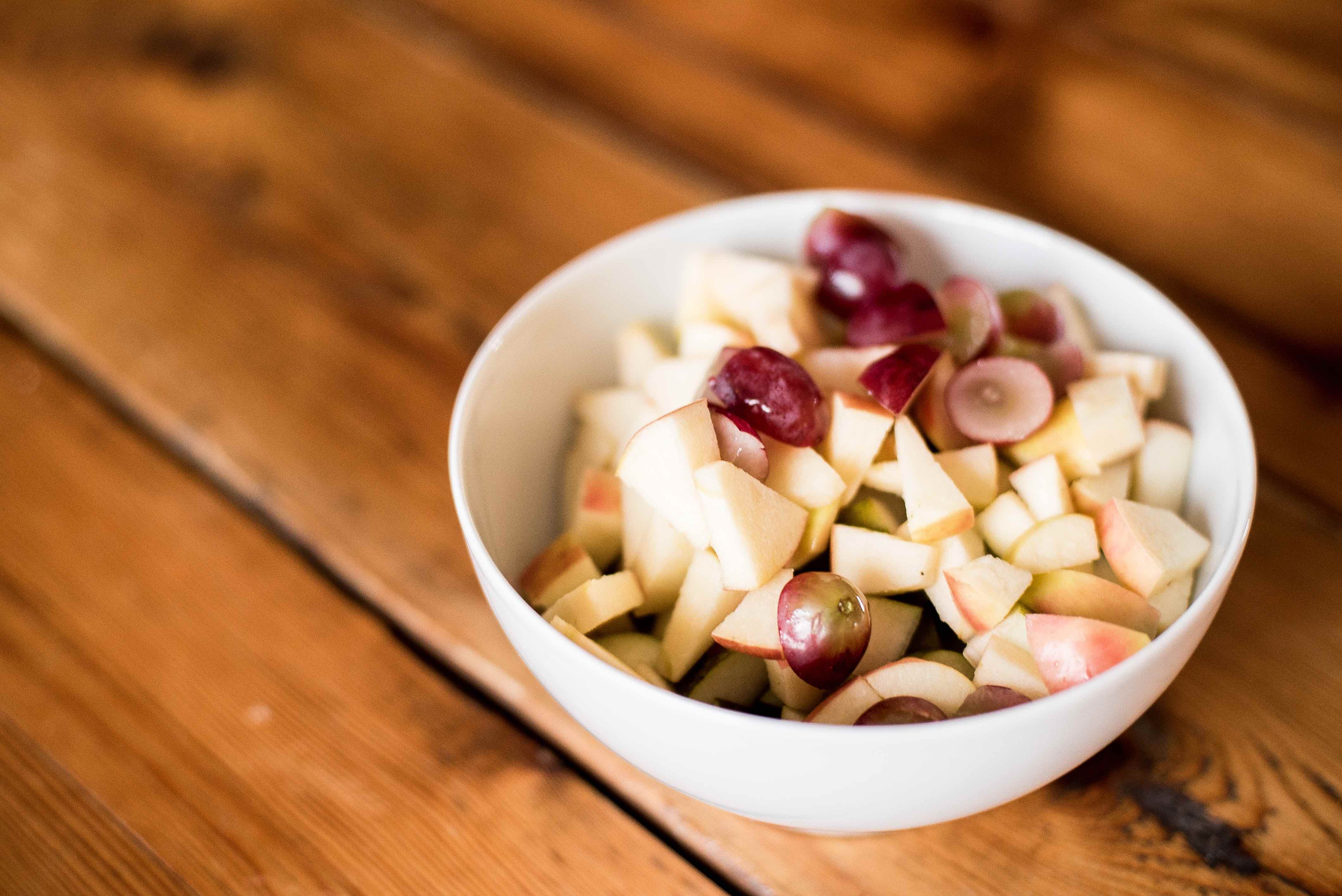 7. Place your watermelon monster head on a platter, then spoon the fruit inside the head and spilling out onto the platter
Tip: If you'd like to make your monster extra scary, you can drizzle some fake blood or jam around his mouth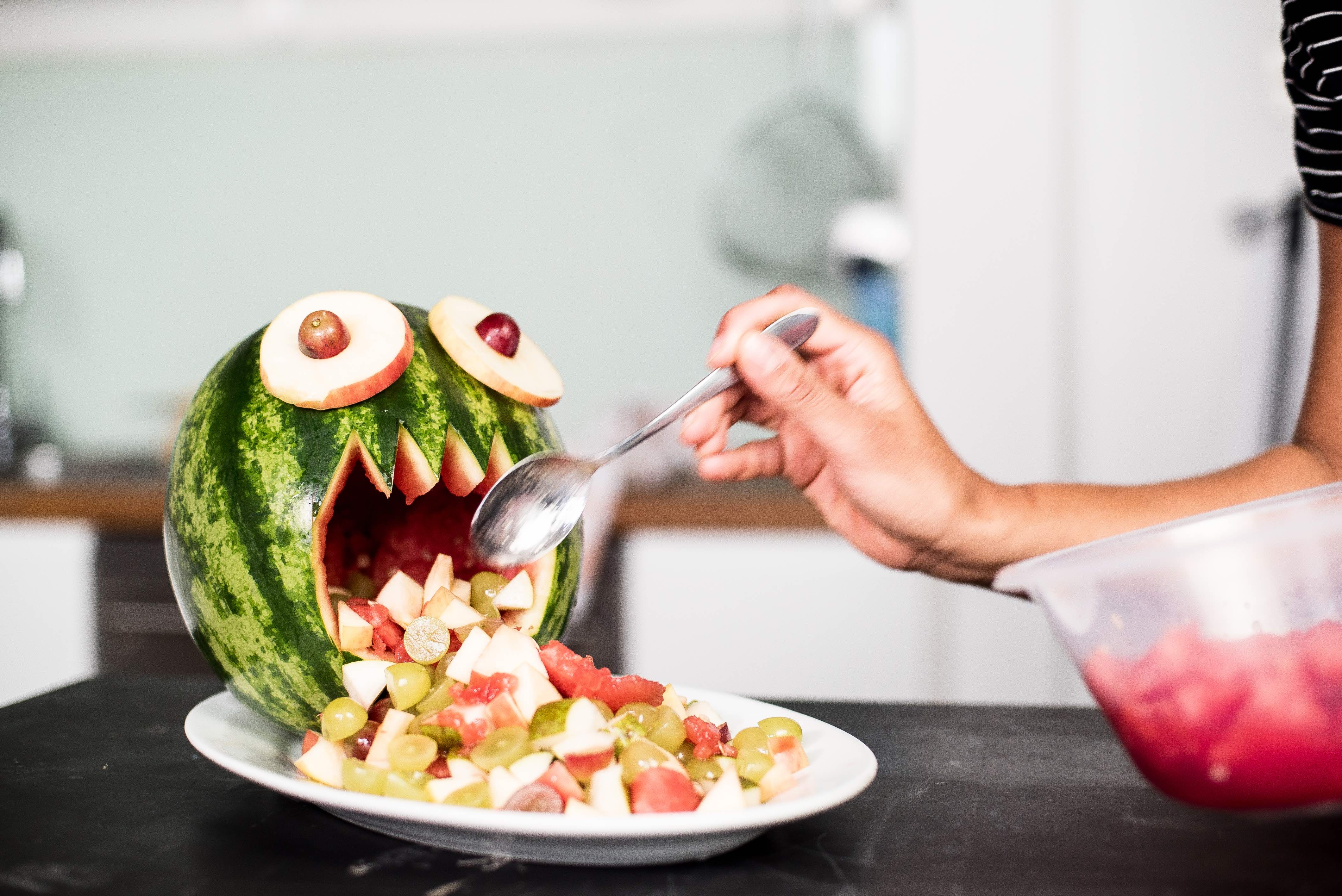 ---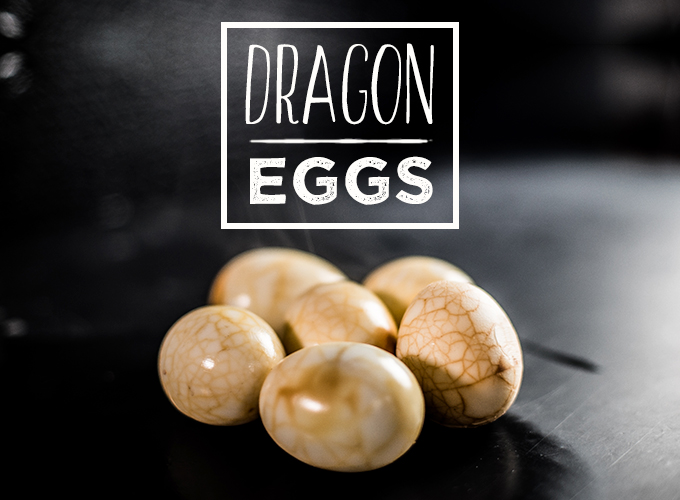 With their weird cracked markings, these mysterious looking eggs look ready to hatch into fire breathing dragons! We suggest using chicken eggs instead of dragon eggs (you don't have to tell your guests), but you could also mix it up with little quail eggs – great for a party snack – or go big with an ostrich egg (amazingly, you can now buy these online)! Just remember to adjust cooking times for different size eggs…
Ingredients:
12 free range eggs
10 teabags (or 60 ml food colouring)
1 litre boiled water
Method:
2. Roll the soft-boiled eggs on a hard surface, gently applying pressure until the shells begin to crack in places. Continue doing this and cracking more of the shell with your hand, until a complete pattern of cracks has formed on the shell of each egg.
3. Combine 1 litre of hot boiled water with 10 teabags (or 60 ml of food colouring) in a saucepan and allow to steep, before adding the eggs to the dye-water
4. Cover and leave the cracked eggs in the dye-water overnight
5. Peel the eggs – you'll see the cracked pattern has stained into the surface of the egg whites
---
Let us know what you think about these Halloween recipes in the comments!