Pumpkin Cupcakes
Pumpkin isn't nearly as common in sweet recipes as it is in savoury dishes, but we reckon its distinctive earthy, rich flavour is just as at home in a cake as it is in a pie or soup.
Pumpkin Cupcake Recipe
If you've read our post on How To Carve A Pumpkin and aren't too sure what to do with the actual flesh once you've carved a lantern, here's a great little recipe to make yummy, lightly spiced pumpkin cupcakes. We've even included a recipe for simple (but utterly delicious) buttercream icing to top them off with!
---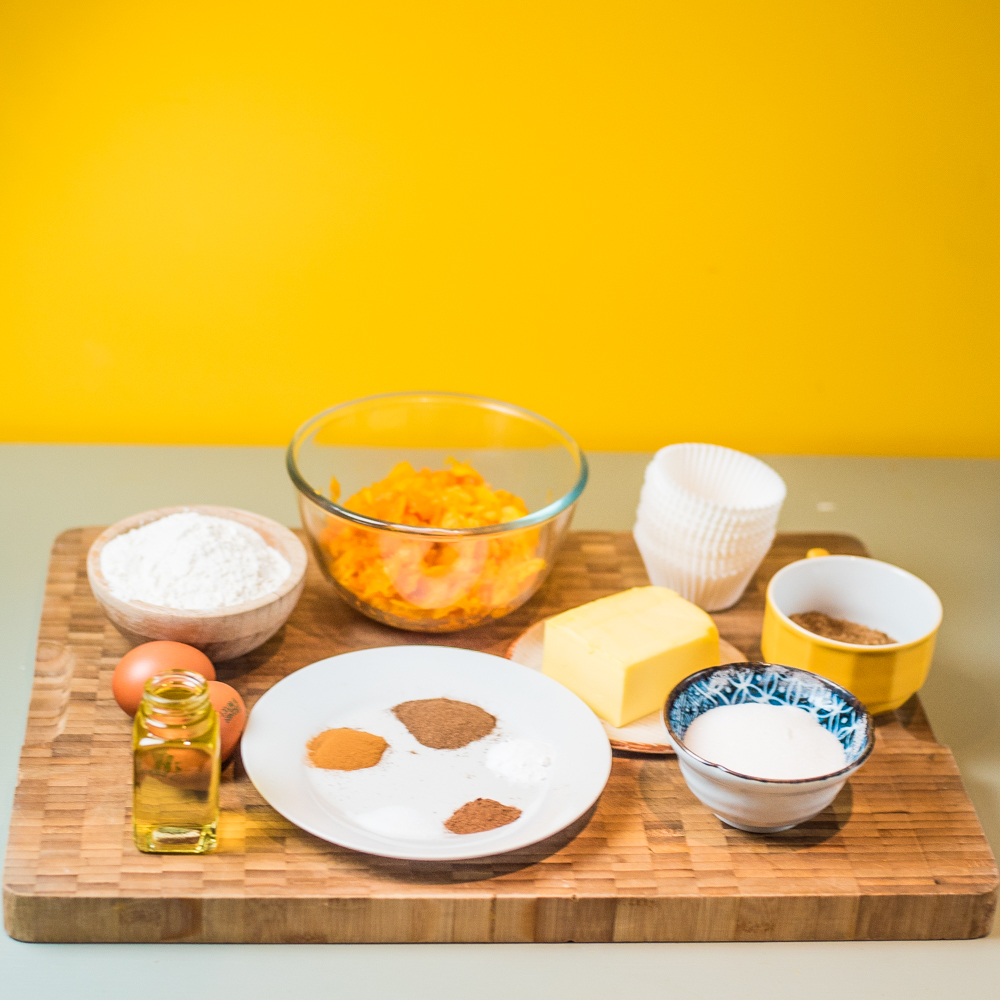 Ingredients:
For 12 pumpkin cupcakes
160g all-purpose flour
1 teaspoon allspice
1 teaspoon baking powder
1/2 teaspoon cinnamon
1/2 teaspoon bicarbonate of soda
1/4 teaspoon nutmeg
1/4 teaspoon salt
250g grated pumpkin
100g cup sugar
60g cup brown sugar, packed
100ml cup vegetable oil
2 large eggs
For the buttercream icing:
1 cup of butter
3 cups icing sugar
2 tablespoons milk
---
Method
for the base
Preheat the oven to 190°C/ 170°C (fan)/ 375°F/ Gas 5. Line a 12 cup standard cupcake tray with cupcake baking cups and set aside
Combine the flour, allspice, baking powder, cinnamon, bicarbonate of soda, nutmeg and salt in a large bowl
Whisk together the grated pumpkin, sugar, vegetable oil and eggs in another bowl
Pour the whisked mixture over the dry ingredients and stir using a spatula, until fully mixed
Dollop a spoonful of batter evenly into each baking cup in the cupcake tray until the batter runs out. Place the tray into the hot oven and bake for 15-18 minutes
Tip: Make the buttercream icing while you're waiting for your cupcakes to bake
Remove from oven and cool completely on a wire rack before adding the buttermilk icing
Method
For the buttermilk icing
Add the butter to a bowl and beat with an electric mixer until light and peaky
Sieve the icing sugar to remove any lumps, then add a little at a time to the butter while whisking continually, until all the icing sugar has been added. If the mixture begins to become too thick, add the milk a teaspoon at a time to loosen it up until the desired texture has been reached
Add scoops of buttercream to the top of each pumpkin cupcake (you can smooth the tops with a spatula if desired)
---
And that's it! Give the recipe a go and let us know what you think in the comments! If you liked this, why not check out some of our other recipes like our Easy Chocolate Blondies or our Healthy Breakfast Muffins?