How To Make Homemade Chocolate Truffles
Whether you're stuck for a homemade present idea or you want to enjoy some delicious chocolate truffles (but without paying through the teeth for the privilege), we have some good news – simple truffles are actually really easy to make! Better still, they look awesome; anyone you give them to will be seriously impressed…if you can resist eating them all yourself.
There really is nothing that can beat a homemade present that actually looks and tastes incredible. You can add a personal touch to your homemade chocolate truffles by customising their appearance – just roll your truffles in a dusty topping of your choice.
Chocolate Truffle Recipe
We tried out a few different coatings on our chocolate truffles, all with great results:
Cocoa powder – gives a good classic 'dusty' truffle appearance
Crushed freeze-dried raspberries – beautifully bright and sharp tasting
Desiccated coconut or icing sugar – a snow-like coating for a festive feel
Ground almonds – praline flavoured deliciousness
Ingredients
Makes 10-15 truffles
100ml double cream
40g caster sugar
110g dark chocolate, bashed into small pieces
25g butter, softened and diced
cocoa powder or alternative coating
Method:
Heat the cream and sugar together over a gentle heat until nearly boiling. Meanwhile, add the diced butter and bashed chocolate to a large heatproof bowl
Pour the cream and sugar mixture over the chocolate and butter and leave for a couple of minutes, then stir until smooth. Add a pinch of salt and allow to cool, then cover and refrigerate until set (at least 2 hours)
Remove the partially hardened mixture from the fridge and use a teaspoon to scoop out truffles, then roll them into balls using your hands
Roll the chocolate truffle balls in anything you fancy…cocoa powder, desiccated coconut, icing sugar…have fun!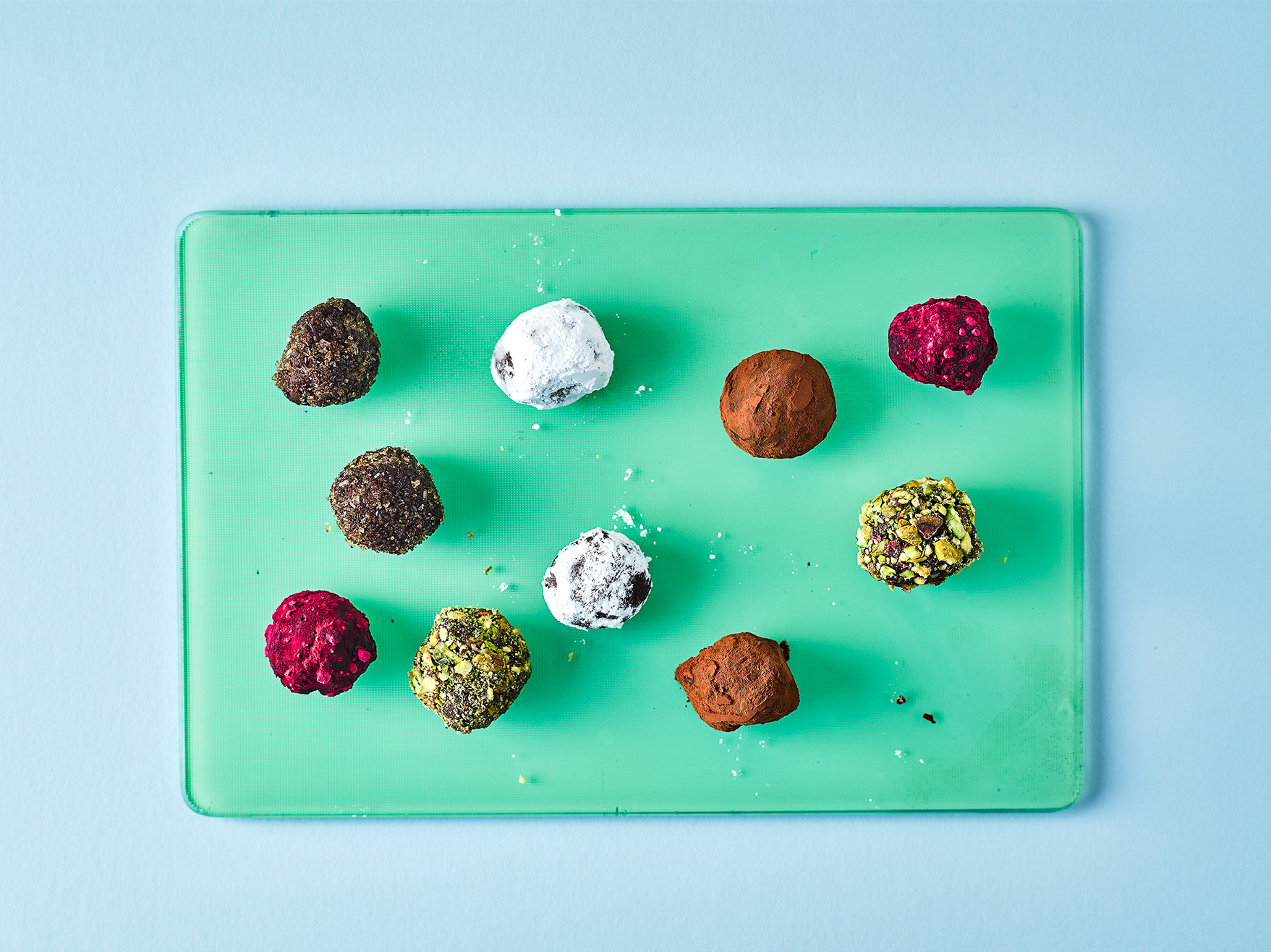 ---
If the idea of making these chocolate truffles as a gift (or just to scoff for yourself…we wouldn't blame you!) has you running to the kitchen to get started, take a look at some of the other homemade treat post on the Gousto blog, like our Hot Chocolate On A Stick Recipe or our Popcorn Marshmallow Melts.