Momma Mariaux's Homemade Marshmallows
With Bonfire Night just around the corner, there's no better time to have a go at making homemade marshmallows. We were lucky enough to have tried the awesome marshmallows made with this family recipe when Hannah, one of our recipe developers, brought in some of her mum's marshmallows for us all to try at Gousto HQ. They were so good. Really, you've not tried marshmallows like these before!
After we'd had our first taste, we just couldn't stop thinking about these marshmallows, so we managed to convince Momma Mariaux to share her recipe with us…and you! They're perfect for enjoying fireside, but also go brilliantly with a chocolate fondue or even dipped in an Irish Hot Chocolate. 
Thanks Momma Mariaux for this perfect recipe!
Ingredients:
9 leaves of gelatine
450g caster sugar
1 tbsp glucose
2 egg whites
1 tsp vanilla extract
vegetable oil
corn flour
icing sugar
Method:
1. Soak the gelatine leaves in 140ml of cold water for 10 min
2. Combine the caster sugar and glucose in a saucepan with 200ml cold water and bring to 127°C (260°F). Meanwhile, whisk two egg whites to form firm peaks
3. Remove the sugar and glucose mix from the heat once it has reached temperature and add the gelatine with the water and stir to combine
4. Pour the gelatinous mix onto the egg whites gradually, then add 1 tsp of vanilla extract and combine
Tip: At this point you can add food colouring to create coloured marshmallows!
5. Whisk the mixture at a high speed for 10 min
6. Grease a deep tin or tray with vegetable oil, then dust with a mix of icing sugar and cornflour. Then pour in the marshmallow mix
7. Refrigerate for at least 2 hrs (ideally overnight)
Tip: Make sure the tray is level otherwise your marshmallow mix will run!
8. Remove from the fridge, dust your fingers and a chopping board with a mix of cornflour and icing sugar, gently prise the marshmallow sheet out of the tray and lay it onto the dusted chopping board before cutting into cubes or shapes and threading onto skewers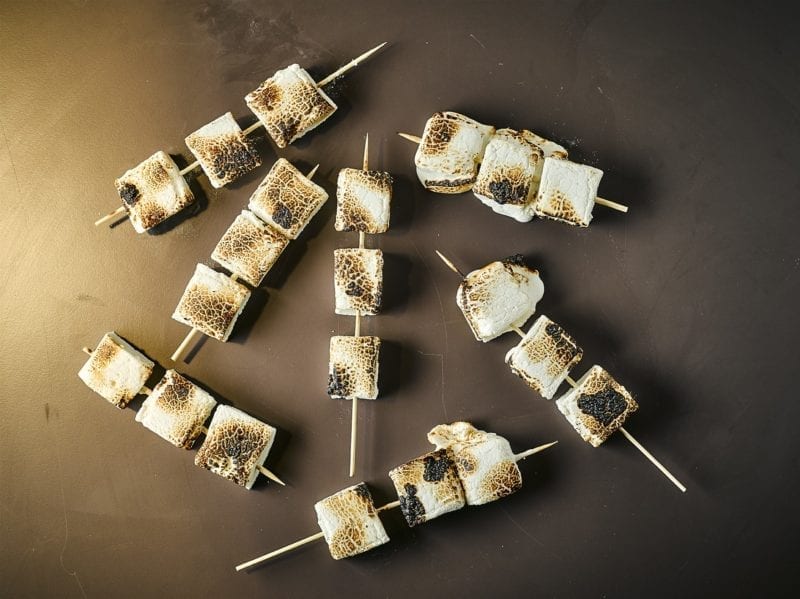 ---
This is such a fantastic recipe that makes light, cloudlike homemade marshmallows which are delightfully moreish – perfect for bonfire night. If you've never had a try at making marshmallows at home, give this a try and we promise it won't disappoint. 
Let us know what you think of this recipe in the comments and share it with someone who you think would like to make it!