Chocolate Guinness Cupcakes
Guinness adds deep flavour and moisture to chocolate sponge, creating an utterly satisfying texture. Get the perfect head on these Guinness cupcakes with our cream cheese foam icing and you've got the perfect chocolatey treat. Sláinte!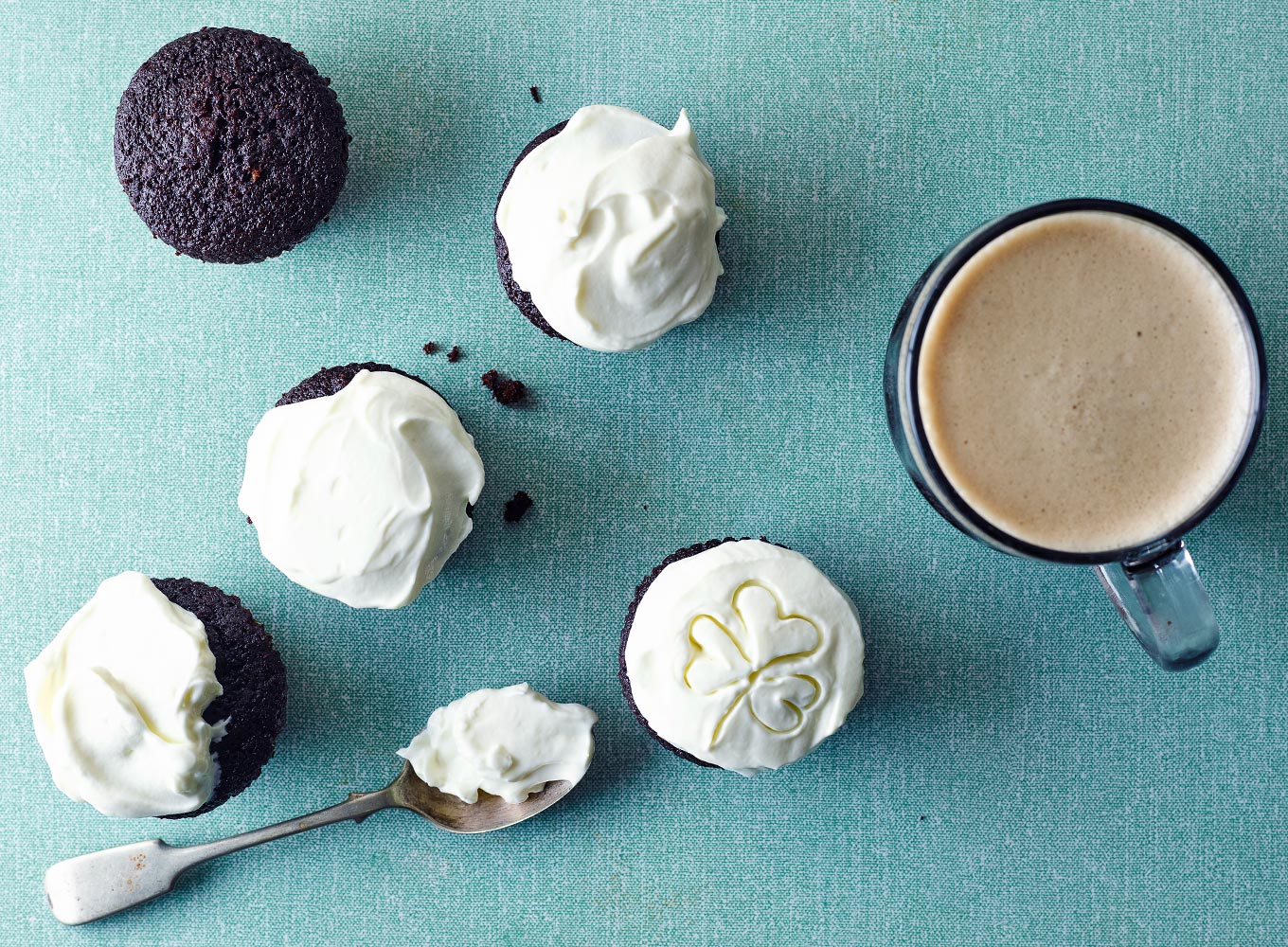 You'll Need (makes 18 large cupcakes):
For the Sponge
250ml Guinness
125g butter, cut into about 10 chunks
75g unsweetened cocoa (not hot chocolate mix!)
500g soft dark brown sugar
200ml soured cream
2 eggs
1 tbsp pure vanilla extract
250g plain flour
1 ½ tsp baking soda
1 tsp baking powder
For the Icing
200g cream cheese
190g icing sugar
80ml milk
Method:
1. Preheat the oven to 180°C
2. Grease a muffin tin
3. Combine the Guinness and butter chunks in a saucepan over a medium heat until the butter has melted
4. Remove from heat and whisk in the cocoa and brown sugar, then set aside
5. Whisk the eggs in a small bowl, then add the soured cream and vanilla, mixing well
6. Add your egg mix to the beer mix
7. Sift together the flour, baking soda and baking powder in a mixing bowl and gently fold into batter
8. Spoon into muffin moulds and bake for approx. 20 min or until the top springs back when lightly touched
9. Allow to cool completely before icing.
10. Meanwhile, to make the foam icing, whip the cream cheese with an electric whisk until smooth, sift in icing sugar and beat until combined
11. Add milk and beat until smooth, then spread over the cooled cupcakes
---
Enjoy!
If you give this cupcake recipe a go then make sure you let us know how you get on in the comments! For other cupcake recipes, take a look at the Red Velvet Cupcake Recipe we posted for Valentine's Day, or the Easy Pumpkin Cupcake Recipe we shared for Halloween. If you're after a slightly healthier alternative, take a look at our Breakfast Muffins Recipe.