Our Suppliers
Big appetites and high standards
We fill our boxes with all the seasonal fruit, fresh veg, high quality meat and sustainably-sourced fish we can get our hands on, and always buy British, wherever possible.
The Gousto pantry is full of brands we trust – from the big guys like Arla, Henderson's Relish, Tracklements and Yeo Valley through to the little ones we love to champion such as Manilife and The Jolly Hog.
Arla
Let in the goodness
Gousto supplier since 2018
Find them in Yorkshire, UK
Arla is a farmer-owned dairy cooperative that started out in Sweden and Denmark.
We love that Arla is dedicated to improving animal welfare and preventing biodiversity loss, from planting on their rooftops and leaving land open to wild growth, to nurturing bee colonies and digging into regenerative dairy farming.
Sustainability goals: 100% recyclable packaging by 2025, eliminating virgin fossil plastic entirely by 2030, and achieving Carbon Net Zero status by 2050.
Ingredients in your Gousto box from Arla: Cheddar, Soft Cream Cheese
Belazu
Loved & trusted chef-grade ingredients
Gousto supplier since 2022
Find them in Middlesex, UK
Born to find the best ingredients for chefs, Belazu started in 1991 as the Fresh Olive Company by bringing fresh unpasteurised olives to the UK from Provence. Now, they're a staple in kitchens throughout the UK, with a 500+ product range of chef-grade ingredients.
We love that the folks at Belazu take so much care with their ingredients, hand mixing their olives, and making small batch Pesto with fresh basil grown under the Italian sunshine. Like us, they are dedicated to great flavour, with 129 Great Taste Award stars in their trophy cabinet to prove it.
Sustainability goal: 100% recyclable or returnable packaging by 2025
Ingredients in your Gousto box from Belazu: Traditional Italian Pesto, Sundried Tomato Pesto, Balsamic Sundried Tomato Paste
Bertagni
Fondata a Bologna nel 1882
Gousto supplier since 2022
Find them in Bologna, Italy
Bertagni is the oldest filled pasta producer in Italy, founded in Luigi Bertagni's workshop in 1882 and working out of Bologna to this day.
We love that Bertagni uses innovation to enhance and preserve the traditional artisanal methods that have been passed down over generations. They've won loads of awards for the quality of their pasta, which is made from the best 00 flour and free range eggs.
Ingredients in your Gousto box from Bertagni: Portobello mushroom tortelloni, Tomato & mozzarella tortelloni, Spinach & ricotta ravioli
Cidacos
Constantly growing
Gousto supplier since 2019
Find them in Toledo, Spain
Cidacos is a third generation family-owned business that only sources from local farmers.
We love that the tomatoes from Cidacos are 100% Spanish and grown nearby to their Spanish village to ensure freshness and quality. Their investment in Tetrapak® machinery means we can reduce our carbon footprint by using fewer vehicles to transport our finely chopped tomatoes, making them leaders in sustainability in their sector.
Ingredients in your Gousto box from Cidacos: Black Beans, Butter beans, Cannellini beans, Chickpeas, Green lentils, Red kidney beans, Sweetcorn, Finely chopped tomatoes
Henderson's Relish
Strong & Northern
Gousto supplier since 2018
Find them in Sheffield, UK
Henderson's Relish is a family business that has been blending to a secret recipe for over 130 years.
We love that Henderson's Relish perfect blend of tamarinds, cayenne peppers, vinegar, garlic and cloves adds a unique spicy flavour to our sauces, stews and hot pots.
Ingredients in your Gousto box from Henderson's Relish: Henderson's Relish (obviously)
Hilltop Honey
There's more to honey
Gousto supplier since 2017
Find them in Powys, Wales
Hilltop Honey is a Welsh business, founded by Scott in 2011 when he was given his first beehive as a birthday present. Now it's the first B Corp honey brand in the UK!
We love that Hilltop Honey makes pure, natural products with nothing added and nothing taken away, in recyclable packaging and with biodegradable materials.
Ingredients in your Gousto box from Hilltop Honey: British Blossom Honey, Agave Nectar
The Jolly Hog
Quality, outdoor bred British pork
Gousto supplier since 2021
Find them in Bristol, UK
The Jolly Hog is a family-owned business, founded by brothers Max, Josh and Olly in 2008.
"Since we began hand making sausages in our family kitchen, we've felt it's important to use higher standards in animal welfare for our pork. With The Jolly Hog sausages and bacon in your Gousto box, you can be sure not just of getting great tasting food, but also that the pigs received higher welfare standards."
We love that The Jolly Hog stands for food full of full-on flavour made in the right way, championing animal welfare and protecting our planet. All their pork comes from RSPCA Assured and Outdoor Bred Farms, and they are the first meat company in the UK to become a B Corp.
Ingredients in your Gousto box from The Jolly Hog: Gluten-free pork sausages, Oak & beech smoked dry cured streaky bacon, British pork hot dogs
ManiLife
Peanut butter like no other
Gousto supplier since 2017
Find them in London, UK
ManiLife was founded by Stu after he moved to Argentina in 2014 to work for a peanut butter social enterprise.
We love that ManiLife has sourced all its peanuts from the same family-run farm in Argentina since day one, where they convert the shells into energy that powers over 8,000 local homes. Even the by-product is used to pave local roads. In the UK, the peanuts are hand-sorted and blended in small batches to create the creamy consistency you just don't get with mass production.
Fun fact: Stu met his wife Saz making mini pots of peanut butter for Gousto in 2017.
Ingredients in your Gousto box from ManiLife: Smooth Peanut Butter
Maris Seafoods
From deck to dish
Gousto supplier since 2021
Find them in Cheshire, UK
Founded in 2014, Maris Seafoods partners with aquaculture specialists such as Norcod to source high quality, sustainable and natural fresh fish.
"We believe that by introducing people to a diverse mix of fish, we not only provide them with new and exciting culinary experiences but also contribute to the preservation of fish stocks and the overall health of our oceans."
We love that Maris Seafoods can be traced back to catch in both wild-caught and farmed aquaculture, showing that the fish come from trusted farms and fisheries committed to protecting the ocean and its inhabitants. This way, you can serve up delicious seafood knowing it has been sourced responsibly and without harming the delicate balance of marine ecosystems.
Ingredients in your Gousto box from Maris Seafoods: Basa, Haddock, Cod
Moulton Bulb
We know our onions
Gousto supplier since 2019
Find them in Lincolnshire, UK
Moulton Bulb is a family-owned business run by the Oldershaw family for over 40 years.
"We're proud to work together with Gousto to develop innovations like our garlic clove cracker and our onion optical sorter, which both help us choose the best quality ingredients."
We love that Moulton Bulb are working with their growers to improve biodiversity and create wildlife habitats.
Sustainability goal: Net zero emissions by 2035
Ingredients in your Gousto box from Moulton Bulb: Onions, Shallots, Garlic
Packington Free Range
Born and reared outdoors
Gousto supplier since 2023
Find them in Staffordshire, UK
Packington Free Range is a fourth-generation family farm established in 1922, headed up by brothers Alec & Robert.
We love the care Packington Free Range put into their farming practices, from animal welfare to tough environment processes. They've planted over 100,000 trees in the last 20 years and produce enough green energy to power 600 homes.
Ingredients in your Gousto box from Packington Free Range: Free-Range Chicken
Rodda's
Keepers of the cream since 1890
Gousto supplier since 2019
Find them in Cornwall, UK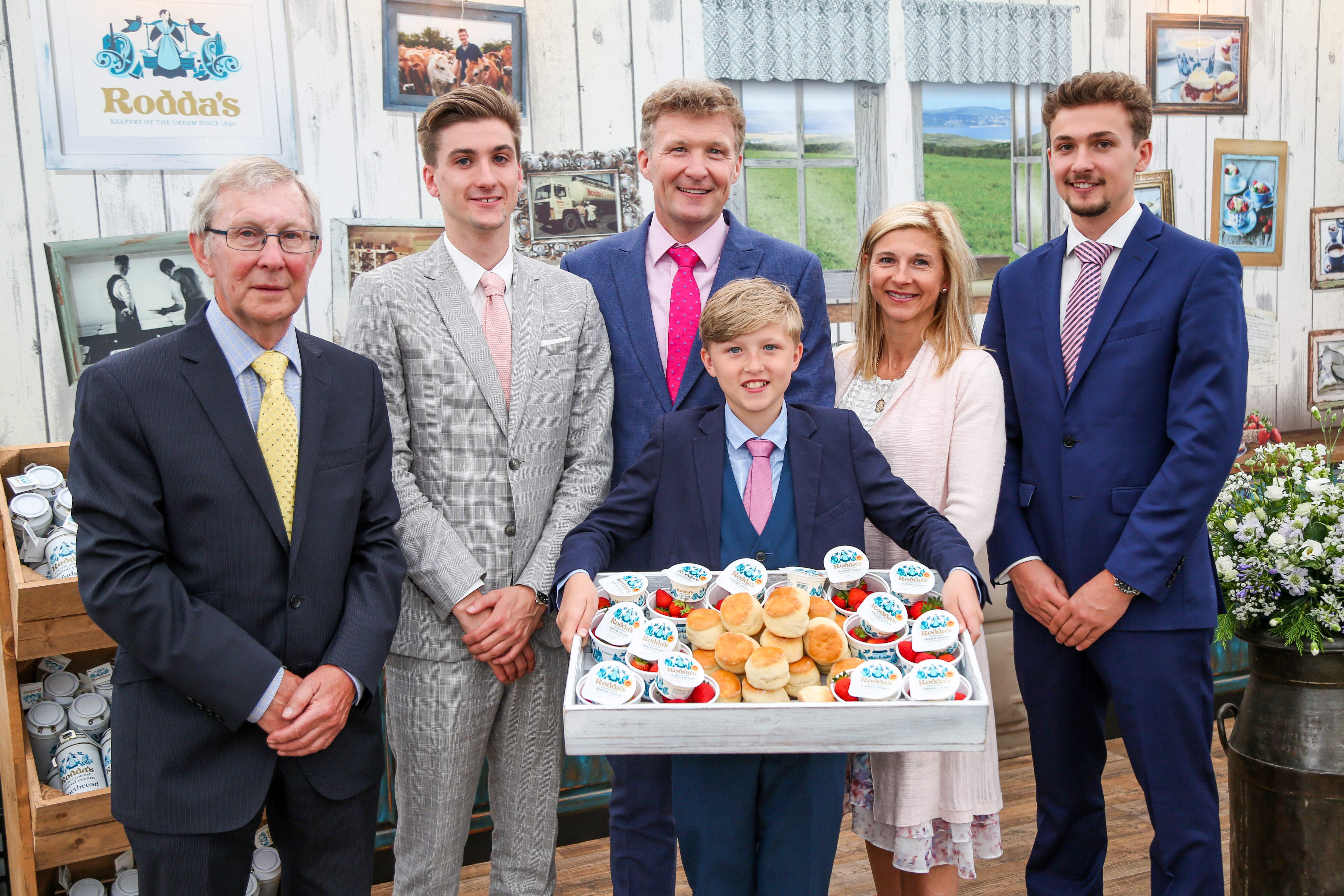 Rodda's is a fifth-generation family business that follows the same recipe set down by their great-great-grandmother Eliza Jane in 1890.
We love how Rodda's Cornish clotted cream is gently baked to create that delicate golden crust.  They source the best rich and creamy milk from carefully-selected farmers based in Cornwall, and make sure the highest standards are carried out through the Rodda's Bespoke Farm Assurance, which goes above and beyond the nationally-recognised Red Tractor Farm Assurance scheme.
Ingredients in your Gousto box from Rodda's: Cornish clotted cream
Roussas
Artisan cheese makers
Gousto supplier since 2019
Find them in Athens, Greece
Founded in 1952 by the Roussas family, Roussas Dairy makes one thing and one thing only: excellent feta cheese.
We love that Roussas follows traditional authentic methods to make its feta, using pasteurised Greek sheep and goat's milk and ageing in beech tree barrels.
Ingredients in your Gousto box from Roussas: Feta cheese
The Tofoo Co
Tofu with taste
Gousto supplier since 2018
Find them in Yorkshire, UK
We love that the GM-free, 100% organic tofu from The Tofoo Co. is handmade to a Japanese recipes using only three natural ingredients — soy beans, nigari and water. They press their tofu for longer so it's extra firm and they're super strict about where they get their soy beans, only sourcing from reputable growers who don't use pesticides or chemical fertilisers.
Ingredients in your Gousto box from The Tofoo Co: Naked tofu
Tracklements
The life and soul of the pantry
Gousto supplier since 2018
Find them in Wiltshire, UK
Founded by William in 1970 when he introduced wholegrain mustard to the UK, Tracklements make over 60 award-winning artisan condiments.
We love that Tracklements use 100% renewable and sustainable energy, running their entire site through the summer from the energy generated through their solar panels. To make sure all their products taste as good as the best homemade they use the highest quality, natural ingredients, handmade in small batches.
Ingredients in your Gousto box from Tracklements: Cranberry Sauce, Fig Relish, Green Tomato Chutney, Horseradish Cream, Mustard Ketchup, Plum Chutney, Recurrent Jelly, Wholegrain Mustard
Valefresco
Growing towards a better future
Gousto supplier since 2017
Find them in Worcestershire, UK
Founded in 2006 by brothers Vito and Giuseppe, whose family came to the UK from Sicily in the 1960s, Valefresco grows leafy veg across 340 acres of Cotswolds vale.
We love that Valefresco uses hydroponics to grow pak choi and living lettuce, which cuts their carbon footprint in half. Vertical farming means less land is needed to grow vegetables, and makes it easier to recycle water within the system. This family-owned farm invests in rewilding initiatives, with a tree-planting program to support local ecosystems.
Ingredients in your Gousto box from Valefresco: Baby leaf salad, Pak choi, Courgette, Whole head lettuce
Yeo Valley
Put nature first
Gousto supplier since 2018
Find them in Somerset, UK
Yeo Valley farm was founded over 60 years ago by the Mead family, and today includes 600 acres of woodland. They are supported by over 130 farmer co-operative members, pooling resources to supply all the milk needed for their popular products.
We love that the Yeo Valley farm is powered by renewable energy with solar panels on the roofs of their cowsheds. As organic farmers, they don't use any artificial fertilisers or chemical sprays, which means they can feed their organic cows organic grass, cereal crops and hay.
Sustainability goal: To be 50% self sufficient on electricity usage over the next 10 years
Ingredients in your Gousto box from Yeo Valley: Natural yoghurt
Yester Farm Dairies
From farm to fridge
Gousto supplier since 2018
Find them in East Lothian, Scotland
Yester Farm Dairies is run by husband and wife team Simon and Jackie McCreery, operating alongside the farm at Yester Mains.
"The freshness of our milk makes really superior products. We hand-make everything on the farm ensuring the freshest possible product for Gousto, keeping food miles low and offering full traceability, operating according to high environmental health standards."
We love that Yester Farm dairy cows enjoy time on lush East Lothian pastures, with a nutritionally-balanced diet including grass, wheat and barley, all harvested from the farm. The attention paid to nutrition together with the natural pasteurisation process leads to a top quality, really fresh, tasty product for your Gousto meals.
Ingredients in your Gousto box from Yester Farm Dairies: Double cream, Creme fraiche, Soured cream
Still got a question about our ingredients?
Head over to our Help Centre to find answers. For more info about how we fight food waste and dish up sustainable dinners, check out our 2022 Impact Report.