Watermelon, Raspberry & Kiwi Popsicle Recipe
Gousto's HQ is near Shepherd's Bush and the journey to work requires strolling past stalls and stalls full of fresh fruit and vegetables.  All of these stalls sell gigantic watermelons which are soooo juicy and refreshing on a hot summers day.
The daily watermelon walk inspired us to make a recipe to let everyone experience the sheer joy that these watermelons bring us every summer!
These kid and adult-friendly popsicles are made almost entirely from fresh fruit (you need raspberries, watermelon juice, kiwi and just a splash of lemonade – that's it!) making them refreshing, hydrating and delicious!
They're the perfect healthy treat for a hot summers day, but to make these popsicles even healthier you can remove the lemonade altogether and use water or clear fruit juice. We thought we deserved a teeny bit of naughtiness though, so we used lemonade…they are popsicles after all!!
You may have already seen the gorgeous Gin & Tonic Popsicle recipe on the blog. If so, these watermelon, raspberry & kiwi popsicles are just as easy to make, but they're also kid-friendly for 2 reasons:
1.) They're gin-free
2.) They look like watermelon slices!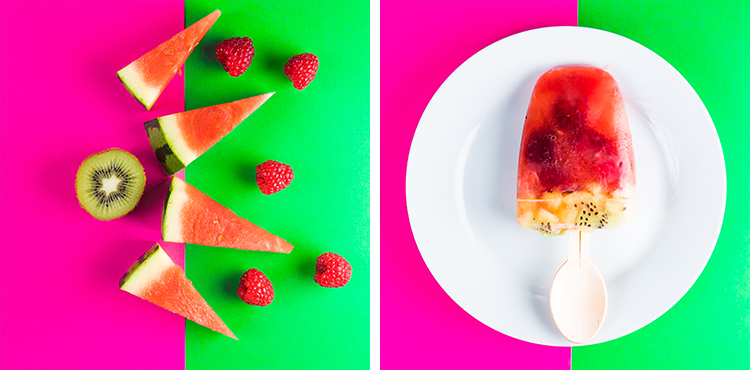 Ingredients: 
1 smallish watermelon (approx. 1kg)
20 raspberries
2 kiwis
a big splash of lemonade (or a clear juice like grapefruit)
Method:
Cut the watermelon into large, bite-size pieces, discarding the rind
Put the watermelon pieces into a food processor and blend roughly
Strain the blended watermelon through a sieve into a bowl, then transfer the juice to a jug
Place about 5 raspberries into the bottom of each popsicle mould, pressing down if necessary. You want to leave about 1cm space at the top (this gets filled later)
Pour the watermelon juice into each mould, ensuring you leave the same space at the top. Freeze for 1 hour, or until the watermelon juice is part frozen, but not yet completely solid
Remove and discard the skin of the kiwis, then dice the flesh. Put the diced kiwis into the popsicle moulds, pressing down to pack them in. Make sure there is an even layer of kiwi in each mould and that they're now full
Pour your lemonade or clear juice into each mould to fill the gaps between the diced kiwi (this can be a little messy if they overflow!)
Put a popsicle stick into each, pressing down. Freeze. Once frozen, enjoy!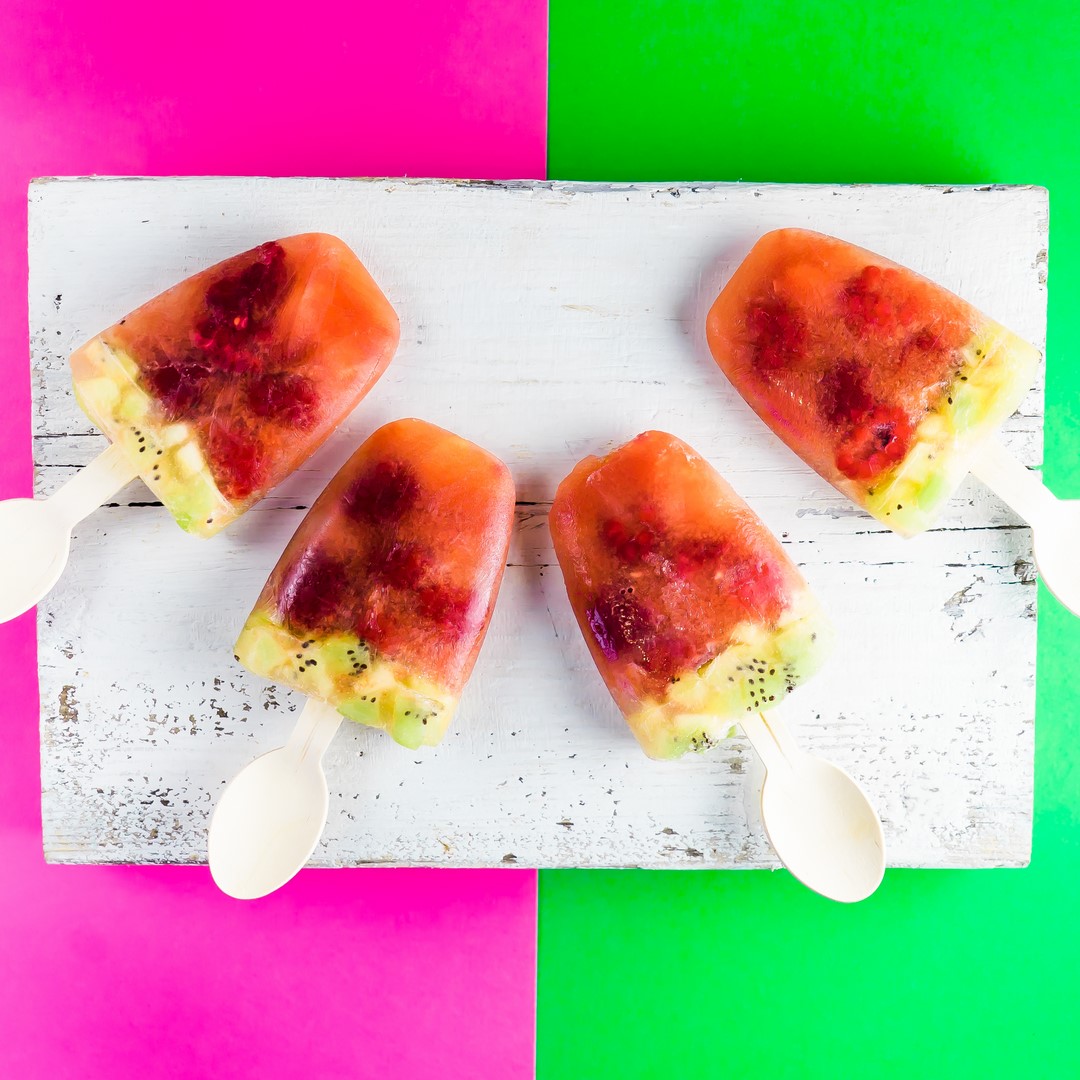 ---
For a sweet, summery twist on a classic American campfire treat, take a look at our Lemon Meringue S'mores recipe!
Check out our Homemade Gin & Tonic, Basil, Lime & Strawberry Popsicle recipe.