How To Make Your BBQ More Eco Friendly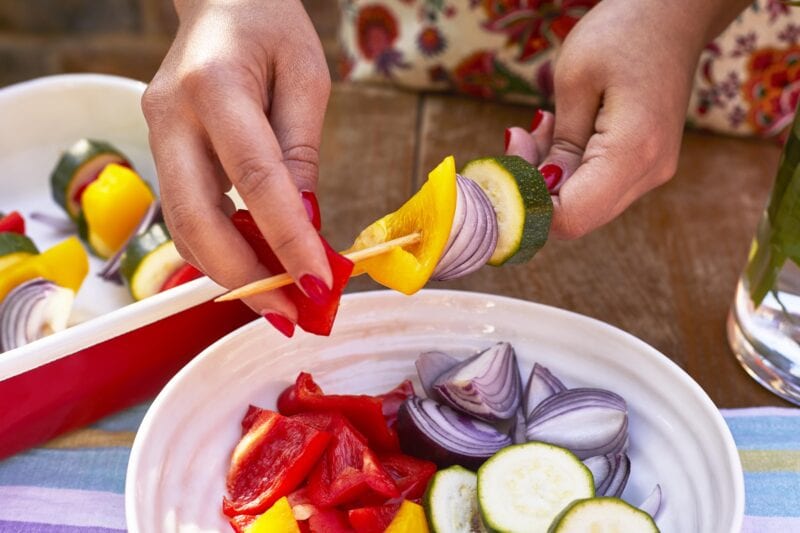 It's a fact that barbecuing makes food extra delicious – but unfortunately, it's not the most eco-friendly way to cook. Luckily, living a greener life doesn't have to mean giving up summer barbecues. At Gousto, we're always looking for new ways to reduce our impact while cooking, so here are some of our top tips to help you plan your next eco BBQ blowout.
Make your menu meat-free
Throwing a vegan, veggie, or veg-heavy bash will cut your carbon and water footprint in half in one fell swoop, putting you on the fast track to a more sustainable garden gathering. Plus, it means no risky undercooked meat! Take the opportunity to try new plant-based recipes and show your mates how delicious they can be. To really nail a vegan barbecue, read our top tips here.
Help your guests recycle
Sticking labels on bags or bins will make it super easy for your guests to recycle, especially once the Pimm's starts flowing. This is also the perfect time for your food compost bin to shine (if you have one), and if you're cooking on coals you can chuck your charcoal ash in there too.
Buy local where you can
There are so many positives to buying local ingredients. You'll be supporting local businesses, and you'll be using seasonal produce that's often riper and tastier than what's in the supermarket. It also helps that eating local ingredients takes a load off your CO2 emissions. If you bring your own bags to a local greengrocer or produce stand, plastic packaging won't be a worry either.
Fuel your fire (sustainably)
Thinking of investing in your first proper grill? Wood burning stoves get our vote. Locally grown seasoned wood might be a good option if possible because it hasn't travelled far and newer wood-burning stoves tend to burn more cleanly than fire pits. That means fewer particulates and less CO2 than gas or charcoal, without sacrificing that all-important smoky chargrilled taste.
Top tip: Steer clear of single-use barbecues as it's nearly impossible to recycle them.
Put a lid on it (the barbecue that is)
Your grill can be greener without forgoing flavour by only using as much fuel as you need. Turning the gas off when you're not grilling goes a long way to reducing your CO2 output too. The easiest way? Keep the lid on your grill and adjust your barbecue's vents to keep the heat and moisture in. Everything will cook faster and more evenly, and you use less fuel.
Raid your fridge for leftovers
Before setting off for supplies, have a root around your freezer, fridge and cupboards for any leftover vegetables, stray pork chops or frozen apple strudels that you can add to your menu. You'll not only save time and money, you'll reduce food waste too.
Ask guests to BYOT (Bring Your Own Tupperware)
Who doesn't love free food? Another great way to reduce food waste after a party is by asking everyone to bring their own Tupperware with them. Fill them up with whatever's left over, so you don't find yourself with heaps of food that will go off – and your guests get to leave with tomorrow's lunch sorted. Win-win!
Spotlight on sides
Grill less? At a barbecue? It might sound outrageous but with more food ready on the table, you won't be grilling all day and your guests won't get hungry. Turning off the grill helps the environment too. Make sides, dips and salads the stars of the show, and embrace al fresco feasting in all its forms.
Reduce your single-use
Avoiding disposable barbecues is one thing, but hosting can be stressful and single-use cups, plates and straws can often be all too tempting. If you aren't keen on swapping disposables for your usual dinnerware, or you don't have enough plates or forks to go around, bamboo plates and cutlery are a great option. Though technically still single-use, they're surprisingly sturdy and can be reused over and over. They're also light and small enough to be stashed away for your next summer party (and the next one and the next one).
Fun beverage dispensers
A crafty way to reduce bottles and cans is to get some fun beverage dispensers in and make your own drinks. Get creative and toss chopped fruit into Pimm's, margaritas, lemonades, sangria – the options are endless. If beer is a necessity at your barbecue, you could source them from local breweries (making you look super on-trend and reducing your footprint).
If you use any of these tips at your next eco BBQ, drop a comment below and let me know how it goes! You can also find more BBQ tips and tricks in our posts 5 Gousto Recipes You Can Cook On Your BBQ, 10 Tips For Creating The Perfect Vegan BBQ, and The Perfect BBQ Dessert.