A Sneak Peek At Food Trends For 2022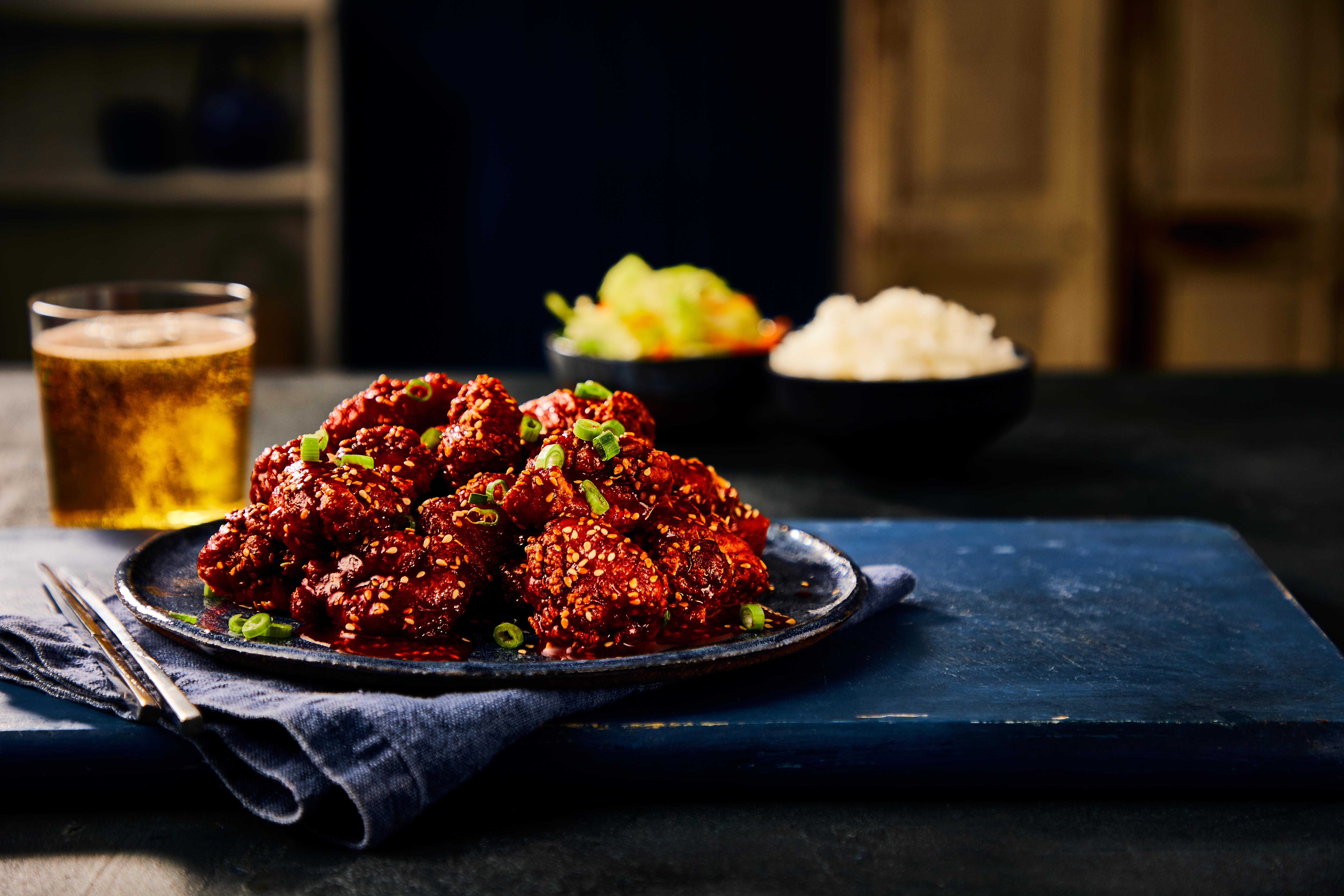 2021, another funny old year, but one where food, cooking and eating has been a hot topic for most of us – whether indulging in a restaurant or comfort cooking in our own kitchens.
We've see more people than ever turn to the kitchen to get their kicks, exploring new cuisines, testing out the latest food hacks and discovering exotic ingredients.
We asked Jordan Moore, our Senior Recipe Developer here at Gousto, to take a look back on the boldest flavours of this year, from eating for the planet and new food innovations from TikTok, to our own top trends and recipes, as well as predictions of what's to come in 2022.
It's gone viral!
Cultural impacts such as TikTok have increased our appetite for recipes, hacks have elevated simple meals and trends are driving grocery sales. The hashtag #TikTokFood has collectively amassed 44.5 billion views- social recipes have boomed so much that you can now order trending recipes to your home.
Everyone remembers the delicious Feta Pasta trend which saw huge uplifts in feta purchases during  the peak of the viral trend. This was followed by some super-tasty spin offs – our variation was a creamy, one-pot and totally delicious Greek Cheese, Tomato & Tenderstem Farfalle which was our most popular vegetarian recipe in 2021, maintaining unusually high popularity at 3.5 times more popular than the average veggie recipe.
Jordan is interested to see how these social trends can inspire more creativity in the kitchen.
As we saw from the success of our own feta pasta recipe, social trends are transforming the way we cook at home. I love that they encourage people to swap their standard repertoire for more adventurous flavours and textures from around the world.

It's the chance to learn about new cuisines- so anything off the beaten track always catches my eye. These trends will definitely continue to inspire our menus in 2022
Vegetarian? Flexitarian? Climatarian!
Creativity in the kitchen hasn't just been about one-pot wonders, it has also taken a serious environmental turn. In October this year, with COP26 driving interest, the climatarian diet was all anyone could talk about. As we looked to make alternative plant-based swaps, TikTok sprung up with one of our favourite hacks: carrot bacon.
Jordan's Gousto twist was a Plant-Based Pigs-in-Blankets, which saw parsnip ribbons marinaded to create the 'bacon' around veggie sausages.
The inspiration behind this recipe was to make sure those looking to lessen their environmental impact didn't have to compromise on arguably the most delicious part of Christmas; pigs in blankets!

Parsnips work so well as they take on strong and salty flavours, whilst imparting their natural sweetness. Parsnips are also so abundant this time of year so we want to find as many ways as possible to use this great British vegetable!
Fan Favourites
So, what's been the highlight our Gousto recipe boxes this year?
Not unusually, Gousto orders have predominantly been British or Italian cuisines. The top 3 recipes were Smoky BBQ Chicken Fajitas, Extra Special Bangers 'N' Mash and Simply Perfect Beef Spag Bol – with the Fajitas ordered over 455,000 times!
Jordan commented:
We Brits love our classic dishes, which is why our Gousto Everyday Favourites range is so popular, but our confident customers also love exploring new flavour influences: our Seoul Train range celebrated the flavours of Korean food.

We've been seeing Korean culture trend for the last decade, so naturally our customers were intrigued to learn more about this cuisine- our Korean Fried Chicken recipe was ordered over 127,000 times. Customers loved cooking with hard-to-find ingredients such as kimchi, gochujang and gochugaru, which all give Korean food its distinctive flavour profile.
So what will be tickling our taste buds in 2022?
As we move into 2022, can Jordan predict what's coming next…
When we think about food, we all focus primarily on how it tastes. But as we adventure into new cuisines and recipes, the whole sensory experience is becoming equally as important.

Consumers are looking to explore food that stimulates all of their senses as the pandemic has restricted so much of this over the last couple of years. There's going to be a rise in food you eat with your hands, from Ethiopian stews scooped up with a fermented flatbread known as injera to eye-catching Mexican blue corn tacos filled with bold and authentic flavours.
Do the bright, pastel colours and pillowy texture of cloud bread ring a bell with anyone?
What we put on our plates isn't just for enjoyment, it is increasingly seen as a tool for change.  This year, we found that in an average week, one in five Gousto meals ordered were vegetarian. Jordan added:
In particular, we saw a huge uptake in our vegetarian and plant-based offering of our 'Wild Buns' range- a range that flipped traditional burger flavours on their heads. Fiery Marmite-Glazed Burger anyone?
All this could suggest, as we head into 2022, that people are looking for ways to adopt a more 'climatarian' way of eating, along with seeking adventurous ways to enjoy a more plant-based diet.
For Jordan, his favourite plant-based hacks have been
…anything that celebrates the wonder of vegetables! In particular, we've seen customers love mushrooms this year given they have so much versatility in how you use them and what you pair them with.
Time to go global
Korean recipes aren't the only global cuisine that will continue to boom in 2022. Driven by restricted travel, 2021 saw Brit's searching for ways to explore the bold and exotic flavours of the world from home.
In fact, our own research earlier this year found that over a third of people (39%) credited lockdown boredom for their new-found food bravery while almost half (47%) used lockdown as an opportunity to upskill themselves in the kitchen.*
Jordan explains,
We wanted to take customers on a journey in their kitchen, because it wasn't physically possible for so many of us this year. We expect to see trends of global cuisines continue to rise next year.

In particular, East Asian food is set to rise in popularity this year with Japanese, Japanese fusion and more regional Chinese food, opposed to just Cantonese, becoming global interests and muses.
Our final prediction sees the king of grill-able cheese, halloumi, being given a run for its money by newcomer, paneer. With its buttery, silky texture and high melting point, it's just as versatile to cook as halloumi, but paneer absorbs flavour making it perfect for rubs, marinades and famously, curries and stews.
In the second half of 2021, we saw our highest ever popularity for paneer with our Paneer Butter Masala and Coriander Rice, so we're expecting to see paneer continue to boom in 2022.
*Research of 2,003 adults, commissioned by Gousto in May 2021
What is Gousto?
Dinner, but not as you know it. Our big red recipe boxes will help you whip up wholesome, impressive meals no matter your skill level, with all of the flavour and none of the fuss.
From everyday favourites and ten minute meals, to global cuisines and healthy choices, you'll have over 50 recipes to choose from each week from our menu. We'll send you step-by-step recipes and all the fresh ingredients you need too. Just pick what you fancy for dinner, and leave the planning to us.