8 Brilliantly British Recipes
Sunday 23rd April was St. George's Day, Shakespeare's Birthday, and the London Marathon – it feels like a particularly British time of year. To celebrate, we've picked out some of our favourite British recipes from every corner of the UK (and one originally from Ireland, too).
Take a look below to find out if your favourite British dish made the cut, and to see if you live near the origin of any classic British recipes.
---
Breaded scampi, one of the UK's most popular pub meals, is traditionally made using langoustine which are found on the silty bottom of the Atlantic Ocean and North Sea. The Yorkshire coastline, from Whitby down to Scarborough, has been a prime base for langoustine fisherman for centuries, with many of the UK's biggest scampi businesses still based there today. In our scampi, we've swapped langoustine for juicy prawns, and served them alongside minted green beans and the essential tartare sauce – YUM.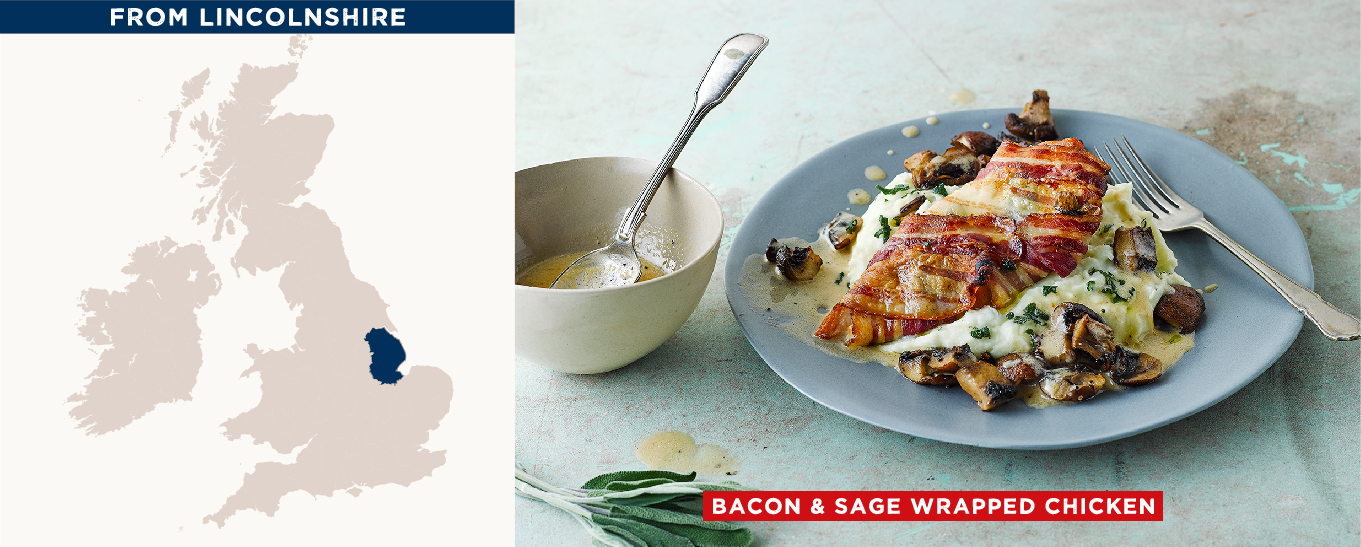 Lincolnshire is famous for it's meat, particularly it's sausages, and this dish is a great example of British chicken and British dry-cured streaky bacon is no exception. When sage, a herby popularly paired with meaty dishes in the UK, is added to the mix you suddenly have a dish that's packed with homely, rich flavours.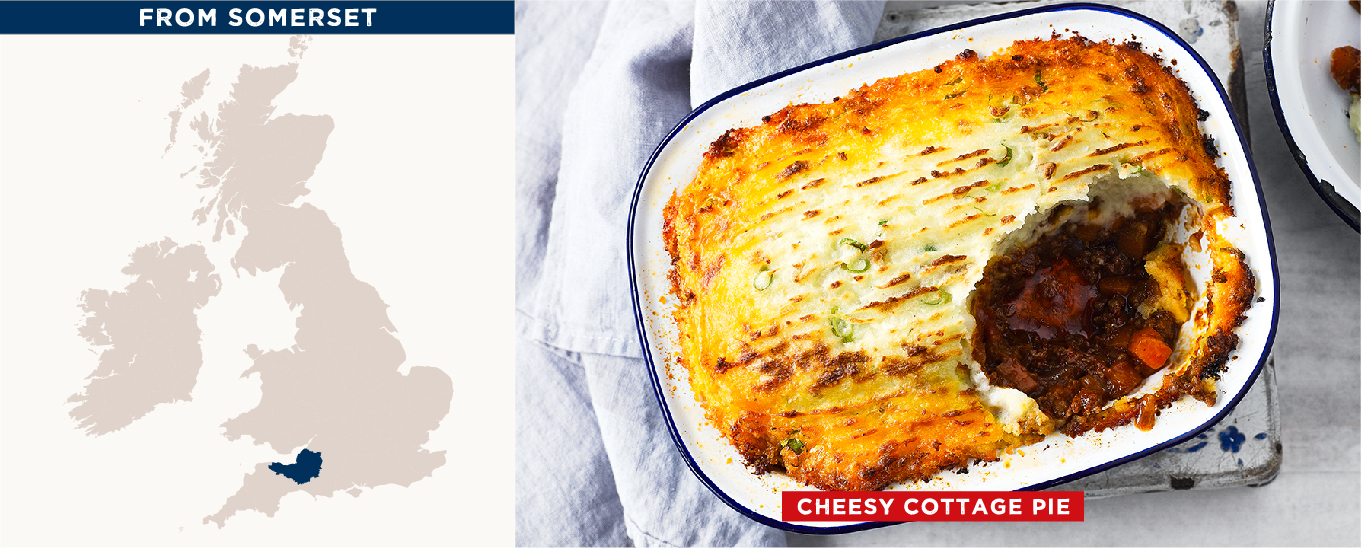 Cottage pie – an undeniable staple of British home cooking – was first mentioned in print by the Reverend James Woodforde in his diaries back in 1791. Woodforde was born in Somerset, but the cottage pie was most likely popular throughout the UK for some time before the Reverend chose to document the recipe in his diaries.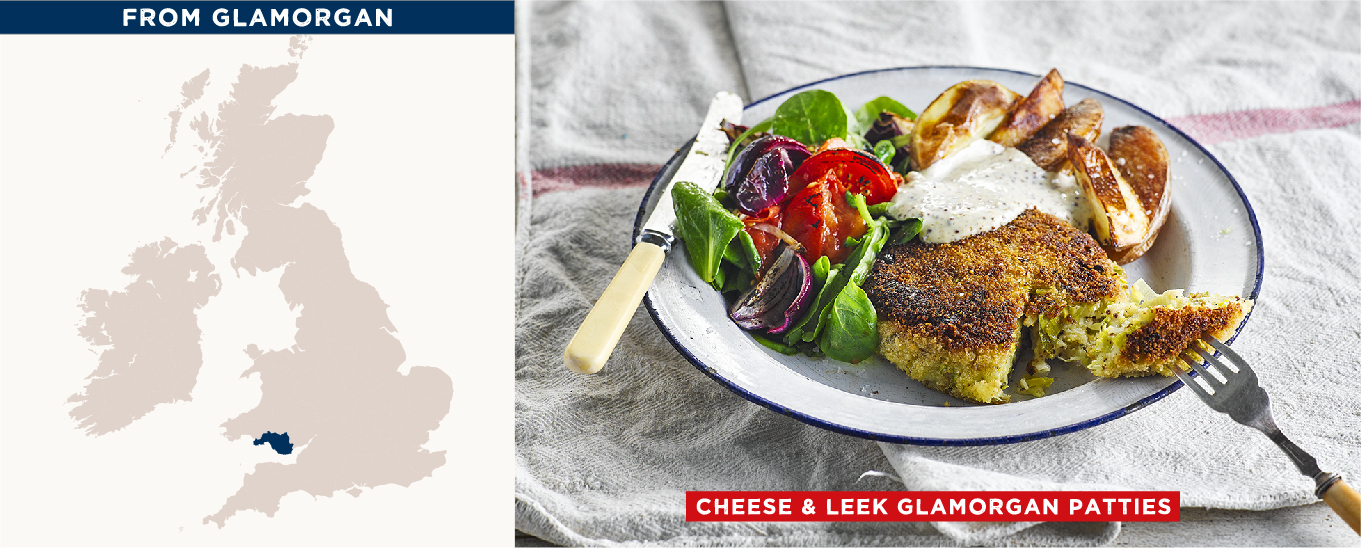 Our Glamorgan patties are inspired by the classic Welsh dish Glamorgan sausages. Made with a Welsh cheese such as Caerphilly, these vegetarian sausages become popular during the Second World War when meat was rationed and hard to come by. We've made ours into patties rather than sausages to keep things simple, but without losing that delicious cheese and leek flavour combination.
Traditionally, Lancashire lamb hotpot would be slow-cooked over a low heat so that workers could leave the meal cooking in the morning and return home to find it ready to eat at the end of the day. Our recipe is a speedy version of the hotpot, using lamb mince and red onion marmalade fill the dish with those flavours that you'd normally only be able to get from slow cooking.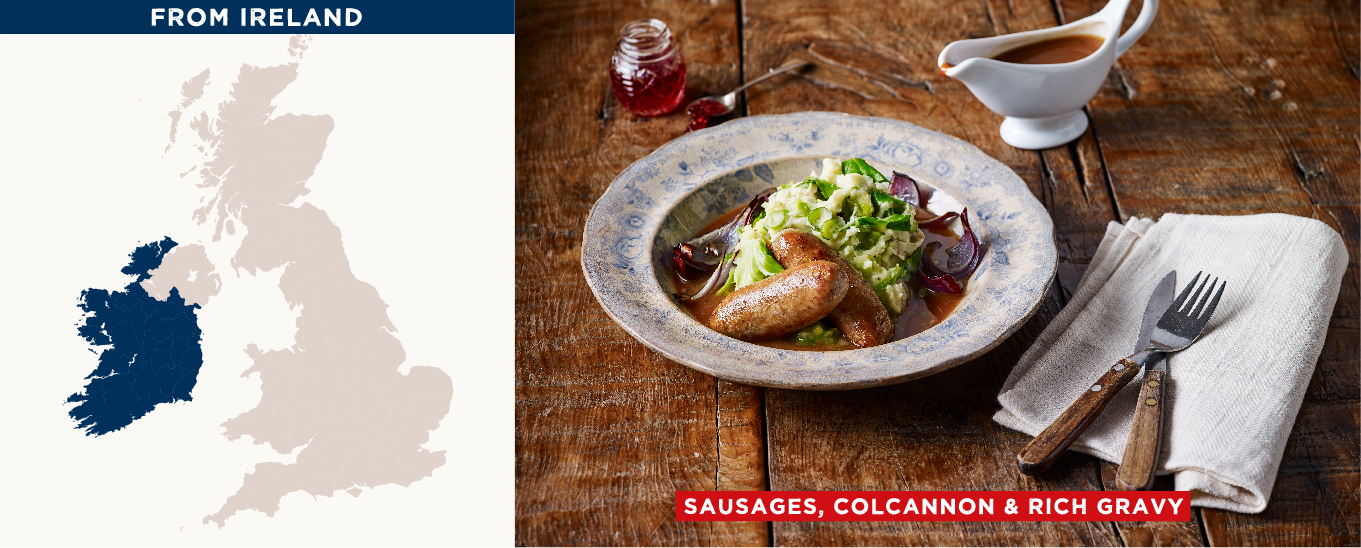 A true staple of Ireland, colcannon combines potatoes and cabbage (or other vegetables) to create a textured mash that makes a perfect mop for a good rich gravy. It used to be a year-round feature of Irish cuisine, and served as a great way to make use of excess greens.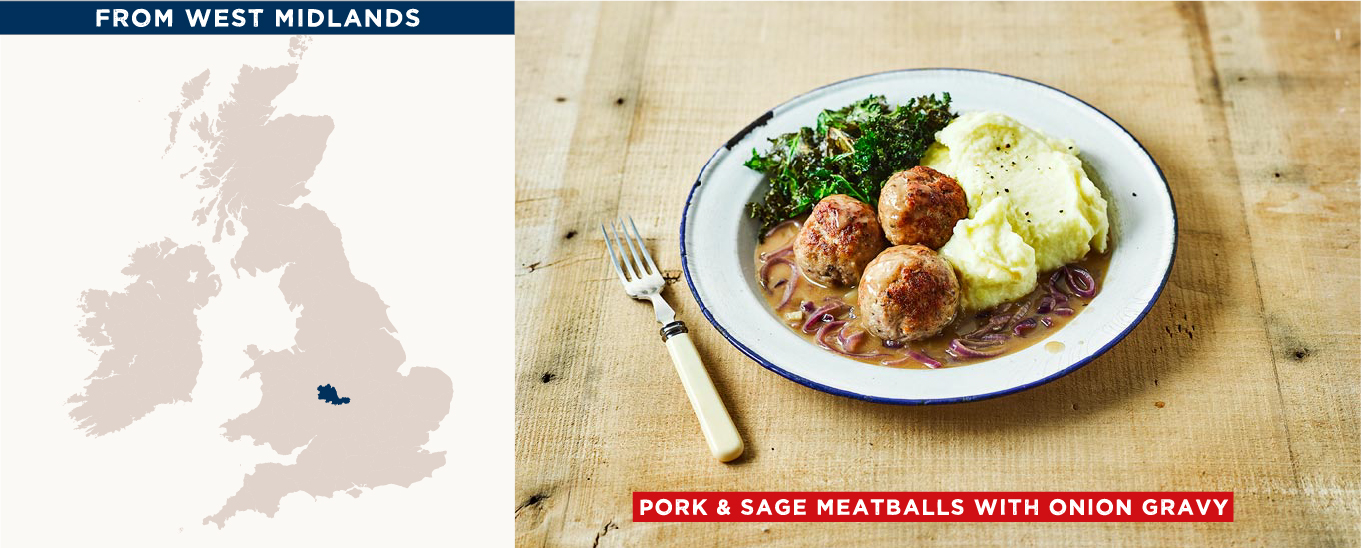 During the late 20th century, it was common to try to use up every part of an animal (we reckon this may become popular again…). Our pork and sage meatballs are inspired by 'faggots' – spiced meatballs that traditionally use the heart, lung and, quite frankly, any part of the pig going spare! We've left out the innards, but we can assure you these British meatballs still taste offally good.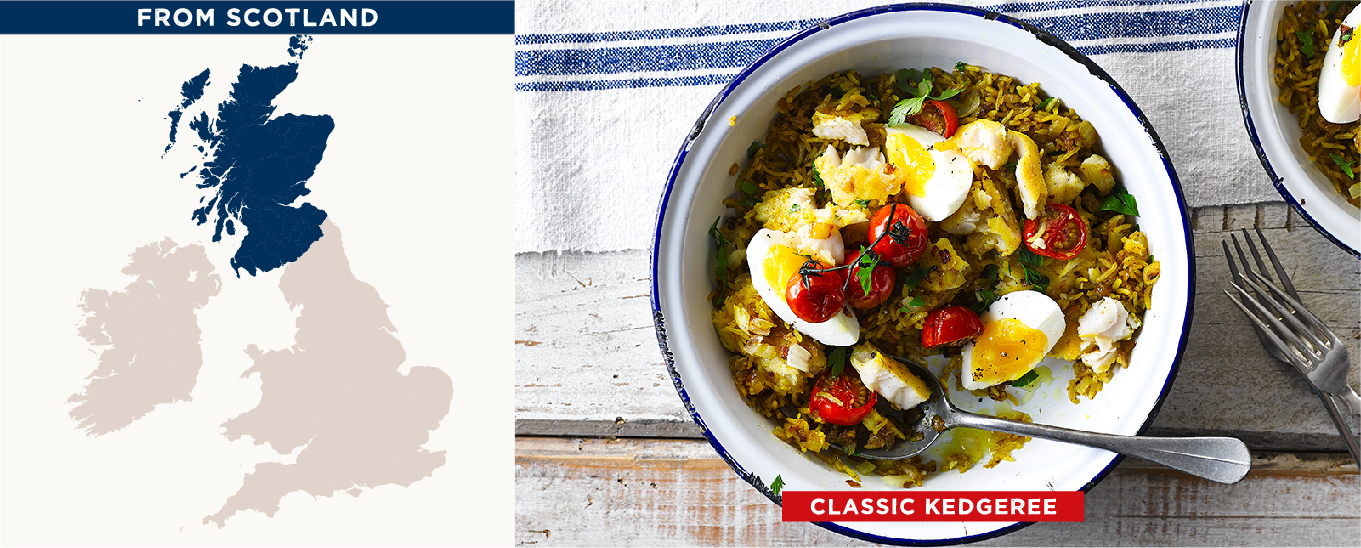 Kedgeree, originally an Indian dish from the 14th century, was popularised in the UK by British colonials returning from India, before being adopted as a popular Victorian breakfast. Made from smoked fish, boiled eggs, parsley, rice and curry powder, it fuses Indian and British cuisine, and was particularly popular in Scotland as early the 18th century!