Bubble and Squeak!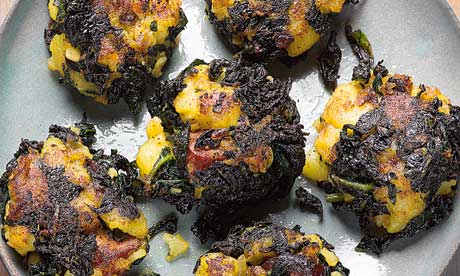 Our favourite way to use up root vegetables and leftover mashed potato. Serve these little patty cakes with a fried egg, sausages or leftover meats.
The recipe below is just a guideline, but you can use whatever leftover veg you have spare. We encourage you to play around
Ingredients to serve 2:
1 carrot or equivalent amount of butternut squash, peeled and roughly chopped
200g celeriac, peeled and roughly chopped
1 large potato, roughly chopped (or leftover mash)
2 handfuls chopped cabbage or kale
1 leek, thinly sliced
butter for cooking
Method:
Boil the carrot, potato and cabbage in a big pan of salty water for 15mins, then leave to cool
Sweat the leek in butter for 10mins to soften
Mash the boiled veg roughly with a fork, season. Add the sweated leeks
Using wet hands, mould the mixture into 4 patty cakes
Fry in butter until crispy on both sides!
Zingy Slaw!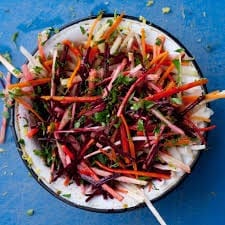 This is a fresher, cleaner tasting slaw than the rubbish you get in supermarkets. Invest in a mandolin for perfect matchsticks, or just use a grater…
Ingredients for 2:
1/4 red cabbage, stalk removed and shredded
1 apple, de-cored and shredded
1 carrot, peeled and shredded
3 spring onions, sliced finely
a handful of mint leaves, shredded
a handful of dill, chopped
the juice of one lemon
a tbsp of mayonnaise
a tbsp olive oil
Method:
Combine the cabbage, apple, carrot and spring onions in a mixing bowl. Mix with lemon juice and seasoning
Combine the mayonnaise with olive oil, and mix through
Mix through the chopped herbs and serve immediately!