We have been eating them for thousands of years, the Greeks wrote poetry about them and they are loved and eaten worldwide; we refer of course, to none other than the humble pancake. Pancakes have a little place in every foodie's heart; they are versatile and can be eaten with pretty much anything, what's not to love? So, whether you call them drop scones, crempogs or griddlecakes here are five awesome recipes you can try out this Pancake Day.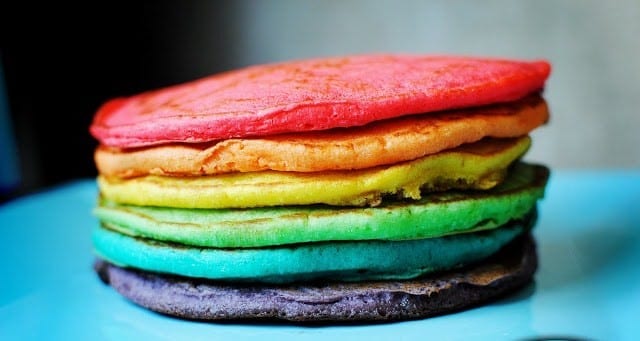 Rainbow Pancakes
Pancakes bring the inner child out of everyone, it's probably got something to do with the flipping, so why not please your inner child and make these multi-coloured delicious delights? Not only will they please your inner child, but they might even be loved by your actual children. Push the boat out and get vivid in the kitchen.
Tropical Pancakes
Pancakes don't care what time it is, you can eat them for breakfast, lunch or dinner. There seems to be an unwritten law that whenever you fancy a pancake it's socially acceptable to bust one out. So why not brighten up your morning with some tropical pancakes? You can start your day off with two of your five a day before you've even left the house. It seems like a win-win situation to us. Check out the recipe here, it's probably the closest you are going to get the Caribbean this February.
Beer and Bacon 'Mancakes'
If you were asked to name the manliest things you could, beer and bacon would probably make the list, preceded of course by Chuck Norris. Well now some culinary genius has combined the two and created 'Mancakes', a concoction so manly they make John McClane running around the Nakatomi tower look positively sissy. Are you champing at the bit to try these out? Check out the recipe here!
Spinach Pancakes
If it's good enough for Popeye it's good enough for us. While spinach might not have you rocking biceps bigger than Arnie, its high iron and vitamin K content is great for your bones, and it has anti-cancerous qualities to boot. Talk about a super food. Check out this recipe and chuck some in your pancake mix for the instant 'feel good' factor.
Boston cream pie pancakes
Don't worry; we went a little Pavlov's dog over these too. Everyone deserves a little indulgence once in a while, and what better occasion than Pancake Day? So put that diet on hold and jump head first into a ginormous stack of Boston Cream Pie Pancakes, we promise we won't judge. Here's betting you can't check out the recipe without drooling, just be sure to give the scales a miss after these.
Gousto Pancakes
Here at Gousto we love pancakes as much as the next foodie so we took to our kitchen and created these mouthwatering grain free, gluten free, paleo pancakes made with chestnut flour, eggs, chia seeds and almond milk. We topped it all off with blueberries, passion fruit and coconut yoghurt. Let's just say, there are smiling faces all around the office this morning!