We love sloe gin. Festive redcurrant and ripe winter fruit flavours with exquisite, velvety mouthfeel… Christmas in a bottle. And which better than Sipsmith's award-winning tipple? The Independent included it in their 10 Best Alcoholic Christmas Gifts this year and we can't recommend it enough. Check out our favourite sloe gin cocktails…
1) SLOE GIN FIZZ COCKTAIL
Ingredients:
– 50ml Sipsmith Sloe
– 15ml Sipsmith London Dry
– 15ml lemon juice
– 15ml egg white
– Dash of sugar syrup
Method:
Shake all ingredients (hard) and top with soda
2) SIPSMITH MULLED SLOE GIN

Image credit: rpavich
Ingredients & Method:
For a 10L Slow Cooker we recommend….
– 7 parts cloudy apple juice
– 1 part water
– 2 parts apple juice from concentrate
Then add mulling spices.
– 3 cinnamon sticks
– 5 star anise
– 2 apples slices
– 2 oranges cut into quarters and studded with cloves

Melt 25g butter and add it to the kettle with all the other ingredients (a mulling spiced tea-bag can work well when pushed for time!)
Allow this mixture to mull together for a couple of hours before serving with 25 – 50ml of Sipsmith Sloe Gin and a thin slice of apple If you don't have a few hours for the soup kettle to warm up, this can also be made in a saucepan on a very gentle simmer and then transferred to the soup kettle for serving
3) REVERSED BRAMBLE COCKTAIL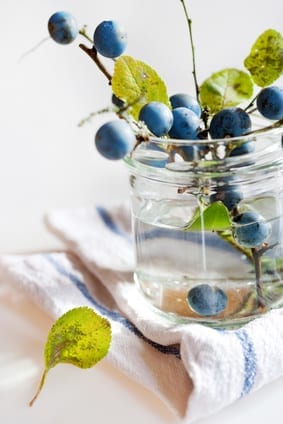 Ingredients
– 50ml Sipsmith Sloe
– 25ml lemon juice
– 12.5ml sugar syrup
Method:
Churn all ingredients through crushed ice and top with some Sipsmith London Dry.
Do you have any awesome sloe gin cocktail recipes of your own? Or maybe you've tried your hand at creating one from these post? Share your tips and photos in the comments.