ONE POT RATA-TAT-OUILLE!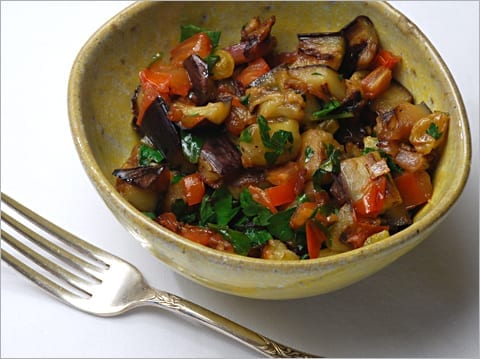 This one-pot ratatouille turns sweet and jammy after 10 hours in the oven. A great way to get more vegetables into your diet. Serve it warm (like you would quiche) for the best flavour. It's brilliant with fish, pasta, crusty bread, or baked into a pie.
Ingredients to serve four:
2 large aubergines, very thickly sliced
3 large courgettes, thickly sliced
1 onion, thickly sliced
5 garlic cloves, crushed
1 tsp dried oregano
1 tsp dried basil
1 tin chopped tomatoes
1 tbsp tomato puree
1 tsp salt
1 tsp sugar
4 tbsp olive oil
2 tbsp balsamic vinegar
Method:
Layer the onions and garlic on the bottom of a heavy based casserole dish or slow-cooker
Layer the aubergine slices over the onion
Layer the courgette over the aubergine
Mix the chopped tomatoes with the oregano, basil, tomato puree, salt, sugar, balsamic vinegar and olive oil. Pour over the layered vegetables
Cover with the olive oil and cook on low (130C/250F/Gas1/2) for 10 hours. Give it a good stir to mix up the layers, and season
CAREFREE CARNITAS!
Let the oven do the work with our one pot carnitas — spicy Mexican braised pulled pork that you can stick on in the morning, scamper off to the seaside and return to meatopia! Just remember to pick up some tacos and salad on your way home.
Ingredients to serve 4:
1k shoulder of pork
3 garlic cloves, crushed
1tbsp chipotle paste
1tbsp smoked paprika
1tbsp dried oregano
1tbsp hot sauce
500ml of cider
Extras: 
1 avocado, chopped
a handful of quartered cherry tomatoes
some sliced jalapenos
sour cream to serve 
a handful chopped coriander
1 lime, cut into wedges
soft or crispy taco shells (whichever you prefer)
Method:
Put all of the ingredients in a slow-cooker or earthenware pot and cook 'low' (130C/250F/Gas1/2) for 10-12 hours. There should be very little juice left in the pot when it's done. Just pull apart the meat with two forks, and mix up with the remaining sauce. Serve with salsa, tacos and wedges of lime. Told you it was easy!