Today marks Chinese New Year and here at Gousto we thought what better way to celebrate than through food! The Chinese cuisine is subtle, versatile, delicate and is a awesome treat for your taste buds. To celebrate Chinese New Year why not check out to of our Chinese inspired recipes, the delicious Chicken Cashew Stir-Fry and the scrumptious Asian Fish En-Papillote.
Chicken Cashew Stir-Fry
Who doesn't love a good stir-fry? They are quick, easy and packed full of mouth-watering flavour. Our Chicken Cashew Stir-fry requires you to put on your chef hat and master the art of velveting, a technique that invovles cooking your meat in egg for an extra moist finish. But don't panic, while it might sound a little tricky it is actually incredibly easy and gives your stir-fry some pizazz. Velveting can be applied to pretty much all kinds of meats so once you've become a master you can go whild and experiment to your heart's content. So, thanks to Gousto, you don't have to rely on that greasy, dodgy takeaway!
Asian Fish En Papillote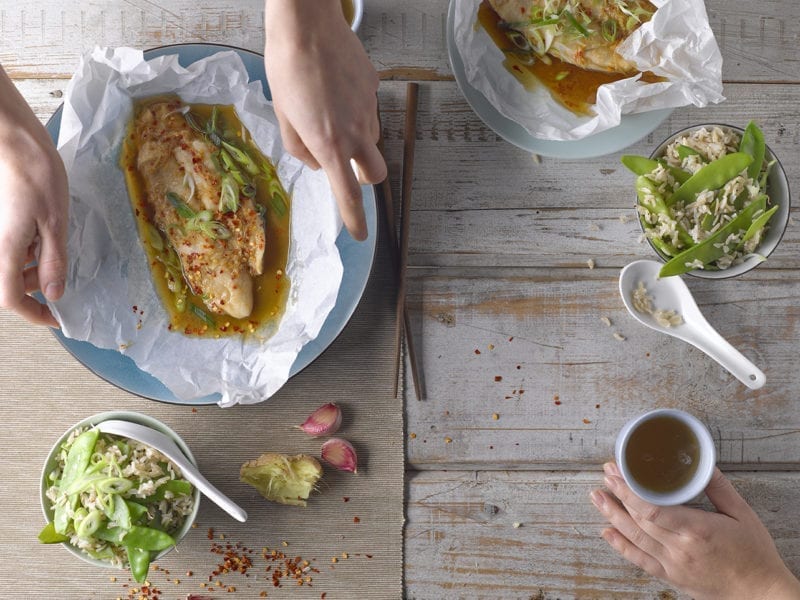 Everything sounds better in French, it's a language that makes the mundane sound magical. While it may sound fancy en papillote translates into "in parchment", a cooking technique that requires you to wrap the fish up in a parcel which holds in all the moisture and flavour, creating a delicious delicacy. Our Asian Fish en Papillote is an asian-inspired dish that is brimming with flavour. We threw in some zingy ginger, a healthy amount of chilli and sweet balance of soy sauce and mirin, to really give it that extra kick.