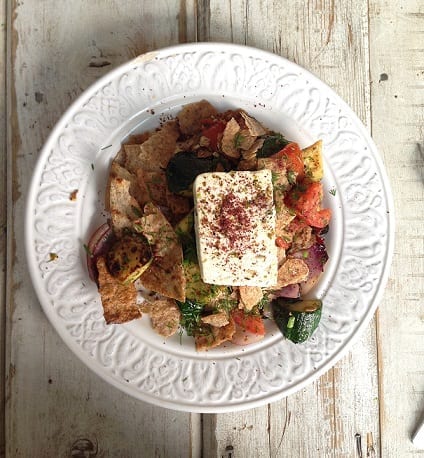 It's that time of the week again – make or break for the latest new recipe to go under the fork in the Gousto cookpit. This time it's a Greek salad, but far from your bog standard Grecian grub, this particular Greek salad was designed to weather the weather. Chef Alice created this salad as Gousto's answer to the winter food dilemma; the unspoken stigma that as the temperature drops it becomes less appropriate to devour salad. This vibrant bowl of healthy chow presents us with the warming, seasonal spice that wintry fare necessitates; yet compromising none of the crunch and tang of the beloved summer dish. A delicious divergence!
Chef Alice says: "This is a twist on a classic Greek salad. I've swapped cucumber for courgette, warmed the tomatoes, and roasted the red onions. I've also taken inspiration from another salad — 'fattoush' which is a Lebanese bread salad. We went for wholemeal pitas that are crisped in the oven, to make it more substantial. The feta is also warmed in the oven, which changes the texture, making it creamier whilst still tangy. Oh and that red spice on the top — that's sumac, my favourite spice of all time. It has a citrus quality as it's made from a ground berry."
Top cooktips: When pan frying onions quickly, we recommend adding a tbsp of water and a lid to the pan – this helps to steam them a little and gets rid of their acidity
Cooked in: Under 20 minutes
Keep an eye out for this delectable new addition in our upcoming recipes.