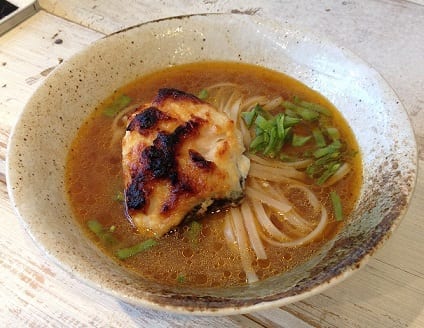 Flo has just announced that there's a new recipe on trial in unit 1. Queue the ravenous rush to the kitchen to sample the latest concoction– Miso Glazed Cod with lemongrass, peppercorn, mange tout and chilli. This Asian inspired soup brings a medley of mouth-watering oriental flavours together with charred cod and hearty noodles. The first taste is intense, savoury and moreish; and before very long the dish has disappeared before our eyes. A resounding success!
Chef Remi says: "This is a great basic recipe that's been strained of the heavier bits to produce a versatile, concentrated broth that cleanses the palate and soothes the senses. The cod has been charred under the grill to a delicate, crisp texture that contrasts beautifully with the piquant aroma of the soup. The miso is added to an already hot baking dish and the paste is applied to the top only, preventing the dish from burning."
Top cooktips: We recommend cutting the beans finely and adding them to the broth just before serving, this way they retain their crunch and colour! Be sure to add all resulting cooking juices to the soup.
Cooked in: 35 minutes
Look out for this delectable new addition in our upcoming recipes.