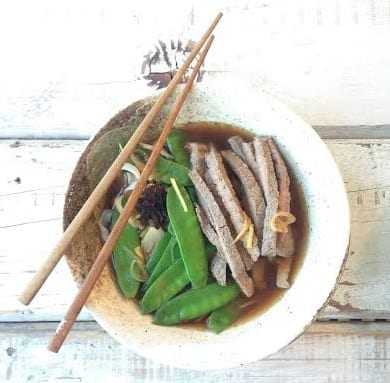 It's all go in the Gousto Cookpit this week, we've seen a multitude of moreish medleys and flamboyant fare put through its paces in the quest to win a coveted place amongst the esteemed Gousto recipes. We think this delicious rendition of a Vietnamese noodle soup has more than earned its stripes, though don't be taken in by its ravishing appearance; this pho is faux! Packing in all the flavour and warmth of the standard oriental delight, our version omits the hours of simmering beef bones and scouring the shopping aisles for oxtail; substituting them with the more conventional stock and thick rice noodles. And if that's not enough, this baby can be rustled up in less than 20 minutes. Score!
Chef Alice says: "The secret to this flavourful little number is in the intensity of the seasoning. We use star anise, fresh ginger, a shallot and a bit of saucy assistance. Throwing in a handful of fresh mange tout adds natural sweetness, and more importantly they cook in seconds!Then bam – you have a full flavoured broth in under 20 mins!" 
Top cooktips: The key thing here is to flash fry the steaks in a scorching hot pan for no longer than a minute on each side. Then reserve those all-important pan juices to make your broth!
Cooked in: Under 20 minutes
Keep an eye out for this devilishly delicious new addition in our upcoming recipes!