Image source: http://deliciouslyella.com/philosophy/about/
Vicki Glover meets healthy food blogger Deliciously Ella
As part of Gousto's product team and a massive health food enthusiast, I was extremely excited to attend one of the Deliciously Ella cooking classes last week! I initially came across Ella Woodward through her super healthy and inspirational Instagram account (@deliciouslyella). This young food blogger (www.delicouslyella.com) has created a best-selling app, is currently studying to become a nutritionist, as well as writing her very own book and still makes time to host exclusive health food events; such as cooking classes, brunch and supper clubs across London.
After being diagnosed with a rare illness, Postural Tachycardia Syndrome- which affects the autonomic nervous system, Ella was left extremely sick and bed-ridden. With six months of conventional medicine and little improvement to her health, Ella took her own approach to healing and drastically changed her diet- focusing on whole, plant-based and predominantly raw foods, eliminating all meat, dairy, gluten, sugar, refined and processed foods! Through adopting this lifestyle she managed to eat herself well and is now in control of her health and wellbeing. (As Hippocrates said "Let food be thy medicine and medicine be thy food.")
I attended the Tuesday afternoon class –I had no choice as all other time slots had sold out in under an hour–with 11 other foodies (all female.. no surprise there!). This was held in a spacious kitchen, fully equipped with Magimix food processors, blenders and of course, spiralizers. We each had our own cooking station to prepare the beautiful, fresh ingredients. I was in heaven!
Working in small groups we prepared 5 fantastic recipes:
1. Oat Milk
2. Classic Berry Smoothie
3. Stuffed Mushrooms,
4. Brazil Nut & Rocket Zucchini Salad,
5. Banana Ice Cream with Coconut Sauce,
– all from Ella's new cook book, which will be published in January 2015 (I have already pre-ordered mine!). Before the end of the class we gathered around a table so that we could enjoy our delicious creations together, discuss all things health and ask any questions we may have for Ella.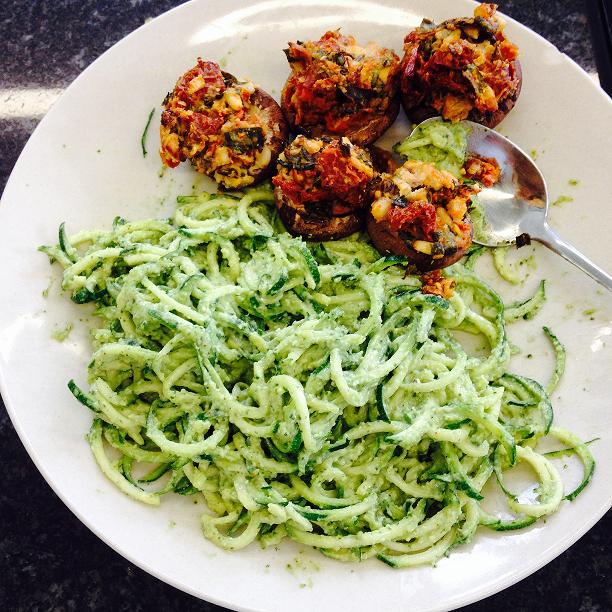 This was an intimate class with lots of interaction and an amazing opportunity to share each others' health journeys! Perfect for those who want to learn and explore new, simple recipe ideas- Ella emanates a positive and friendly environment for anyone wishing to embrace the healthy eating lifestyle.
Here at Gousto we support Deliciously Ella in the celebration of natural, healthy food!
By Victoria Glover