A Recipe For Romance: Vintage Valentines
This is the sort of love that grows over time. The grand gestures of a brand new romance have been replaced by those little moments of thoughtfulness like a well-timed offer of a cup of tea, breakfast in bed, or sharing the TV remote (OK, the last one is quite a big deal).
On Valentine's Day it's nice to mark the occasion and show your loved one how much they mean to you. However, that doesn't mean you need to break the bank to show you care! We've picked out some choice items below that will make for a perfect evening in with that special someone.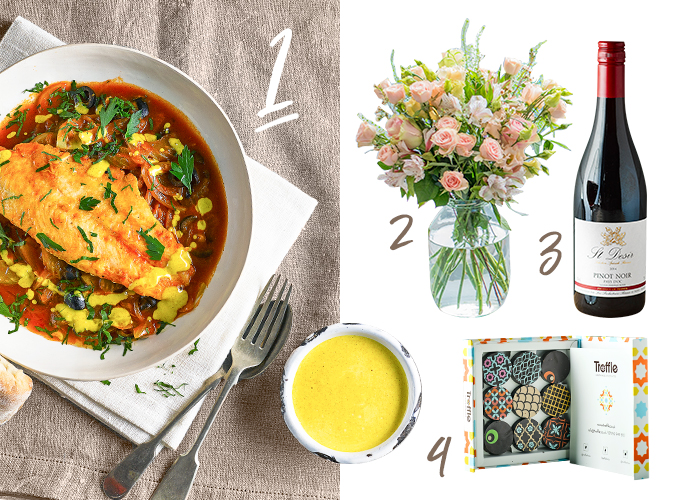 1. The Recipe: Mediterranean Fish Stew & Sunny Aioli
This dish has an exciting mix of ingredients to bring a little hint of the exotic to your Valentine's dinner table. Star anise, turmeric, olives and a homemade garlic aioli (don't worry – if you both eat garlic you won't notice it!) all play a part in this beautifully fragrant fish stew.
2. The Flowers: "The Adele" Bouquet by Bloom & Wild
A beautiful bouquet of perfect peach tones and delicate textures, "The Adele" is inspired by the classic beauty of fresh English Gardens. Its soft colours give a vintage feel, while its stylishness is truly timeless.
3. The Wine: St Desir Pinot Noir
Grown on the foothills of the Pyrenees, this well-balanced red is a wonderful partner to our Mediterranean Fish Stew. While it's not trying to steal the show, hints of raspberry and cherry mean it has plenty of interest to offer.
ABV 13%
4. The Treat: Troffle Handmade Chocolate Signature Selection
This selection of finest handmade chocolates from the cocoa fanatics at Troffle comes beautifully packaged, making it a perfect Valentine's gift. Each of the nine discs of melt-in-the-mouth deliciousness inside have a unique flavour and patterned decoration: they look so good that eating them is just a little bit heartbreaking…(but that won't stop you).
---
Does this sound like a dreamy Valentine's in to you, or is there something you'd change? Why not take a look at some of our other recipes for romance, like our Comfortably Coupled or Newly Matched evenings, or head to our menu now and choose the recipe, treat and wine for your perfect Valentine's!