A Recipe For Romance: Comfortably Coupled
If you're nicely settled down, it can be easy to forget how special Valentine's can be, or even to miss it altogether. Taking a moment to slow down, relax and enjoy the company of the person you love is what it's all about – for a moment, it's all about the two of you (and maybe a child or two!)
We think this romantic evening is just what's needed to make a Valentine's evening at home feel magical – all without too much hassle. With a luxurious curry, a gorgeous bottle of white, some sensational flowers and a double whammy of starter and dessert treats.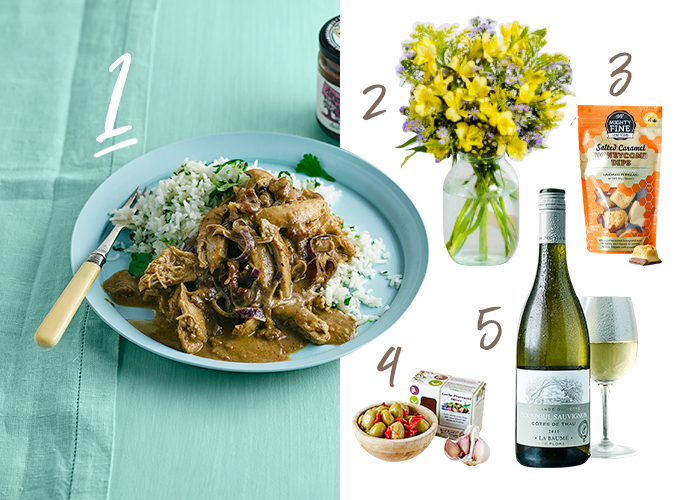 1. The Recipe: Figgy Chicken Curry With Coriander Rice
Figs are one of the more well-known aphrodisiac foods; this recipe uses Tracklements' award-winning fig relish to give the curry a delicious fruity sweetness, while the coriander rice provides a freshness that balances brilliantly with the sauce. The result? A dish that's a whole lot more special than a takeaway curry.
2. The Flowers: "The Jessie" Bouquet from Bloom & Wild
This bright bouquet is delicately scented with freesias. It's guaranteed to raise a smile, acting like a burst of sunshine in the middle of chilly February.
Gousto have a special Valentine's present for you…Order a box before 14th February, and we'll give you £10 off your first order of flowers from Bloom & Wild – just in time for the big day! Visit the menu now to pick your recipes and get in on the offer.
3. The Treat: Mighty Fine Honeycomb Salted Caramel Dips
It doesn't get more irresistible than this signature light and crisp honeycomb. Flavoured with sea salt & wrapped in caramel-infused Belgian milk chocolate – it's also a treat which makes a real difference – some money from each pack sold goes to the Friends of the Honey Bee campaign.
4. The (Extra) Treat: The Real Olive Company Garlic Provencal Olives
These chunky, garlic-stuffed olives in red peppers and Herbes de Provence infused oil aren't your average romantic snack; but don't let fear of the dreaded garlic breath put you off – the garlic is pickled, which minimises its odour.
TIP: How do you get rid of garlic breath?
There's some evidence to support that biting a lemon wedge can help to prevent a waft of garlic ruining the mood on Valentine's Day. We put it to the test, along with five other cures, in our video 'What Really Cures Garlic Breath?'
5. The Wine: Symbiose Piquepoul Sauvignon
A firm favourite with Gousto customers, this dry white from the South of France contains a mix of Sauvignon Blanc and Piquepoul grapes. The former introduces a tropical fruitiness that pairs beautifully with the figgy curry, while the Piquepoul adds a refreshing crispness.
ABV 12%
---
Does this sound like a dreamy Valentine's in to you, or is there something you'd change? Why not take a look at some of our other recipes for romance, like our Vintage Romance or Newly Matched evenings, or head to our menu now and choose the recipe, treat and wine for your perfect Valentine's!