Quick and Easy Guacamole Recipe
Did you know there's a Guacamole Day (September 16th)? Avocados must hate it.
We love it though, because guacamole is really simple to make, takes no time at all, is super healthy and works just as well in a burrito or as a dip with tortilla chips (or Ryvita if you're feeling virtuous). To honour the occasion, here's our quick and easy guacamole recipe to give you a classic, basic guacamole. Read our guide to Mexican cooking for some inspiration on what dishes to pair your  guacamole with.
We've added a little twist by adding chopped chilli to ours; the spice really soaks into the avocado, making the whole thing spicy (not just the chilli bits) – so if you can't handle the heat, leave the chillies out of the kitchen!
Our Quick and Easy Guacamole Recipe
Cook time: 15
Recipe Category: Snack
Ingredients
2 ripe avocados
1 red onion
2 fresh limes (make sure they're fresh, it makes all the difference!)
15g fresh coriander
1 tomato
1 or 2 chillies (serrano preferably, but any variety that's not too hot will do)
1 tbsp olive oil
good sea salt and black pepper
Method
Cut the avocados in half, remove the stones and scoop out the flesh with a spoon?Tip: remove the stones by chopping the blade into the exposed half, then twisting and pulling away from the flesh
Peel and finely chop the red onion
Chop the tomato in half, scoop out the seeds and pulp with a spoon (this stops the guacamole getting too runny) and chop the flesh
Cut the chillies in half lengthways, de-seed (scrape the seeds out with a teaspoon) and chop finely
Chop the coriander finely, saving a few sprigs for garnish
Combine the avocado flesh, chopped tomato, chopped chilli(es), 2 tbsp chopped red onion, 2 tbsp coriander (or more if you like it) with 1 tbsp olive oil (this gives it the right consistency) and a big pinch of salt and pepper
Halve and juice the lime into the mixture, and mash with a fork until you reach your preferred consistency
Taste for seasoning (you may need to add more salt and pepper than you think, as the avocado really absorbs them)
Garnish with any remaining ingredients and serve!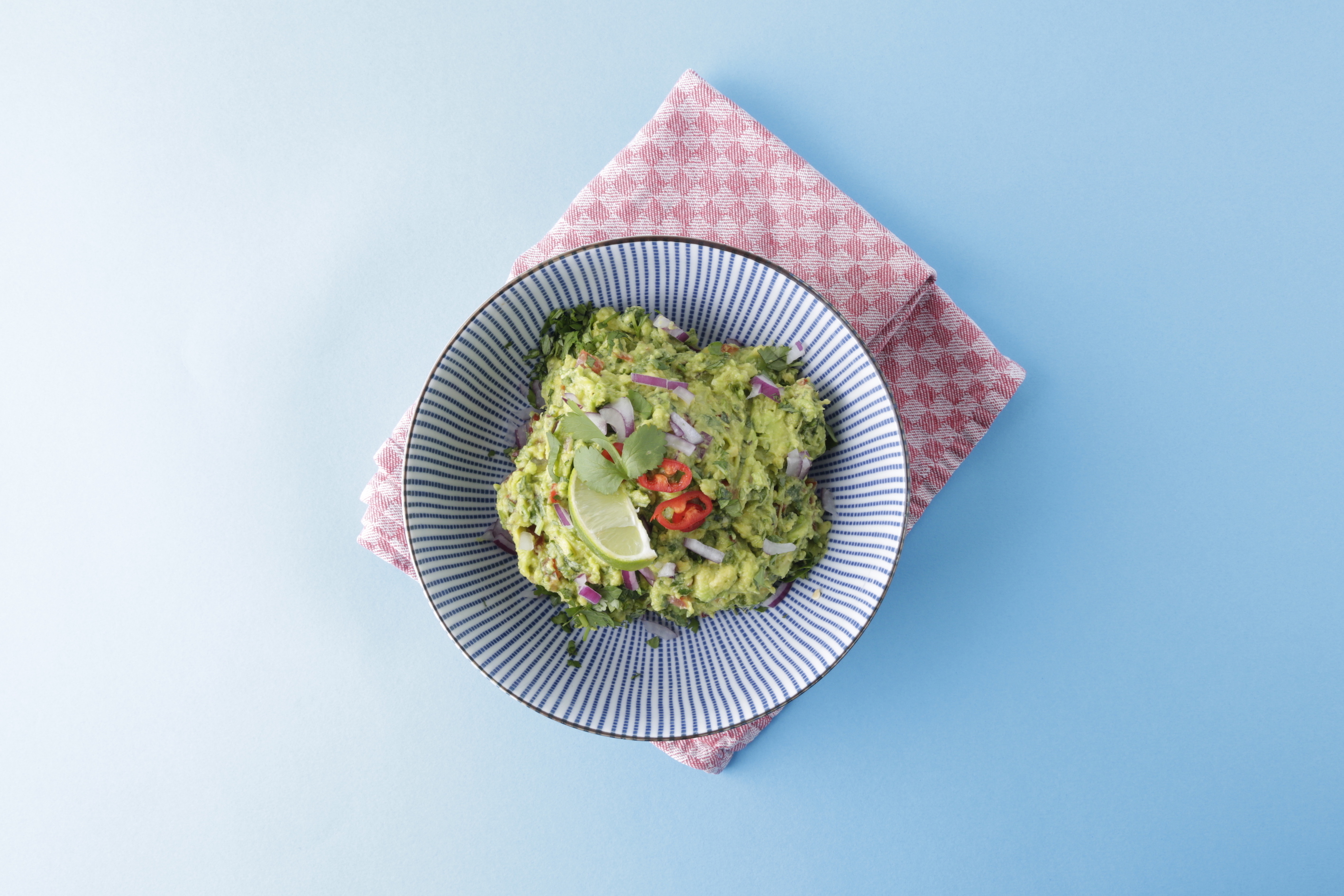 We like our guacamole quite chunky to give it a nice bit of texture and make each bite a little different. If you prefer a smooth paste-like guacamole then use a potato masher instead of a fork to break up your avocado – you'll have spreadable lump-free guacamole in no time!
Let us know what you think of this recipe in the comments!