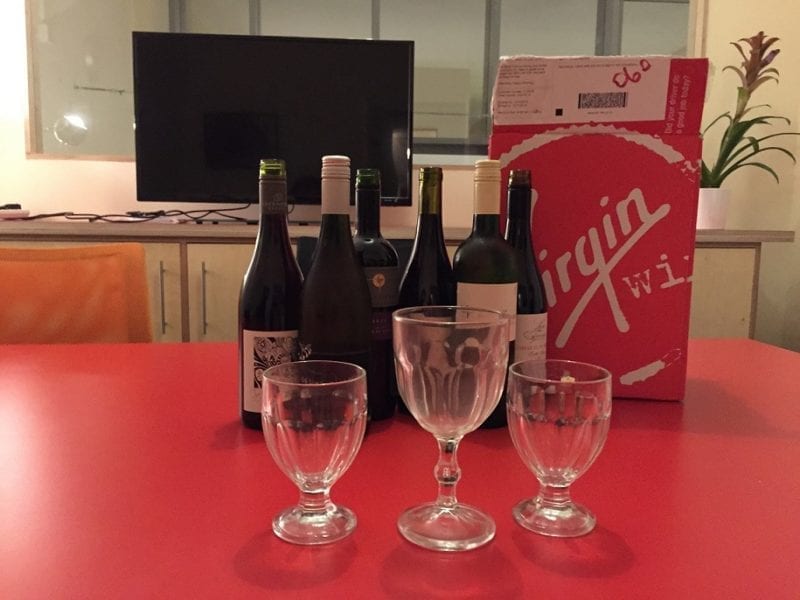 The only thing better than a home-cooked meal is a home-cooked meal accompanied by the perfect glass of tipple; carefully selected to complement and enhance the flavours of the dish no less.
In the quest to find the perfect plonk; the good soldiers of Gousto HQ obligingly accepted the gruelling task of taste-testing no less than  6 different wines sent courtesy of our pals over at Virgin Wines. Well it's a tough job but someone's got to do it.
So, just how does the uneducated palate go about discerning the vintage from the vinegar? We didn't have the foggiest, but luckily Chef Remi was on hand to guide us:
"When tasting wine you need to hold the glass by the stem at a 45% angle, swirl it around and take a few short sniffs before evaluating the aroma. A visual examination of the wine can tell you a lot about it. Look if it has 'legs' or 'tears' that run down the side of the glass, these indicate the alcohol content and in turn how ripe and intense the flavours will be."
Right oh! With our wine stances rectified and our senses suitably prepped, it was time to get down to business, starting with the reds.
1: Las Tijeras Cellar Selection Merlot 2013 

Virgin describes this wine as a plummy, juicy Chilean Merlot. Merlot's being my personal favourite type of vino, I had high hopes. It's apparently the third most widely planted grape in Chilli, known to vary in intensity from the genial to downright boisterous depending on the region. However I find Merlot is always a smooth, easy drink, and this little Chilean number was no exception. The aroma was definitely fruity; and the taste was smooth and berryish, spliced with some richer chocolate undertones. We gave this one 7 out of 10.
2: Cave Saint Desirat VDP l'Ardeche Syrah 2012
Despite being billed as 'beguilingly aromatic' we weren't as taken with this French Shiraz. An earthy aroma gave way to peppery, petrol tones that contrasted starkly with the smoother Merlot. The much darker flavour of the notes would certainly complement rich, meaty dishes like our pork chops and caramelised leeks. We gave it a 6 out of 10.
3: Sherwood Stratum Waipara Pinot Noir 2013

Team Gousto guzzled this foxy Pinot with gusto! A soft and fruity Malborough Pinot Noir that carried itself majestically from that first whiff to the last taste. Oaky tannins were balanced with rich fruity notes of strawberry and plum. Props to the Sherwood Family vineyards of New Zealand. Virgin recommends pairing this with grilled lamb, we think it'd be a match made in culinary heaven with our Herb Crusted Lamb. 8 out of 10 for this Kiwi wonder, grown in the bountiful region of Waipara that produces around 100,000 cases of award-winning plonk every year.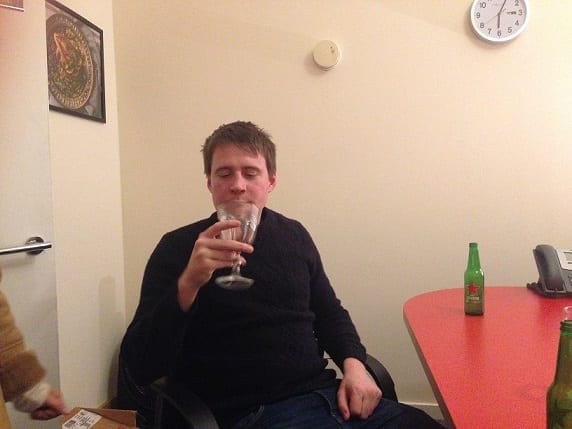 Onwards and upwards – to the whites!
4: 16 Little Black Pigs Chardonnay 2013
We were less enamoured with this Australian 'unwooded' Chardonnay, light in body with a crisp, clean finish. The acidic and petrol notes were a little overwhelming, though we imagine they would sit well with a light and zingy meal like our lemon and thyme risotto. 6 out of 10.
5: Les Hauts de L'Olivier Sauvignon Blanc 2013
Crisp and mellow, Les Hauts de L'Olivier graced us with a classic Sauvignon Blanc, heavy with citrus notes. We've all noted the demise of the cork in commercial wines, but did you know that Sauvignon Blanc was one of the first fine wines to set the screwcap trend? It certainly makes it easier to get stuck in! Chef Remi recommended enjoying this floaty little Frenchy al fresco; with light salads or seafood dishes.  Elegant and fresh, it went down a treat. 7 out of 10.
6: Hope Springs Shiraz Petit Verdot 2013 

Billed as a(neo)'classic blend' of Shiraz and Petit Verdot from the Cape, this dense Australian blended wine had a touch of oaky smokiness tinged with a layer of juicy, citrusy fruit. Light and jubilant, it delivered a gulp of freshness that would pair beautifully with a tagine or our Moroccan spiced lamb. 6.5 out of 10.
What's your tipple of choice? The vino gurus over at Virgin are giving Gousto customers more booze for their buck with this  fantastic special offer:
Enjoy £50 to spend on your favourite wines when you join  Virgin's Discovery Club.
Just visit: www.virginwines.co.uk/gousto50
And enter the following details:
Voucher code: GOUSTO50
Voucher Password: DISCOVERY
T&C's apply. You must be 18 or over. £97.88 min spend. Unavailable to existing Discovery Club members.
Enjoy!