Tracklements Sticky Fig Relish is made the same way it always has been. Figs are soaked in homemade spiced vinegar before being pan-cooked with dark sugar, chillies, and cinnamon until gooey and delicious.   
The word tracklement was historically used to describe the accompaniments to the main part of a meal (usually meat) in the East Midlands. When looking to name his business, founder William Tullberg called it "Tracklements" because it was a term he remembered his grandmother using.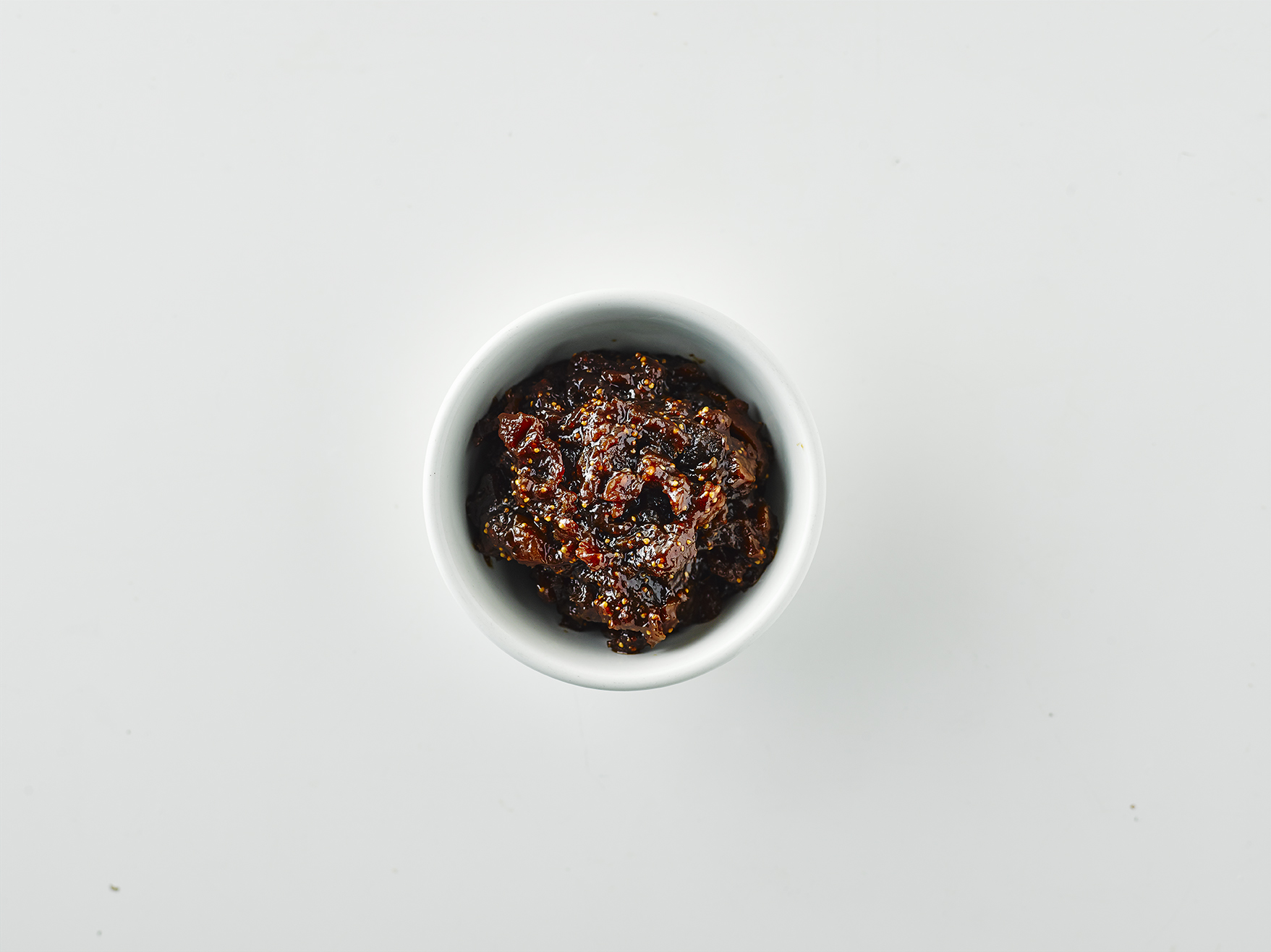 The head culinary condiment creator at Tracklements is now William's son, Guy. It was Guy who serendipitously discovered a delicious fig relish while on holiday in France. Ordering a cheese board one lunchtime he received the usual spread, but it came with something special – a little pot of fig relish with two cinnamon sticks poking out of the top. Guy found it so tasty that he ordered another cheese board in the same sitting! 
When he returned from holiday he brought with him a hankering to make his own gotta-have-it super figgy relish – Tracklements Sticky Fig Relish was born, and has been much-loved ever since! The relish was awarded 3-stars at the Good Taste Awards and has won over the tastebuds of thousands. We've used Guy's wonderful sticky fig relish in our Figgy Chicken Curry With Coriander Rice for a decadent and delicious fruity flavour. 
Making the Sticky Fig Relish is no easy task. Before figs even enter the equation, the relish masters at Tracklements must create spiced vinegar. This involves steeping cloves, black peppercorns, cinnamon, and allspice in Aspall's cider vinegar overnight, creating an infused vinegar. The spices are then sieved out of the vinegar and replaced with the figs, where they sit for a minimum of two hours. Once they have soaked, the figs are cooked in a pan with muscovado sugar, chillies, and cinnamon.
Tracklements remain traditional in their methods to this day, cooking in small batches despite the increasing volumes they produce. They started with 2 pans for reducing, and have gradually increased to 10. However, the pans are all the exact same size as they were when they first began making preserves! The deliberate decision to avoid moving to large vats is a testament to how seriously they take quality. Small pans allow the figs and seasonings to reach the perfect temperature and stay there, while giving the relish-in-the-making enough surface area to reduce. This is important because it needs to lose one third of its water content in order to transform into Tracklements acclaimed sticky relish!  
Tracklements believes in using the best ingredients, establishing direct relationships with growers and suppliers and championing British Fairtrade. Their close relationships with suppliers means they know exactly what they are putting into their products, so they can guarantee quality. When culinary curators care this much about their ingredients and preparation, it's no wonder that Tracklements has won over 170 food awards!