I like cooking. I also like eating. More so, I like eating takeaway. . . especially Thai takeaway. Why is it that everything always tastes better when someone else has cooked it? Yet, ironically, surely this should have the opposite effect. When we order takeaway we don't know what's gone into our food – it could be laced with rodenticide for all we know, or more likely MSG, jarfuls of salt and artificial colouring so bright it could dye your hair orange. It could be cooked by someone with such appalling personal hygiene that their breath alone could knock out a small dog. Perhaps the filter in their dishwasher is so clogged that it resembles a blanket of taramasalata. But what you can't see can't hurt you, right? I dread to think . . . or maybe that's just my OCD talking, because of course 'Health and Safety would never allow'!
I know that eating takeaway isn't good for my health, yet when I get a craving for a Chicken Massaman there's nothing else that will quite hit the spot.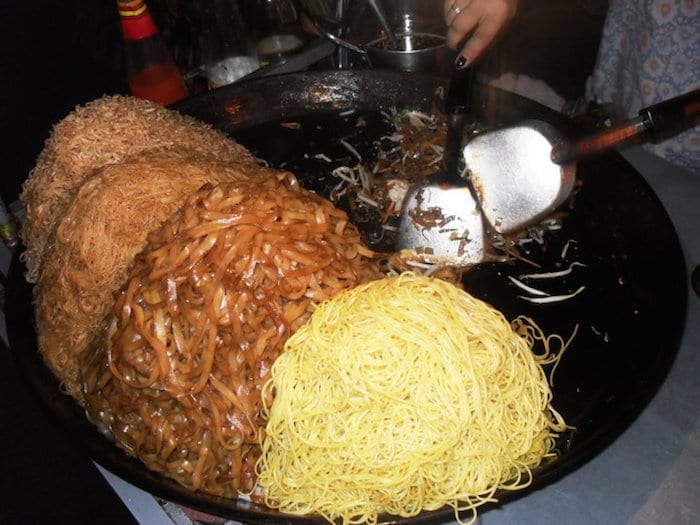 Having spent a month in the south of Thailand, I am fairly confident about identifying the real taste of Thailand. I've consulted numerous recipes, visited Asian supermarkets, bought bizarre ingredients, but couldn't get it right. Nothing that I have cooked myself matches the zingy, aromatic flavours of authentic Thai cuisine. This disappointed me, as I wanted to recreate the unique taste, but ditch the added nasties and save a few quid.
However, I persisted. The first Thai dish which I decided to try to master was the Pad Thai – it's probably one of the most famous Thai meals which appears on menus throughout the world. The main component is rice noodles and it's served as basic street food in Thailand. In Bangkok, the streets are littered with giant, flat woks churning out enough noodles to feed an Asian Elephant. The Thai word ผัดไทย (transliterated = Pad Thai) means 'fried, Thai style'. So how hard can it be to fry something Thai style?
As it turns out, not that hard! On my quest for the perfect Pad Thai, I stumbled across Gousto. That week, they had a Chicken Pad Thai recipe available, so I thought I would give it a try (but on a much smaller scale to the ones I had seen in Bangkok!).
My Gousto box arrived promptly, in attractive, sturdy packaging. As promised, all the ingredients were measured into the correct quantities and ready to go. The recipe was explained comprehensively on a picture card and only took about 20-30 minutes to rustle up. I was pleased with the ease of ordering and the cooking experience – but now for the important part . . . the taste!
The Gousto recipe was rather different to an authentic Pad Thai. The addition of refreshing cucumber and chunky spring onions brightened up the dish, without losing the important citrus tang from the lime and tartness of the tamarind. Gousto includes some interesting background trivia as well as the nutritional values of their recipes on the card, so you know exactly how much of each food type you're consuming. It was a lovely meal, and at 410 calories it is certainly much lighter than the takeaway option! Overall, the Gousto Chicken Pad Thai provides a creative twist on one of my solid favourites and saved me a trip to the Asian Supermarket. However, if you're into genuine Thai food, nothing beats the real deal – plus the scenery is a tropical utopia.
Guest Post by Annie