Our Snowflake Brownie for Little Hands has been flying off the shelves, so we thought you might like to meet the awesome team that helped create it…
BakedIn strives for less fuss, no waste and great taste – our sort of people. We chatted to co-founder Joe.
Hey Joe. Tell us a bit about what it's like working with Michel Roux OBE
Michel's reputation as one of the world's finest ever pastry chefs speaks for itself and when he agreed to assist us we were over the moon. Quality has always been something we have been proud of at BakedIn, and having Michel's name on our boxes is the ultimate seal of approuxval (see what I did there?).
We talk a lot on the phone about recipes and new products, and I was fortunate enough to be invited to his house in Saint Tropez to spend some time baking with his family. Having lunch, cooked by Michel, with his family on the terrace of his villa has to be one of my highlights from the BakedIn journey to date!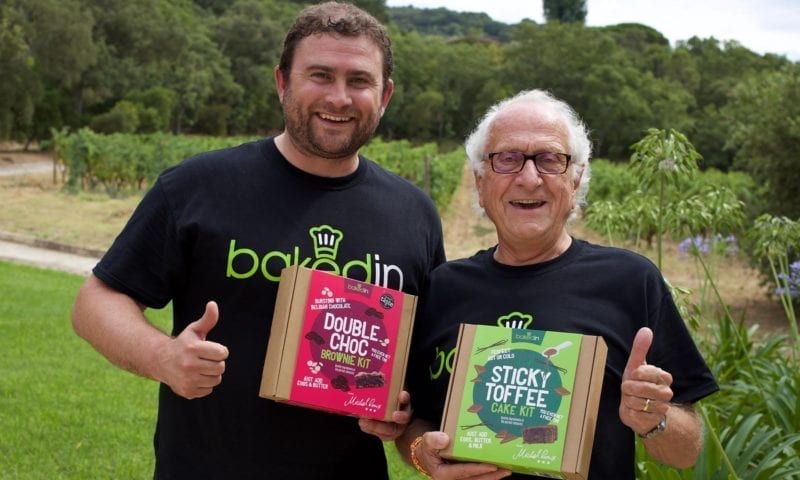 Have you enjoyed working with Gousto on the Snowflake Brownie? How will you be spending Christmas (besides eating lots of the delicious co-branded creation)?
We've loved it! New product development is what we do best at BakedIn HQ, and seeing the Snowflake Brownie turn up in our weekly Gousto box will have us really beaming with pride.
After the first ever BakedIn Christmas party on 23rd December, I'll be having a quiet family Christmas recovering from what's shaping up to be a very busy month of baking…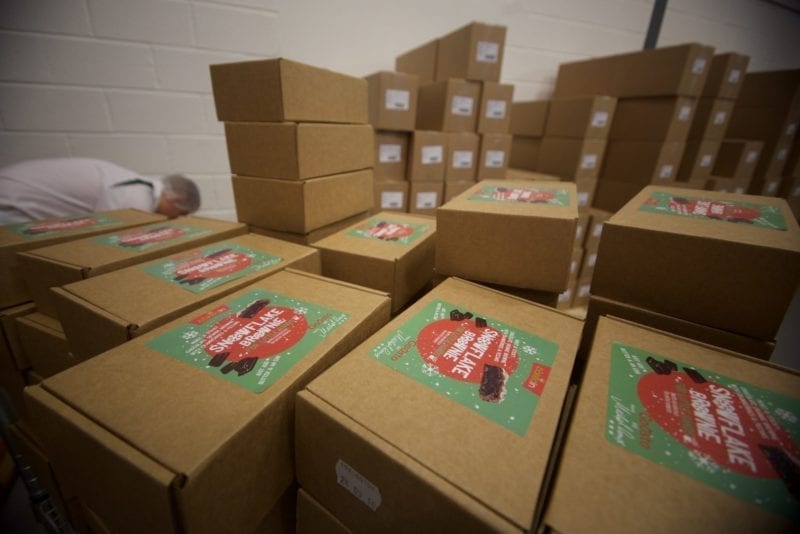 How big is the BakedIn team now? Hiring for any cool positions at the moment?
There are 20 of us in total spread across management, product development, design, marketing and production. We'll be looking to add a hot shot salesperson to the team in the near future so keep an eye on our website. The first question we ask at interviews is "Do you like cake?" so if you answer YES to that then we want to hear from you!
What's your favourite cake?
It's hard to pick a favourite…if we are talking BakedIn cakes, then it has to be the Carrot and Walnut Cake – it won a Great Taste award last year! If not, then you can't beat a Black Forest Gateaux.
Tell us about the light-bulb moment that led to you starting BakedIn. What inspired you to go for it?
I used to lift share to my previous job with one of my now-co-founders, Anna. On a dreary drive down the M3 one day we dreamt up BakedIn. After receiving a lot of positive feedback selling prototypes at local school fetes we decided to take a punt and invest some money into getting some labels and boxes made up. Before we knew it, we were stocked in prestigious retailers like Selfridges, Harrods and Wholefoods. After a lot of soul-searching, I decided to quit my day job, raise some investment and dive in head first.
We share a lot of similar values to Gousto and since meeting the team at the International Food Expo back in March, we have been really excited to start working together.
What's been the biggest challenge, starting up a business? Any advice for budding entrepreneurs?
We chose to start a business doing something we were deeply passionate about, but in an industry that we had zero experience in. Getting in front of the right buyers was initially the biggest challenge but as the business grew, cashflow suddenly became (and continues to be) the bane of my life. Since the start of the journey we have had so much advice about what to do and what not to do – often conflicting! Knowing what and who to listen to is one of the hardest things, in my opinion – so I try to tell people what we did that worked and what we did that didn't, and let them work out what to take away from it for their particular product or business.
Finally, and most importantly, who was your favourite GBBO contestant? Ever thought of applying to the show yourself?
The office favourite was Tamal, but we were happy with the end result – we all loved Nadiya's facial expressions. Whilst the idea of fame and fortune appeals, I think my rightful place is watching from the comfort of the sofa with a nice cup of tea, checking out Paul's buns!
*
You can pop a Snowflake Brownie into your Gousto box at checkout, and get baking with the kids