This week we have teamed up with Fussels – the beautiful cold pressed, extra virgin rapeseed oil; lovingly produced from start to finish on Andy's Somerset farm. Andy and his family have been farming the same bit of land for generations, and have fostered a passion for naturally grown foods and a love of the fertile English countryside.
Andy believes in quality food with authentic, traceable provenance, and in the positive values of sustainable farming. This inherent passion and his farming heritage lead to the creation of beloved rapeseed oil provider Fussels Fine Foods Ltd. From sowing to cold pressing and bottling, everything that goes into Andy's rapeseed oil happens directly on the farm.
Up until recently, the fantastic healthy qualities of rapeseed oil have been little known. However it turns out it's a bit of a superstar! It has more generous servings of the essential fatty acids Omega 3 and 6, it is lower in bad saturated fats than olive oil and high in the good monounsaturated fats and it is an excellent source of Vitamin E. Not to mention that's it's grown right here in the Blighty, what a fabulous foodstuff!
This beautifully natural, saucy little number debuted on our menu this week in the form of Fussels Chilli Oil, the chillirific accompaniment to our gorgeous Chilli Chicken Skewers. These were used to infuse our perfectly crispy, spicy potatoes and succulent chicken kebabs with a cheeky chilli kick that will warm you to the core. These are only on the menu until Sunday so get 'em while they're hot!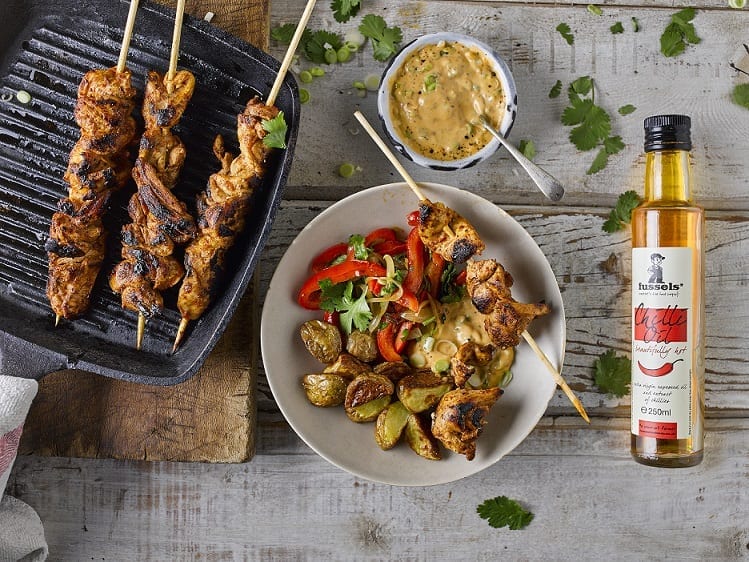 Find out more about Andy's wonderful rapeseed oil products on his website.