At AskHerFriends, we do our best to help people find the perfect gift for a loved one. Whether it's handcrafted design or designer luxury that usually tickles her fancy, we focus on the recipient to help guide a shopper in a pickle towards the ideal gift for that special someone. We also truly believe that the staple gifts we buy – smellies, jewellery, handbags etc – although great on occasion, aren't necessarily always an appropriate or desirable expression of love. That's why we've teamed up with Gousto, who provide us with endless recipe inspiration, for those who are looking to do something a little more outside the box for the one they love.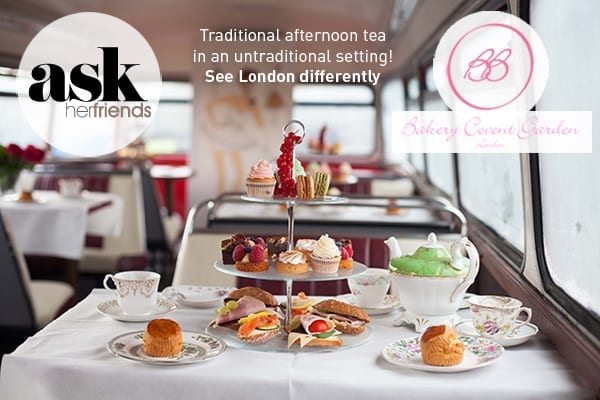 Recently we got to experience a really cool twist on afternoon tea, the British staple (and great gift idea). In no other country is a strong brew quite such a miracle cure-all, or a hot scone a Sunday necessity. London's a pretty big aspect of Britain too, being the capital and all. So when BB Bakery invited us down to experience their of the big smoke, we leapt at the chance to indulge in both of our favourite British nuances, and discover a new and unusual take on a classic gift idea.
We boarded the 1960s Routemaster and slotted ourselves into our booths, admiring the bone china that was artfully glued to the tables. The tea was beautifully arranged on a cake stand, and we quickly tucked into the savoury offerings, delighting in salmon blinis and cucumber sandwiches. Warm rolls were stuffed with fresh turkey and mini quiches were as every bit as cheesy as your dad's jokes.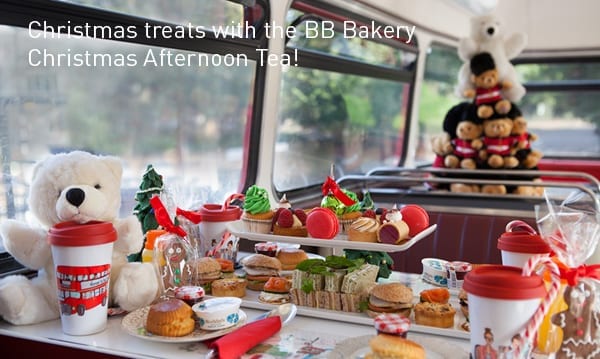 Chocolate macaroons were nicely crisp, with cupcakes containing raspberries creating a perfect sharpness in contrast to their sweet icing. We sipped on a variety of teas as scones with cream and jam (obviously) did the rounds, and we stared out of the window at the myriad of London icons we passed, from Big Ben to Downing Street to Harrods. An unusual and creative spin on the traditional afternoon tea, we loved the whole experience with BB Bus. Find out more here – if you're looking for a unique, food related gift, this is the perfect thing for her.
If you'd like to check out the BB Bus, or have a look at a range of other gift ideas, then fans and followers of Gousto can get £10 off if you are spending over £30, or £20 off if you are spending over £50; just simply enter the code SIMPLY10 (for £10 off) or COOK20 (for £20 off) in your basket at AskHerFriends.com before midnight on 15th December 2014.
Terms & Conditions:
£10/£20 to spend at AskHerFriends.com. Simply enter codes SIMPLY10 or COOK20 in your basket before midnight on 15th Dcember 2014. This offer cannot be applied to previously existing AskHerFriends orders. Offer can only be used once per customer or card-holder address. For full T&Cs, please see http://www.askherfriends.com/terms-and-conditions/.
Guest post by AskherFriends