If you were to ask people what they tucked into on Christmas day for lunch, the majority would probably say turkey. The turkey has been a mainstay on the tables of most British households at Christmas ever since the Tudor period, with many citing King Henry VIII as the first monarch to gorge himself on turkey during the festive period. Over the last few decades the bird has found its way into our hearts and onto our tables, and like it or loathe it, it's not going anywhere. But turkey dissenters fear not, Gousto are here to bring some more variety to the table.
Beef Wellington
To kick off this list we have gone for something you might not have thought of as an alternative to turkey for Christmas. A beef wellington is beef, coated in pâté and duxelles, with spices thrown in, then wrapped in puff pastry and baked.  Okay, we have to admit this one is a little more fiddly than a turkey, but once you've mastered the pastry you'll soon forget about that bland old turkey and be cracking out delicious beef wellingtons every festive season.
Goose
Why not opt for another bird this Christmas and swap that Turkey for some goose! The popularity of the rich, dark, succulent meat has blown up over the last few years with trendy restaurants all across the capital slapping goose all over their menus. Goose was prominent in the Victorian era, especially with the working class who would save all year round for their special Christmas bird, but it has since lost its crown to the now more popular turkey. But this bird has more tucked up it's feathery sleeve, with some delicious freebies you get once you've cooked the dish. The skin makes amazing crackling and best of all goose fat, something that sends food connoisseurs crazy. So why not coronate goose the king of Christmas this year?
Nut Roast
Nut Roast; the classic alternative for vegetarians at Christmas, but before you yawn at the prospect just think about the endless possibilities. You can make this dish with pretty much anything you want, so get creative with walnuts, hazelnuts, brazil nuts, pecans, cashew nuts, pistachios, chestnuts, sunflower seeds, breadcrumbs peanuts, lentils and even marmite!  Once the butt of seasonal jokes, the Nut Roast's versatility will move the dish from side order to main event.
Wild Boar
Why not go old school this Christmas, real old school and impress everyone with some wild boar. Wild boar has been the mainstay on British tables since the medieval times, alongside the more garish peacock (let's not try to resurrect every medieval tradition). Since the rise of the turkey, boar has failed to reclaim some of its past glory. Boar is typically described as the way pork should taste so why not splash out this Christmas and eat like our ravenous ancestors would have wanted us to.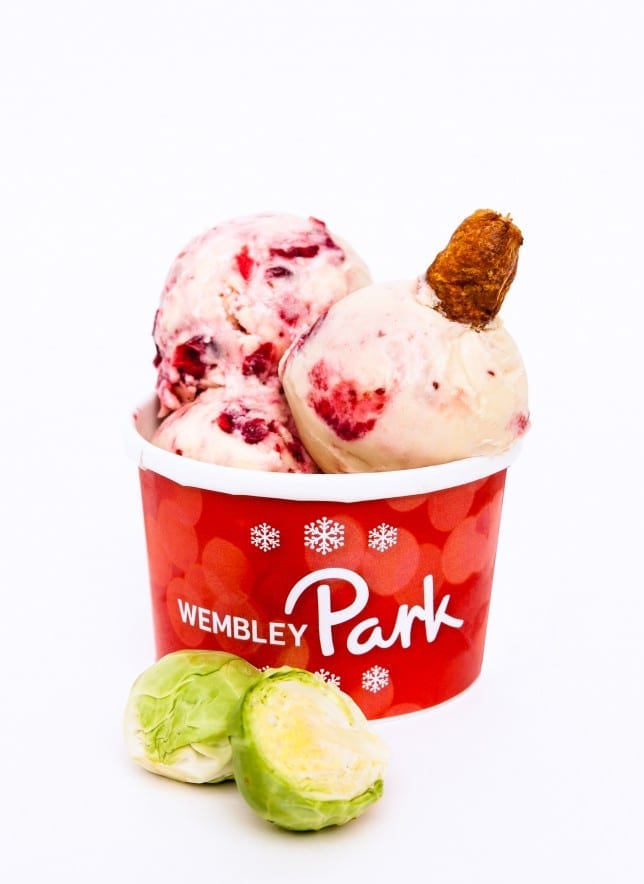 Christmas Dinner Ice Cream
In case our other choices were a little too conventional for you, why not try artisan ice cream maker Sorbitium's festive concoction. Sorbitium have come up with a Christmas Dinner-flavoured Ice Cream, it sounds like something that would come out of Willy Wonka's chocolate factory but it's real! The creative bods over at Sorbitium have managed to create ice creams that taste like turkey, bacon, cranberry, sage and…the dreaded Brussels sprout. If you are brave enough to try this, head to Wembley Park's Christmas Fair. Good luck!