Happy National Curry Week!
To celebrate, we've got a coconut and tamarind dream courtesy of best-selling author and chef, Meera Sodha, on the menu this week. You can purchase Made in India, the book from which the fantastic recipe hails, here!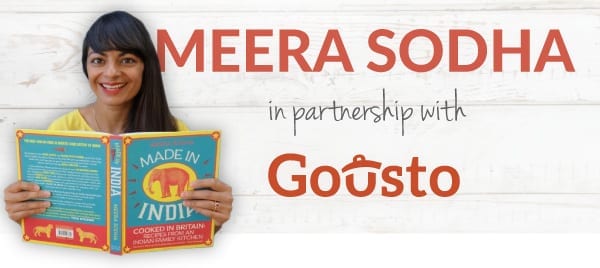 ---
When it comes to curries, here are some top tips from the Gousto kitchen:
1
Spices that sit in your cupboard for half a decade lose their pungency, and are simply no good. This can mean a lot of waste, as you throw out old jars to make way for new ones. With Gousto, you get exactly the amount of spice you need, so nothing sits gathering dust!
2
Bases don't need to be boring: experiment! Cream, yoghurt or even tomatoes can work brilliantly as a foundation for your curry. We are forever challenging ourselves with surprising our customers with new and clever ways to approach classics –curries present the ideal opportunity to go a a bit crazy, and amaze yourself by what can work
3
Curries are best finished off with fresh herbs. Cooking with ingredients like fresh coriander and fresh parsley – soft herbs – can be tricky as they tend to blacken when heated. Instead, chop some raw and sprinkle atop your dish for a flavour explosion (our Coriander Chicken recipe includes a totally raw chutney bursting with fresh goodness – check it out!)
Why not give one of the below a go?