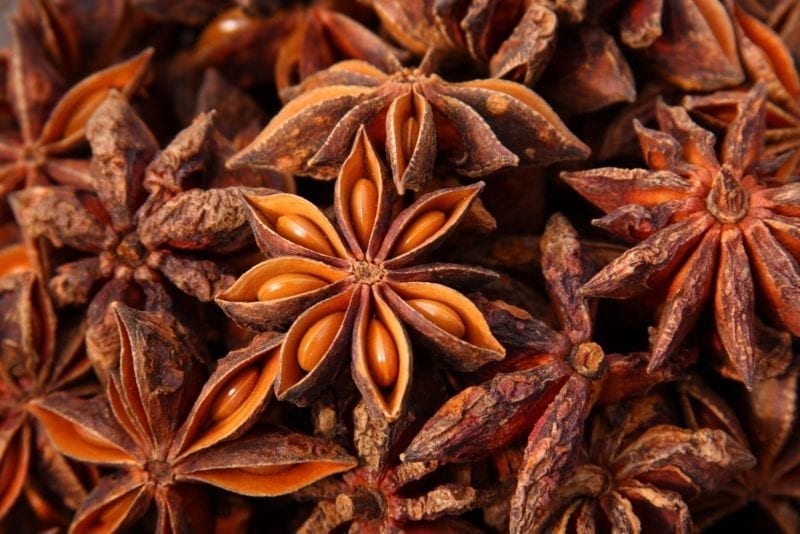 Here at Gousto we love cooking outside the box with new and exciting flavours, and it doesn't get much more exciting than the Star Anise; a flower-shaped fruit containing liquorice-like seeds. It's not something you would normally put in your trolley on a weekly shop, but once you've sampled the exotic flavours you will be throwing them into everything!
History: Star Anise traces its heritage back to Southern China and Vietnam, where its evergreen trees thrive in the warm, humid climate. As the popularity of the fruit has exploded, so too has the cultivation, and it is now grown across most of Asia in places like Laos and the Philippines, as well as hot Caribbean countries like Jamaica. Despite its popularity in the East, the fruit didn't make its way to European countries till the 17th century where it was mainly used in baked goods and jams.
Properties: The fruit is aptly named for its distinctive star-shape, and is grown on an evergreen plant. The rust red coloured fruit produces brown coloured seeds which are rich in antioxidants People have been using the superpowers of Star Anise to fight the flu, bronchitis and respiratory tract infection. Its superpower is down to the fruit's ability to fight against bacteria, yeast and fungi and its high volume of shikimic acid which is used in the manufacture of flu treatment. But a word of caution, do not confuse it with the Japanese Star Anise, a poisonous alternative commonly used as incense.
Cooking with Star Anise: Star Anise has been a popular foodstuff in China for hundreds of years, featuring in a multitude of Chinese recipes such as our Tofu Ramen. In fact there is little you can't do with this dandy little fruit. If you are making some jam, Star Anise lends an exotic kick to the mixture; it adds an exciting, liquorice-like flavour to puddings and works great as a flavour base for soups, sauces and breads.