An Interview With Madhur Jaffrey
Without a doubt, Madhur Jaffrey is a world authority on Indian cooking. Not only that, as an actor, author, television presenter and culinary expert, she's an amazing creative all-rounder.
We caught up with Madhur ahead of her Chicken Vindaloo coming to the Gousto menu (from Tuesday 6th June and Tuesday 20th June) to hear her take on creative cooking and get her sage advice about how to get kids involved with cooking at home. Read our interview with the legend of Indian cooking below (and enter our competition to WIN £350 of kitchen goodies!).
---
What first inspired you to start cooking?
Necessity. I came to London as a drama student to study at the Royal Academy of Dramatic Art. There was no good Indian food available in the late 1950s and I was desperately homesick for the home-cooked foods that I had grown up with in Delhi. So I wrote to my mother for recipes and started cooking.
What are you finding exciting about the food world at the moment?
We are all travelling more and learning about the richness of dozens of international cuisines. Our children and grandchildren can eat Mexican food one day, Italian food another day, and Japanese food on the third day, all in our own cities. I love this broadening of our horizons.

Your Chicken Vindaloo recipe is coming to the Gousto menu in June. Can you tell us a bit about this recipe?
A vindaloo is a unique Indo-Portuguese dish. It was created in the Portuguese colonies of India combining Indian spices with the garlic and vinegar very commonly used in Portugal. The most traditional meat for a vindaloo is pork but chicken and duck are frequently used as well.
Madhur Jaffrey's Chicken Vindaloo
Do you have a process for creating new recipes?
I am creating new recipes all the time, sometimes on a daily basis. If, say, asparagus looks good in the market, I buy some and then start thinking of the flavours I want in my mouth as I eat it. Do I want a touch of smoky sesame oil on it? Do I want to sauté a sliced spring onion and put it over the top? Should I do both? Or should I just steam the asparagus, and put a salad dressing with chopped shallots and perhaps mustard over it? I taste the possibilities in my mind as I go.
What are your 3 essential cooking tips that every parent should teach their children?
I think that children learn best by example, so:
1. Cook at home, as often as you can. Ask your children to help. Give them small tasks like washing the potatoes or breaking the ends off the green beans when they are young. As they get older they so want to roll out pastry. Give them some dough and a rolling pin. My children and later my grandchildren all loved to roll out pooris and chapatis. I just sat them on the counter and showed them how to roll. Then I cooked their somewhat misshapen breads. They loved them. We all ooo'd and aaa'd, saying, "Look you made a map of Australia" or "That looks like India". Today, one grandson who just graduated from a California college informed me that he makes his own tortillas.
2. Clean up as you go.
3. I always cooked different cuisines at home: Italian, French, American, Indian, Chinese, Japanese, Korean, Thai, Malaysian and so on. The children were served small amounts to start with. They did not have to finish everything but they had to taste everything. I think that this kept their minds open.
What's your comfort food?
I like soups, stews, noodles and simple Indian dal and rice.
And your favourite recipe for a special occasion?
I love a good Indian biryani.
Is there one ingredient you can't live without?
Probably dal. If I had to choose one of them, it would be moong dal.
If you could never eat Indian cuisine again, what dish would you miss the most?
I think I would miss my simple dal with a spicy tarka.
Thank you Madhur!
---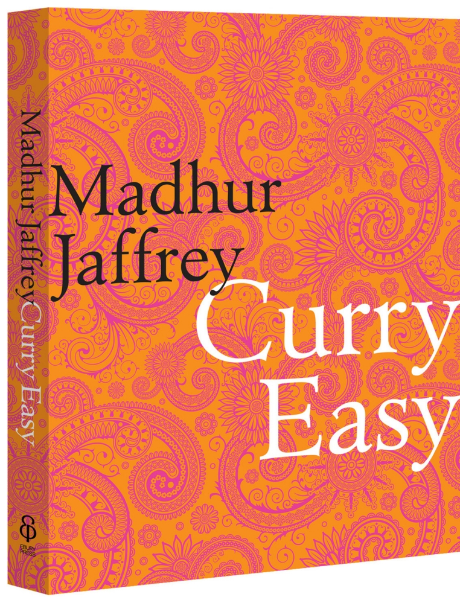 Madhur Jaffrey's Chicken Vindaloo, adapted from a recipe in 'Curry Easy', is available on the Gousto menu between Tuesday 6th June and Tuesday 20th June.
– See the Gousto menu.
Learn to make simple, delicious Indian food at home with Madhur Jaffrey's indispensable 'Curry Easy' book
– buy it today!