Is Chocolate Good For You? Cocoa Experts Weigh In
Over the past few weeks we've reached out to some experts, all of whom have jobs that wouldn't sound out of place on Willy Wonka's industry contacts list. We've delved into the wonderful world of chocolate, in search of an answer (or perhaps a justification) to the question: 'is chocolate healthy?' It turns out that this question doesn't have a 'yes' or 'no' answer, but begins an amazing debate on what chocolate really is, and how we can all enjoy it guilt-free, if we approach it in the right way.
Is there such a thing as healthy chocolate?
Let's be honest, healthy chocolate sounds like something we start dreaming up after the seasonal binges of Christmas and Easter. We know it's time to wean ourselves off what is quickly starting to look like sugar dependency, but before we're quite ready to squeeze on jogging shorts and start steaming broccoli, the little voice in the back of our head says 'maybe there's another way…perhaps healthy chocolate is a real thing?'
And that little voice would be right.
The key ingredient in chocolate – cocoa beans – is where the case for the existence of healthy chocolate begins. "Cocoa itself is actually extremely beneficial for your health, even qualifying as a superfood", explains Vicki Glover, Gousto's in-house nutritionist. Chocolate expert Jennifer Earle, one of the judges at the International Chocolate Awards (we're insanely jealous), points out that cocoa beans are completely packed with goodness, and "have a greater number of vitamins and minerals than any other food found naturally on the planet". How can such an incredibly healthy bean be the main ingredient in chocolate, our most guilt-heavy snacking pleasure?
"Cocoa itself is actually extremely beneficial for your health, even qualifying as a superfood." – Vicki Glover. Nutritionist – Gousto
The answer to this question stems from a misunderstanding about what chocolate actually is. "The thing about chocolate," says Judith Lewis, who runs the popular Mostly About Chocolate blog, "is that there are two kinds and one is possibly bad for you". Zoe Perrett, editor at Good Things Magazine, explains this further: "people's misconceptions about chocolate being 'bad' for you relate to the confusion between 'chocolate' – to my mind, a quality product made from cocoa solids, cocoa butter and sugar, with no or minimal additional ingredients…and confectionary – fat and sugar-laden, made from poor-quality cocoa, often including other fats, vanilla etc." The experts have identified two types of chocolate and call these 'chocolate' (the real deal) and 'confectionary' (the factory-made cocktail of sugars and oils) respectively.
True chocolate, it turns out, can be good for you. "The health benefits of fine quality chocolate have been proven time and time again", says Mike Longman, former Michelin star pastry chef and founder of Chocolarder (whose award-winning chocolate is available from the Gousto Marketplace). Lee McCoy, co-founder of Cocoa Runners, adds to this that "the problem often arises when these natural ingredients are combined with unnatural ingredients such as processed sugars."
It's the extras or substitutes that are included in the process of making confectionary chocolate that give chocolate it's unhealthy associations. "While it has everything my favourite kind has," says Judith Lewis, "the good fat of the cocoa bean is removed and replaced with palm oil. Often mouldy beans are used and vanilla added to hide the taste. Masses more sugar is added and poorer quality milk powder used. Flavourings may be added along with preservatives, stabilisers, edible waxes and other additives." Sadly that's not where concerns over confectionary end; Lewis continues: "Worse still child slave labour is sometimes used in the farming of cocoa sometimes used by companies who make this less healthy chocolate making it ethically questionable."
"People's misconceptions about chocolate being 'bad' for you relate to the confusion between 'chocolate'…and confectionary" – Zoe Perrett. Editor – Good Things Magazine
All of the experts consulted for this post advocated buying quality chocolate, "ideally taken right from bean to bar by a single maker," in the words of Zoe Perrett. The makers of this 'real' chocolate aren't just more ethically-minded, but are making something delicious that's far healthier than its confectionery cousin.
How can I enjoy chocolate and still keep fit?
Rather than stick to the old idea of 'earning' a treat of chocolate by doing enough exercise (we're not pets!), expert advice points toward two simple tricks to make sure you can enjoy chocolate without it having a negative impact on your health or your waistline, summarised by Mike Longman of Chocolarder: "All the time-tested advice is true – everything in moderation and quality over quantity." Perrett agrees on the first of these, adding that "any food can be part of a healthy balanced diet – the keyword is BALANCE – and that includes chocolate."
That healthy, balanced diet is something which can be contributed to by being selective about the type of chocolate you eat. Vicki Glover, Gousto's nutritionist, recommends that you "opt for chocolate with as high a percentage of cocoa as you can take; anything above 70% is a good choice (and at that level it's usually dairy free too)."
"DO NOT CHEW the piece. Place it in your mouth and let it melt." – Judith Lewis. Judge – International Chocolate Awards; Academy of Chocolate Awards
It's not only a high cocoa percentage you want to look out for, Perrett adds: "the cocoa quality matters – high-percentage chocolate made from cheap, bulk beans often tastes flat and unpleasant (or at best unsatisfying, so you'll just end up eating more to try and get that fix)." Longman notes that "cocoa is an appetite suppressant", so consuming milk and dark chocolate with a high cocoa content will help satisfy your 'choco-craving' quickly.
Lewis has a controversial, clever way to ensure that every piece is really savoured: "Choose an ethical, high-cocoa content chocolate like Green & Blacks or Divine from the supermarket and when you eat it DO NOT CHEW the piece. Place it in your mouth and let it melt. This is really difficult at first but it gets easier with practice. This allows the fat to coat the inside of your mouth and makes the taste last longer – even after the chocolate is gone. You eat less, taste the chocolate properly and feel even more satisfied."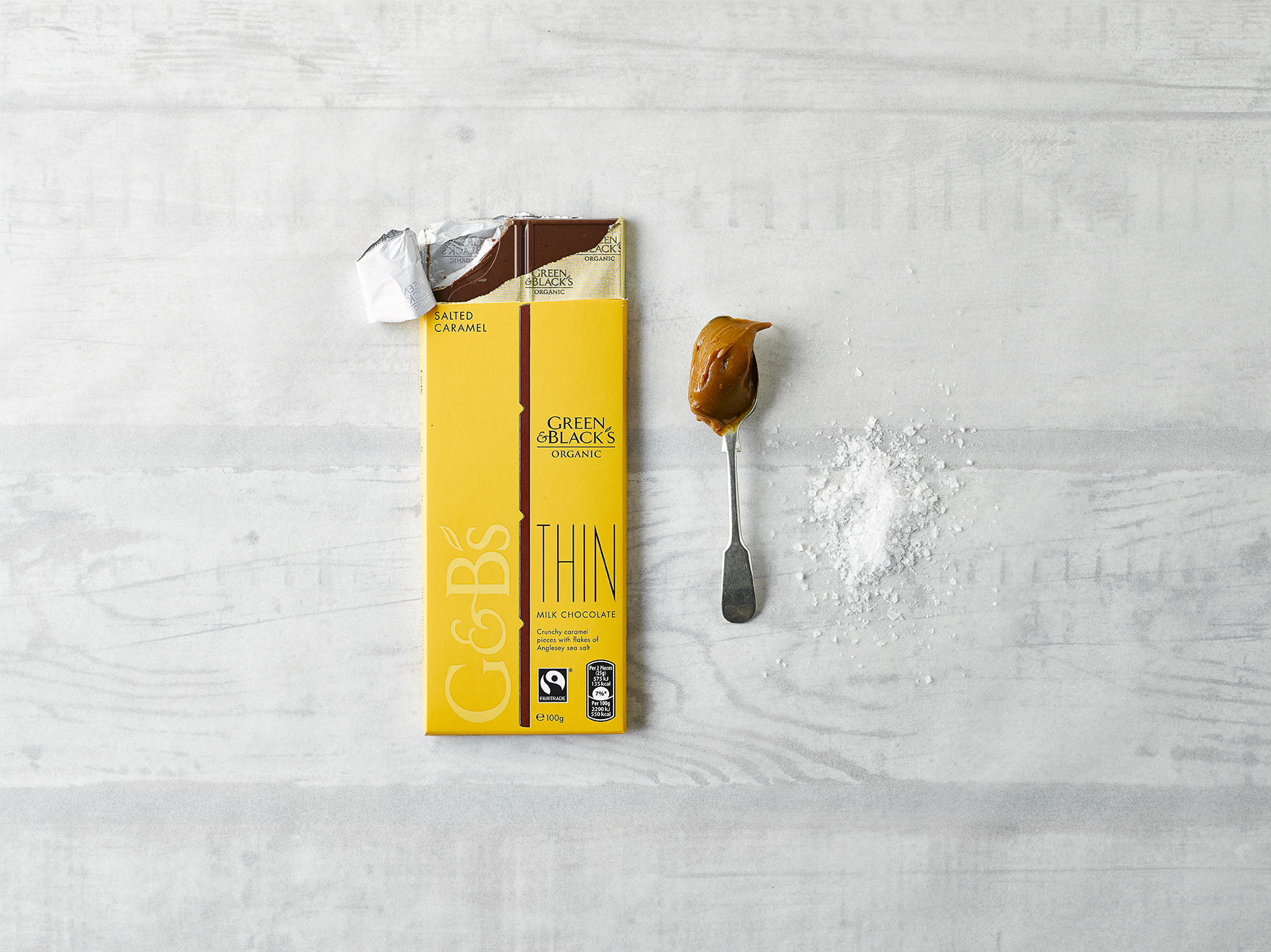 The health benefits of chocolate
The positive impact of chocolate upon health has actually been really well documented. "There are plenty of studies [about chocolate] that are showing support for a positive role in managing blood pressure, heart disease and coughs too", Jennifer Earle says. She continues: "I believe the fact that it was often given as medicine in earlier centuries is due to the vitamins and minerals that were deficient in so many people's diets." Lee McCoy cites Stephen T Beckett's The Science of Chocolate as a specific example of this which "speaks of numerous health benefits from antioxidants in cocoa solids to the ability of cocoa butters to combat cardiovascular disease."
"All the time-tested advice is true – everything in moderation and quality over quantity."
– Mike Longman. Director – Chocolarder
Lewis is careful to point out that some of chocolate's benefits may be a little bit of a stretch: "Chocolate – or cocoa – purportedly has anti-oxidants as part of its makeup as well as 'healthy' fats. The anti-oxidants may not survive the roasting process but we can dream!" Glover suggests a way to make sure you still get these antioxidants: "You could also choose raw chocolate over regular chocolate because it preserves all the nutrients of the cocoa. In addition, there are some great brands nowadays that use healthier sweeteners such as xylitol, stevia, maple sugar and coconut sugar."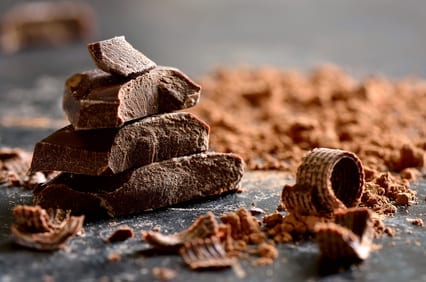 For the geekier chocolate fans, Longman's break down of the chemicals in chocolate is gold: "High quality chocolate contains over 600 different chemical compounds, many of which have been proven to positively impact human health. Flavonoids improve blood flow, reduce cholesterol and promote better heart health. Theobromine is a stimulant that doesn't cause a crash or withdrawal, has also been linked to better cholesterol health and releases endorphins, the feel-good chemicals in our brains.
Dark chocolate is rich in polyphenols which have been attributed with cancer-fighting properties, protecting skin against UV radiation, fighting free radicals and signs of ageing, promoting brain health, reducing inflammation and supporting normal blood sugar levels." In summary, it's actually pretty amazing stuff.
Glover rounds up some of the most desirable potential benefits that chocolate can offer: "stress relief, lower blood pressure, boosted blood flow to the brain and reduced fatigue". In fact, cocoas positive impact on wellbeing, combined with its distinctive flavour, has become renowned enough that it's being integrated into savoury cuisine more and more regularly. Mixing in some cocoa nibs to your pesto or sprinkling them on your porridge," says Earle, "is a good – and healthy, as there's virtually no sugar in the nibs – way of making sure you don't miss out on their goodness." At Gousto, we're no strangers to including chocolate in a savoury dish. Take a look at the our Green & Blacks Chicken Mole recipe in the video below!
.

At the end of the day, we must bear in mind that chocolate, in any form, is something that should be enjoyed on occasion, but not on every occasion. In order to incorporate chocolate into part of a healthy lifestyle and to reap the natural superfood benefits of cocoa beans, the experts repeatedly champion quality – it should be a little of a good thing – this, it seems, is the winning formula to enjoy both the taste and the potential health benefits of chocolate.
Got a sweet tooth? You might also like our Red Velvet Pancakes recipe!
Meet the Chocolate Experts:

Judith Lewis is a chocolate expert and has judged awards for the Academy of Chocolate and International Chocolate Awards. She runs the popular chocolate blog Mostly About Chocolate, and also blogs for Huffington Post.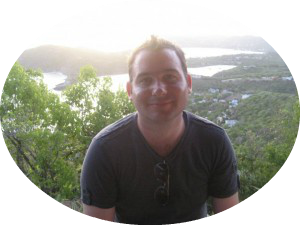 Lee McCoy is co-founder of Cocoa Runners, a craft chocolate subscription service. He's and is also a member of the Academy of Chocolate & the Guild of Fine Chocolate – and has reviewed over 1000 bars on his popular chocolate reviews blog.

Zoe Perrett is editor at Good Things Magazine – a luxury monthly glossy magazine dedicated to global cuisine and travel. She runs two successful blogs focused on fine chocolate and Indian cuisine.
.
Mike Longman is the mastermind behind small batch, bean to bar chocolate maker Chocolarder. A former Michelin star pastry chef turned chocolatier, Mike has been producing artisan chocolate bars since 2012.
.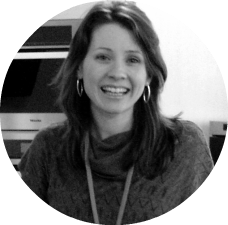 Jennifer Earle is a chocolate expert and the founder of Chocolate Ecstasy Tours and Taste Tripper. She is also a judge at the Academy of Chocolate and International Chocolate Awards.
.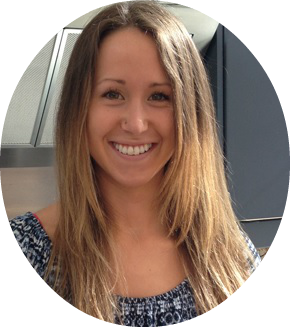 Vicki Glover is our very own in-house nutritionist here at Gousto. She's qualified in naturopathy and well-being.
.
If you haven't tried Gousto before, there's no time like the present! We're deliver quality ingredients in perfectly portioned amounts, along with easy to follow step-by-step recipes that let you create incredibly tasty meals at home!