To celebrate the one year anniversary of the infamous Dragon's Den episode featuring the Gousto gang and Duncan Bannatyne sporting a rather fetching apron, we caught up with CEO Timo to find out just what the experience was like:
What was it like being on Dragon's Den?
First it's a bit intimidating, but then you get to spend time with all the other entrepreneurs and it's really good fun. We had a bunch of girls practicing their bikini song for hours in our tiny waiting room, dancing around whilst singing – we laughed a lot!
Do you really take a funny elevator up to meet the dragons?
Totally fake, it's just for the cameras 
How long did the entire process last?
We waited for hours and the make-up session took ages. They then filmed us for 2 full hours!
Who was the friendliest dragon?
Piers Linney, because he really understands our concept and was very warmed up to the idea.
Who was the scariest dragon?
Deborah Meaden impressed me most for her business acumen. I was over the moon when she said that our delivery success rate is phenomenal!
Looking back would you have done anything differently?
I didn't iron my shirt out of laziness, which in hindsight was a bit silly.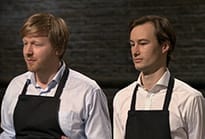 What was the best moment?
Literally all Dragons loved the recipe they tasted, the concept, the quality we deliver in every box and the fact that you can choose recipes which makes Gousto completely unique! That felt fantastic!
What was the worst?
There are dozens of cameras pointed at you, 40 people in the room, and it's pretty hot. And you know that they will edit the tape to capture the moments when you're all sweaty and red faced, saying something less than impressive.
Any tips for aspiring entrepreneurs? 
Do something you're absolutely passionate about! Starting a business means you'll work super hard to make it work so you need to love what you're doing! I deeply care about food quality and I love to cook, so it doesn't really feel like working.