We have a special menu this week, with original recipes featuring some of the best British produce around! The Great Gousto Food Fest menu is available for boxes being delivered on 1st, 3rd and 4th of June, and includes delicious recipes such as Figgy Chicken Curry With Coriander Rice and Goats' Cheese Baked Aubergine.
You can order your food festival in a box right now HERE.
Take a look at the recipe video below to see how to make one of our favourite Great Gousto Food Fest recipes, Miso-Butter Asparagus & Chicken Noodles:


Take a look at the Great Gousto Food Fest featured ingredients below:
Keep your eye on the Gousto blog over the next week or so, as we'll be posting about the stories behind each of our Great Gousto Food Fest special ingredients. We'll also be sharing our guide to the best UK food festivals this year!
Please be sure to remember that this special menu will only be available on Wednesday 1st, Friday 3rd and Saturday 4th of June, take a below for more information: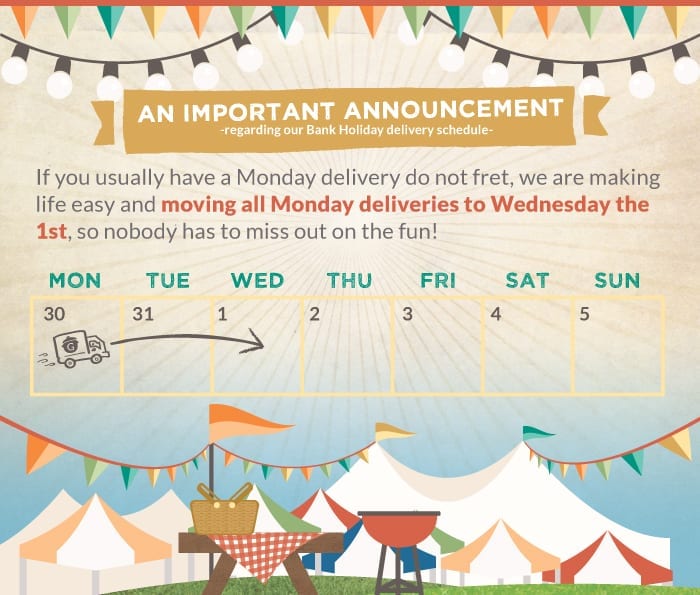 On top of our special menu, the Gousto Marketplace has a whole host of new and very British goodies that you can add to your boxes from today. These include decadent chocolate from Green & Blacks, scrumptious biscuits from the Isle of Mull's Island Bakery and Chilli & Paprika Snacking Salami from the snack masters at Serious Pig.
Take a look at This Week's Menu to see our full list of awesome recipes for delivery on 1st, 3rd and 4th of June HERE.