So we're well and truly in the throngs of 2015, the year when Zemeckis foresaw us rocking hoverboards and sporting metallic headgear, and Nostradamus reckoned people would start living to be over 200. While a few predictions may have missed the mark, one irrefutable change has been the advancement of better, healthier and tastier ways to cook, and enjoy balanced meals from home. Leaving microwave mush in the past and fatty fast food in the fryer, cooking just regained its cool.
That's why, in the spirit of new beginnings, we were delighted to unveil our long-awaited new spangled logo this morning. The fruit of much creative toil and bucket loads of sweat and tears, we think it captures the essence of Gousto perfectly; putting the joy of cooking at the centre of everything we do.
In celebration of this we are inviting you to help us spread our new logo to the masses via our brand spanking new Pinterest competition – giving you the opportunity to win a Gousto box every week!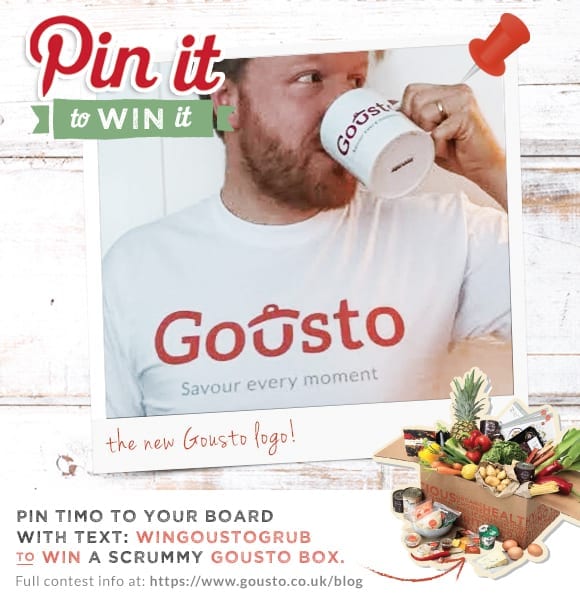 T&C's – Entering is easy as pie:
1 Follow us at: pinterest.com/gousto
2 Re-pin our founder and CEO Timo sporting some new-spangled Gousto merch to your Pinterest board with text: WinGoustoGrub to be in with a chance of winning a scrummy Gousto box.
There are 4 available to claim!
Competition closes: 5th February, only 1 entry per participant. Prizes consist of couple's meat boxes with recipes allocated at random. No substitutes or refunds. Delivery details & alternative instructions must be submitted by winning participants to saul@gousto.co.uk no later than Monday midday on the week of delivery.
Winners will be announced on the Relish blog each Friday the week preceding delivery – the first lucky winner will be selected this Friday so get cracking!
Good Luck & Happy Pinning
UPDATE: Congratulations to Olivia Kirby, our first Pinterest winner!
Keep your eyes peeled on the blog because next time it could be you!