Criminy it's been a manic couple of weeks here at Gousto HQ! We've welcomed the dawn of a new era with the start of Gousto Sundays (our new order cut-off day), given our recipe page a brand-spanking new look aand launched the first spiffing offering in our long awaited series of 'How To' videos – and all this before subjecting you to the obligatory Christmas countdown!
As it's such a balls to the wall hectic time of year, we thought we should find a moment to take stock; put down that tinsel, set aside that exorbitant shopping list and revisit a fun little competition we ran earlier showcasing our customers' food selfies – aptly entitled 'The Gousto Selfie Competition'. Take a look at some of the stunning snaps our fabulous foodies graced us with:
It was no mean feat picking a winner amid all that Gousto glamour. But in the end we settled on Catherine Taylor's entry featuring her 10 year old son chowing down on his Gousto greens: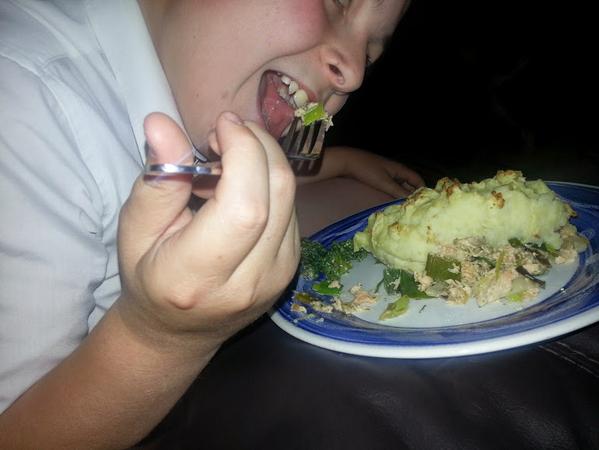 Congratulations Catherine we hope you enjoy your scrummy Gousto box!
A word from our winner:
"As a busy family freshly cooked meals had become rare, we had become bored by rushed tea times and often improvised by grabbing a takeaway. Gousto appealed to me as it took away the planning and inspired me with a choice of meals we love opening the box each week and filling the fridge up.  Initially I did think this was expensive, but compared the cost of takeaways our food bills have reduced and we eat much healthier too. As an added bonus my son who is 10 has become interested in preparing the meals most of the ingredients are prepared in ready measured portions this making it easy for him to take on more of the tasks without getting bored waiting.  As he has been involved in preparing the meal he is much happier trying new food even the vegetables! we have recommended Gousto to many of our friends."
We were also rather taken with this entry from  Catherine Boniface featuring her mum tucking into some Gousto grub after a particularly demanding night of Halloween duty:
"We were sitting down to a hearty meal of  Ras el Hanout Chicken Breast after giving treats to over 200 children who had come to our door trick or treating. It was very filling and nutritious and we had not cooked with Ras el Hanout before so that was exciting. We used the childrens cereal bowls to present our bulgar wheat on the plate in a dome shape! My mum had not had a Gousto meal before but now she is hooked!"
A huge thank you to everyone else who entered and made food look fabulous with your magnificent mugs. Stay tuned for our next competition, showcasing the many innovative uses for your Gousto box #cookingoutsideofthebox.