The adverts have already got us weeping and the radio has started playing enough Christmas music to drive you loopy, this can only mean one thing; the festive season has kicked off. We must once again submit to the prospect of spending our weekends battling through busy shopping centres hoping to nab that last shimmering bath bomb, intended for a loved one who will probably never use it. So whether you've got the kids home from school or you just want to spend some time with a partner, here are ten awesome ways to spend the festive season.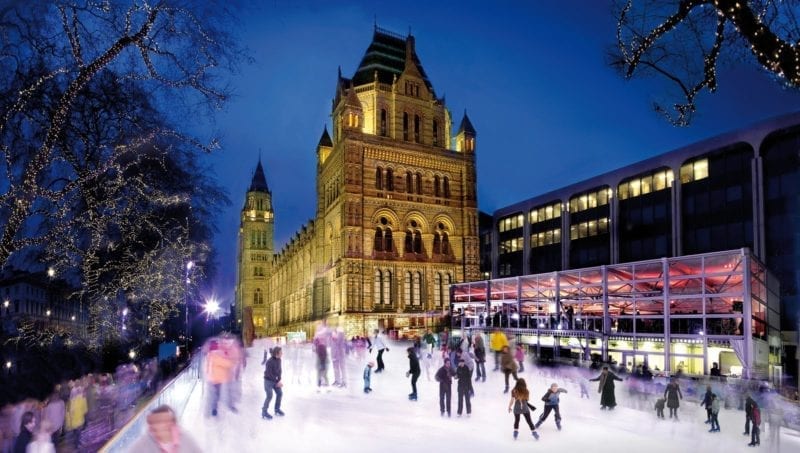 1.The Natural History Museum Ice Rink, London- The trend of temporary ice rinks popping up around the capital, and other cities around the UK, is growing rapidly every year. Landmarks like London Southbank and Somerset House are contending for the role of best ice rink in London, but that title, without a doubt, goes to the Natural History Museum. One of the finest examples of Victorian architecture, it makes the perfect back drop for a wintry night on the ice with your family.
2. 24 Days of Advent, Edinburgh- Who doesn't enjoy an indulgent chocolaty treat every morning from their advent calendar? Well Edinburgh has gone one step further; opening up a different building that's normally closed off to the public for just one day. With incredible buildings like Riddle's Court and Barney's Brewery throwing open their doors to the public, this a must this festive season for any intrepid explorers looking to do something a little different.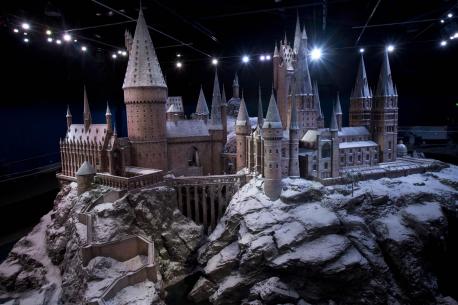 3. Hogwarts in the Snow, Leavesden- Ever dreamed of  enjoying a Hogwarts Christmas? Well now you can! Just don't expect the chess pieces to move on their own. The franchises' UK based attraction is offering visitors a chance to experience Hogwarts Castle in the snow, with the  Great Hall getting a festive makeover and a lot more on offer to whet your festive wizard appetite.
4. The Ghost of Christmas, London Dungeons- Just because it's Christmas doesn't mean you can't enjoy a good scare. The London Dungeons are offering a wonderful, wintry whodunnit, set on a frozen River Thames with a chilling investigator poised to send a shiver down your spine. So if you want a scare this festive season, look no further.
5. Eden Project Winter Festival, Cornwall- The Eden Project is an amazing place all year round, but given the Christmas touch it cranks the awesome up to 11! The festival offers up ice skating, Christmas craft workshops, storytelling and more; all to the melodic crooning of Cornish choirs singing traditional Christmas carols.
6. Rochester Christmas Market and Dickens Festival- Christmas just isn't Christmas without a good old fashioned market, and what better market to visit than one of the UK's finest. Gorge yourself on hog roasts and roasted chestnuts while enjoying craft fairs and farmers wares. And if you haven't got your fill of Dickens, enjoy the Rochester's Dickens Festival with street entertainment, dancing and singing.
7. The Muppets Christmas Carol, Prince Charles Cinema- Christmas without Charles Dickens goes down like fish n' chips without chips. So if you are going to watch one Dickens tale this year, make it the ever-hilarious The Muppets Christmas Carol at one of London's best independent cinemas. You're bound to leave filled with joy and singing 'It Feels like Christmas'.
8. Peter and the Wolf/The Snowman, Bristol- Ask anyone their favourite programmes to watch during the Christmas period and no doubt they will mention these two classic animations. Peter and the Wolf tells the story of a lonely Russian boy, Peter, who faces off with a wolf. The Snowman hardly needs any introduction; everyone with a television set can attempt to warble the notes of the goose bump-inducing theme tune. Catch these two excellent animations at Bristol's Colston Hall.
9. Winter Wonderland, Nationwide- From Manchester to Cardiff, via Gloucester, every major city now boasts an obligatory winter wonderland, temporarily pitching camp in the city centre for a few jovial weeks. With enough garish attractions and festive fun to keep both adults and children entertained, no one should be bored this holiday season.
10. Christmas morning swim, Porthcawl- For some people Christmas morning means enjoying a lie in and watching television, but for a generous bunch of gutsy Welsh people, Christmas morning means jumping into the freezing cold Bristol Channel to help raise money for local charities such as Ty Hafan, the only children's hospice in South Wales.